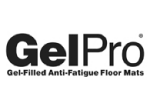 I'll be the first to admit that I do not like to cook much.  When I'm hungry, I'm hungry and want to eat NOW, not start an hour long session of washing, chopping, simmering and stirring.  Also, after a long hard day, the last thing I feel like doing is standing on my feet on our hard tile floor.  That's where GelPro intervenes to make the cooking experience a little easier.
Now, GelPro won't actually prepare your family's dinner for you, but they will definitely help to make you more comfortable in the kitchen by relieving your tired, aching feet and back.  I was fortunate enough to have the chance to review the GelPro Flora 20" x 36" anti-fatigue gel mat in Antique Spanish Oak.  Read on to find out if GelPro turned me into Julia Child...or at least made me want to stay in the kitchen!
Everyone can benefit from the comfort provided by a GelPro mat. There are, however, millions of individuals that are especially susceptible to hard flooring. Chief among them - young and old alike - are those with painful arthritis, lower back pain, foot pain, and plantar fasciitis. According to the Center for Disease Control and Prevention, approximately 46 million Americans suffer from arthritis, and Newsweek reports that 65 million Americans suffer from back pain.
These conditions along with foot pain and plantar fasciitis are all exacerbated by standing on hard flooring. GelPro mats have unique and unsurpassed properties that help reduce discomfort caused by standing on all types of hard flooring. You will enjoy time spent in your kitchen once again - or on hard flooring surfaces anywhere in your home - without constant foot pain and back pain.
Millions of people who love to cook experience pain in their feet and back from standing on hard, unforgiving kitchen flooring for extended periods of time. GelPro has solved this ergonomic problem with a line of stylish anti-fatigue floor mats manufactured with a soft, shock-absorbing gel core. The unique properties of the GelPro gel enable GelPro mats to provide the most comfortable surface to stand on, regardless of the type of hard flooring you have in your home.

I couldn't have been more excited when the GelPro Flora 20" x 36" Gel Mat arrived, ready for me to review!  As I mentioned previously, I really hate cooking long, drawn-out meals mostly because my feet and back begin to ache when I'm standing on our hard tile floor for an extended amount of time.  I chose the Antique Spanish Oak color in the Flora pattern because we are currently remodeling our kitchen with a Tuscan theme.
We still need to replace the white tile floor and white counters, but then we will finally be finished!  I liked how the Antique Spanish Oak had a rustic, weathered look to it, which will fit in perfectly with our remodeled tile floors (eventually)!  The Flora pattern is also very beautiful for, from a distance, it looks like many intertwined and entangled lines.  As you grow closer to it, you realize that those lines actually form roses and their leaves.
| | |
| --- | --- |
| | |
Although I chose the standard 20" x 36" size GelPro mat, I was really surprised at just how many different sizes were available.  GelPro currently offers three standard size mats along with 8 designer sizes.  With that kind of variety, you could choose the EXACT size that would work best for the area you need covered.  There are also a myriad of different color and pattern choices too, which would suit every style of home decor.  These mats are perfect for use in the kitchen, bathroom or any room where you normally do a lot of standing in one place.
We currently have foam cushioned mats in our kitchen to stand on, but they don't seem to help my aching feet much.  They always feel great at first, but then after a while, you start to sink into the foam and you don't really feel very comfortable any longer.  With GelPro, it's different.  The gel doesn't move out of the way, but rather conforms to your feet and still provides support.
I honestly felt like I was standing on a plush piece of carpet while on this mat, and my feet and back didn't hurt, even while preparing a big meal!  Standing in the kitchen used to bother me so badly, that I even have a mini-stool to sit on if I'm going to be in there a while.  With the GelPro anti-fatigue mat, I think I can put that kitchen stool away for good!  As you can see in the lower right picture, everyone in my house loved standing on the GelPro mat, even the baby!
The only downside to the GelPro anti-fatigue gel mat is that depending on the size you need, they can be quite costly.  Of course, you definitely get what you pay for!  GelPro anti-fatigue mats are made with such quality and superior design that your feet and back will be screaming , "Thank You!"  If you stand in one place on a hard floor for an extended period of time, then I believe a GelPro anti-fatigue gel mat is an absolute must-have.
More Amazing Anti-Fatigue Mats from GelPro:
Disclosure:  I received the Flora 20" x 36" anti-fatigue gel mat in Antique Spanish Oak from GelPro in order to facilitate my review. No other compensation was received. This product review is based on my own personal experiences with this item and is completely honest and objective.
I'm a former 7th grade Science teacher turned stay-at-home mom that lives in Houston, Texas. I am married to my college sweetheart and have a beautiful daughter named Riley, who definitely keeps me on my toes! I am also involved in starting a small business which would both manufacture and sell an invention that I've patented, called Toothpaste 2 Go. I love interacting with my readers and hope to learn as much about you as you learn about me!
Melissa @ Mommy Living the Life of Riley!