Having a dog, a toddler and a husband in the house means that things can get a little smelly at times, especially in the bathroom!  Now that Riley is in full potty-training mode, our downstairs restroom often resembles Grand Central Station.  I've tried numerous ways to freshen the air in our home, but to no avail.
Candles are just too dangerous with an active child about, wax chips and sticks are overpowering at first, but then peter out rather quickly.  Sprays are great, but I'm always forgetting to actually SPRAY them!  Thankfully, I had the opportunity to try Glade's new Sense & Spray Automatic Air Freshener Starter Kit in Hawaiian Breeze.  Would this little gadget be able to tackle the tough odors of my home's downstairs bathroom?  Keep reading to find out!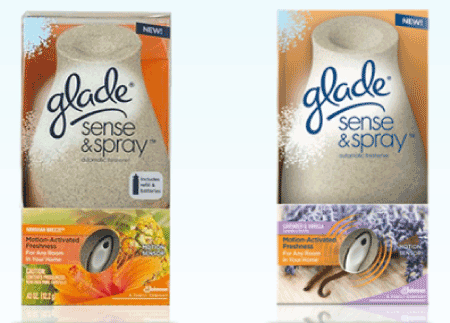 The Glade Sense & Spray Starter Kit comes complete with everything you'll need, right out of the box.  Two "AA" batteries and a canister of scent are also included along with the smart unit itself.  The first thing I liked about this air freshener was how well it blended in with my bathroom's decor.
The walls in this room are a tan color with dark brown furniture and wood flooring.  The neutral granite-looking surface was much more appealing than the typical white air fresheners, which stick out like a sore thumb.  I do wish that Glade would have also matched the button to the unit, but a white button is still better than the entire unit being white.  I set it on the windowsill of our bathroom's window and tested it out.
The next thing that I really appreciated about the Glade Sense & Spray Starter Kit is that the fragrance sprays directly upward, instead of spraying out.  I used to have an automatic air freshener which sprayed it's fragrance straight out in front of it, and I constantly felt like I was at war with my air freshener!  Sometimes, I would walk by at precisely the right moment and get sprayed in the face!  Thankfully, with the Glade Sense & Spray Automatic Air Freshener, the spray goes up and then comes down slowly, releasing its sweet fragrance.
The fragrance I had a chance to sample was Hawaiian Breeze.  I have to admit that while I love tropical scents, I didn't particularly care for this one because it smelled so heavily of coconut, which I hate.  If you like how coconut smells, then you will definitely appreciate the Hawaiian Breeze fragrance.
I am happy to report that the fragrance lasted quite a while in the air.  I was surprised that even after one squirt in a medium-sized room, I could still smell the fragrance over fifteen minutes later.  Because of the potent fragrance, this is the perfect solution for small, confined rooms, such as bathrooms, closets, laundry rooms, etc.
Well, you're probably wondering how the motion activated sensor portion of this air freshener worked and I have to say that I had mixed results.  The Glade Sense & Spray smart unit is supposed to detect motion and automatically release fragrance as soon as it does.  After that, it will go into a lock-out mode of either 20 or 30 minutes (both times are listed on their website, so I'm not sure which one is accurate), whereby no smell will be released.  This is a great feature which helps conserve both the fragrance itself as well as the two "AA" batteries it uses.
At night, the Glade Sense & Spray seemed to detect motion better than during the day.  I discovered that this was because the smart unit detects motion by detecting shadows.  Because I have my Sense & Spray Automatic Air Freshener sitting atop my windowsill in the bright sunlight, shadows are nowhere to be found.
During these times, I must resort to pushing the button manually in order to release the fragrance.  Personally, I don't find this troublesome, for our windowsill is located right by the toilet itself, making the button very easy to push when the motion detector didn't register.  Even though the smart unit isn't always motion-activated, I still recommend this product because it has finally provided a quick and easy solution to one of the smelliest rooms in our home!  :)
Disclosure:  I received a Sense & Spray Automatic Air Freshener Starter Kit from Glade and Family Review Network in order to facilitate my review. No other compensation was received. This product review is based on my own personal experiences with this item and is completely honest and objective.
I'm a former 7th grade Science teacher turned stay-at-home mom that lives in Houston, Texas. I am married to my college sweetheart and have a beautiful daughter named Riley, who definitely keeps me on my toes! I am also involved in starting a small business which would both manufacture and sell an invention that I've patented, called Toothpaste 2 Go. I love interacting with my readers and hope to learn as much about you as you learn about me!
Melissa @ Mommy Living the Life of Riley!