Colossal Christmas Countdown:

19 Days Until Christmas!

Being together with family and enjoying each others' company is what life is all about. In my opinion, board games are a great way to do just that. As soon as Riley is a little older and can actually play a board game with us for more than a few minutes, family game nights will be regularly scheduled events.

Goliath Games has a slew of interesting and unique games for both the young and old, and after shopping their website, I had a very long list of games I wanted to try. Thankfully, they allowed me to review three of their popular children's games with my family. Keep reading to find out more!

I reviewed the following games from Goliath Games:
Mad Mouse
, which retails for $29.99, but is currently on sale for $17.99 with FREE SHIPPING
Domino Express Classic
, which retails for $19.99
Fast Food
, which retails for $19.99, but is currently on sale for $19.16 with FREE SHIPPING
MAD MOUSE? (Ages 3+)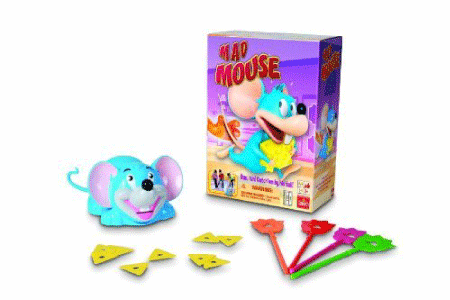 Mad Mouse is a very fun and unique game which takes advantage of the abundance of energy young children always seem to have.  The object of this game is very simple, though accomplishing it is not.  One to four players each receive a cat's paw handle which has a small hole in the center.  The electronic mouse has a piece of cheese in its mouth and begins scooting across the floor in all directions.
You must chase the mouse around and catch him by his tail with your cat's paw.  When the mouse is caught, he will spit out the piece of cheese he is carrying and the player who caught the mouse is then awarded the piece of cheese.  The player with the most pieces of cheese at the end of the game is the winner.
Riley had an absolute ball with the Mad Mouse game and squealed and screamed the entire time as she was chasing the mouse across the kitchen floor.  If you are looking for a fun and easy-to-play game for the whole family which will burn a ton of energy as well, then this is a must-have!
DOMINO EXPRESS CLASSIC (Ages 6+)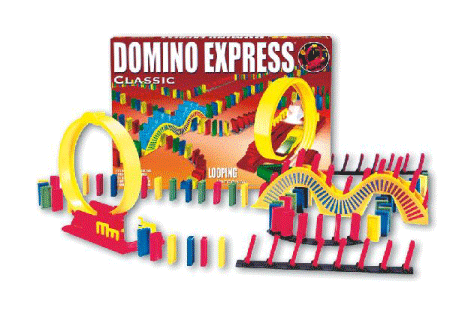 Domino Express Classic is a wonderfully classic game which guarantees creative fun for HOURS!  This game is an entire system which combines the fascinating action of falling dominoes with incredible and exciting stunts.  I can remember setting up huge, elaborate domino lines across the kitchen floor when I was little, but Goliath Games has added pieces to their domino set which are amazing, such as a loop-the-loop!  Just look at all of the items included with this game:
Loop-the-loop stunt track
Camelback stunt track
(2) Straight Express stunt tracks
(1) Curved Express stunt track
35 Express dominoes
50 Dominoes
I set up a few different domino paths and have to admit that I could have kept playing with this toy for many more hours.  I just know that as soon as Riley is older, she will absolutely love the Domino Express Classic game!
FAST FOOD (Ages 7+)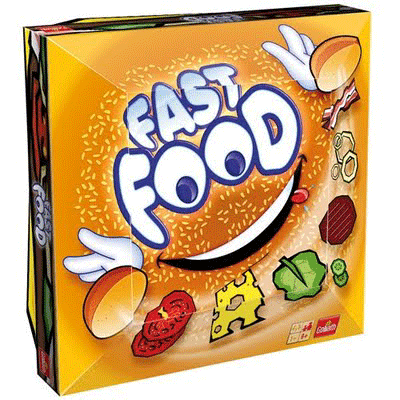 Fast Food is a fast paced game whereby the goal is to build the biggest burger using several different ingredient cards.  This game is played in much the same way that the card game "War" is played.  Up to six players are all dealt numerous burger ingredients cards.  Everyone flips up their cards, and if there is a match, you must be the first player to hit the burger buzzer.  If you are, you claim that match and add it to your burger.  If you mistakenly hit the buzzer, you will lose two ingredients from your burger.
The person with the most ingredients on their burger is the winner.  Once again, Riley was a little too young for this game, but my husband and I enjoyed playing it.  I also thought the packaging was super cool for the game's box resembled a box that a fast food burger might come in.  The burger buzzer was very fun to hit too, since it made the noise of a duck when it was pushed.
If you are looking for a great way to bring the family together and spend some quality time with each other this holiday season, then I highly recommend the unique and cool games that Goliath Games has to offer. Wile away those winter nights with some good, clean family fun and buy a game your child is sure to enjoy for years to come!
Disclosure:  I received the three games listed above from Goliath Games in order to facilitate my review. No other compensation was received. This product review is based on my own personal experiences with this item and is completely honest and objective.
I'm a former 7th grade Science teacher turned stay-at-home mom that lives in Houston, Texas. I am married to my college sweetheart and have a beautiful daughter named Riley, who definitely keeps me on my toes! I am also involved in starting a small business which would both manufacture and sell an invention that I've patented, called Toothpaste 2 Go. I love interacting with my readers and hope to learn as much about you as you learn about me!
Melissa @ Mommy Living the Life of Riley!