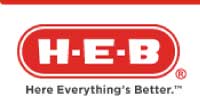 This year, I've been chosen to participate in the H-E-B Beauty Bloggers program! Each and every month, I will be bringing you the H-E-B Beauty Pick of the Month with plenty of chances to nab some great prizes too!
You know that great feeling you get at the salon when the professionals there cut and style your hair?  The reason your hair performs so well then is due in part to the stylist's skills and in part to the top quality styling tools they use.  John Frieda is one of the most well-known brands in the hair styling industry, which is why I was thrilled to discover that his line of styling brushes was selected to be June's beauty feature from H-E-B.  Keep reading to learn more!
Unfortunately, I have been "blessed" with fine, straight hair.  While my husband claims that he would kill for my hair over his coarse, curly locks, I just don't get it.  My hair has always laid board straight to my head causing me to rely on a myriad of styling tools and products to make it look presentable.
In the 20+ years that I've been fixing** my hair, I've become quite familiar with the large thermal round brush which creates oodles of volume.  But, I've actually burned myself (and my hair) in the past because those brushes can get dangerously hot.
That's why I was excited to try the four new styling brushes from John Frieda.  Here's the lowdown on each brush and its features:
Sleek Finish – 85400 paddle brush & 85401 cushion brush
Smooth & shine
Deep shine silicone
Tourmaline-ionic infused
Increases shine
Reduces frizz & smoothes flyaways
Volume Curls – 85403 small porcupine round brush
Definition & curl
Deep shine silicone
Tourmaline-ionic infused
Combination bristles for added shine
Reduces frizz & smoothes flyaways
Full Volume – 85405 large thermal round brush
Volume & shine
Deep shine silicone
Tourmaline-ionic infused
Faster drying & styling
Creates soft waves or added volume
Increases shine
Reduces frizz & smoothes flyaways
Because of my hair's texture, I naturally gravitated towards the John Frieda Full Volume Large Thermal Round Brush.  The crushed tourmaline gemstones release natural ions into your hair as you style for tons of shine.  These ions also help flatten the hair's cuticle layer which increases shine as well as reduces frizz.  During the hot, humid months here in Texas, I appreciate anything that might tame the frizzies and this styling brush from John Frieda definitely made a difference.
My hair seemed more shiny and sleek, yet pumped with volume.  I also didn't have a problem with the brush itself getting too hot either, which is especially important for me since my hair is both fine and chemically-treated.
I was also a big fan of the Sleek Finish 85401 Cushion Brush for this styling tool helped me to effortlessly detangle Riley's long hair after a bath.  Her fine, straight hair has grown almost to her behind and so detangling it can be a nightmare at times.  Thankfully, the flexible cushion base was just what the doctor ordered for gently, yet effectively, untangling her hair whether wet or dry.
I love the results I've seen thus far from using the John Frieda styling brushes on both my own hair and my daughter's hair.  If you would like to finally bring that salon fresh style and sleekness to your hair without paying those salon prices, then I would definitely recommend giving the John Frieda styling tools from H-E-B a try!
** Here in Texas, "fixing" is also an active verb that can be substituted in before almost any sort of action, such as "fixing to go to the store", "fixing to watch TV" and "fixing to fix my hair!"  It also makes a great reply to any number of questions:  "Hey, didn't I ask you to take out the trash?"  "Don't worry, I'm fixing to!"  :rofl:
Disclosure: I received the four John Frieda Styling Brushes mentioned above as well as a John Frieda Hairdryer from H-E-B in order to facilitate my review. No other compensation was received. This product review is based on my own personal experiences with this item and is completely honest and objective.
I'm a former 7th grade Science teacher turned stay-at-home mom that lives in Houston, Texas. I am married to my college sweetheart and have a beautiful daughter named Riley, who definitely keeps me on my toes! I am also involved in starting a small business which would both manufacture and sell an invention that I've patented, called Toothpaste 2 Go. I love interacting with my readers and hope to learn as much about you as you learn about me!
Melissa @ Mommy Living the Life of Riley!