Here's a scenario we've all experienced at one time or another...  You're sitting in the stands at a child's sporting event and it's 110 degrees in the shade!  You're absolutely miserable and are sweating from head to toe.  Of course, anytime you're outside and you're this hot, you aren't enjoying what's going on around you because you're too busy looking at your watch (which is frying your wrist) to see how much longer you have to stay here.
Or, you've already camped out near the snack bar so as to try and mooch a little cool air from the air conditioner they have cranking back there and are missing all of the action of the game.  Either way, what's the point of suffering like this any longer when there is the Handy Cooler?  This is an essential invention which cools the air around you anytime, anywhere...by up to 30 degrees Fahrenheit!  Keep reading to find out how the Handy Cooler will make sure you never lose your cool again!
I reviewed the Handy Cooler in Black from Genexus LLC, which retails for $59.95, but is currently on sale for $49.95.
Living in the South where it is hot about 75% of the time, I couldn't have been happier to have the chance to review this product!  I could write an entire post just listing all of the many places I could use the Handy Cooler, but suffice it to say that since it is portable, you could use it anytime you are uncomfortably warm, both indoors and out.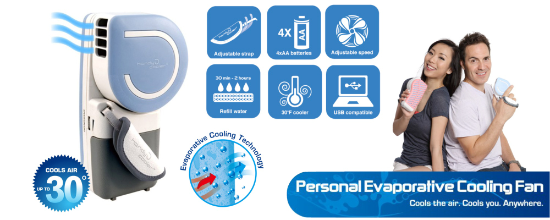 The Handy Cooler works like a portable air conditioner and only requires batteries, or a computer with a free USB connection, and water.  Watch the following video to find out more about the technology of the Handy Cooler!
As you can see below, the Handy Cooler came with the following items.  I was very surprised and pleased to find a USB Power Cable included, for I was under the impression that the Handy Cooler worked using "AA" batteries alone.  Now, if you're sitting in a stuffy office, you can easily plug this into your computer for instant relief without using any batteries!
The next step is to remove the cooling filter which resembles a very absorbent blue sponge.  Use the included measuring bottle to moisten the sponge with exactly 30 mL of water.  Reattach the filter cover and cooling filter to the Handy Cooler and you're all ready to go!
Finally, simply turn the power on using the dial on the side of the Handy Cooler.  Depending on how high you turn up the fan speed and what the ambient environment is where you are using it, the cooling filter should last between 1/2 hour to 3 hours before needing to be re-wet.  You should check the cooling filter periodically to make sure that it is still moist for the Handy Cooler ceases to cool the air once the cooling filter dries out.
I really liked the padded handstrap which made the Handy Cooler very comfortable to hold.  You can also adjust the direction of the fan somewhat by tilting the large, black disc portion of the Handy Cooler up or down.  I was also very surprised at just how quiet the Handy Cooler is.  The fan makes a very low whirring noise and the only real sound you hear is the air moving around.  I was expecting it to be much louder, but it wasn't!
The Handy Cooler can lower the temperature around it up to 30 degrees Fahrenheit, but this of course all depends on what the ambient or outside temperature and humidity levels are.  There is a neat chart included in the instruction booklet which shows that if you live where the humidity is relatively low and the outside temperature is relatively high, you will get the greatest temperature difference.
Here in Houston, where the humidity is quite high year round, I would only experience about a 6-11 degree F temperature drop using the Handy Cooler.  But, if you lived in a place having around 10-20% humidity and temperatures nearing 100 degrees or more, you could receive a 17 - 30 degree F temperature decrease.
There are a million places that the Handy Cooler could be used effectively and I plan on trying it out in every one of them!  If there was one thing though that I wish was included with the Handy Cooler, it would be a waterproof carrying bag.  Since you must measure out precisely 30 mL of water to wet the cooling filter and you can also use a USB power cord with the Handy Cooler, it would be super "handy" to have a bag which I could just throw everything in and then toss in my purse or baby bag.
If the bag was waterproof, that would ensure that none of the other contents in my purse could accidentally get a little water on them either.  This is a wonderful product though and one that I would highly recommend for the upcoming sports season or any time of the year!  Now, you will always be comfortable no matter how high the temperature climbs!
Disclosure:  I received the Handy Cooler in Black from Genexus LLC in order to facilitate my review. No other compensation was received. This product review is based on my own personal experiences with this item and is completely honest and objective.
I'm a former 7th grade Science teacher turned stay-at-home mom that lives in Houston, Texas. I am married to my college sweetheart and have a beautiful daughter named Riley, who definitely keeps me on my toes! I am also involved in starting a small business which would both manufacture and sell an invention that I've patented, called Toothpaste 2 Go. I love interacting with my readers and hope to learn as much about you as you learn about me!
Melissa @ Mommy Living the Life of Riley!