Could you get your team to say "brain freeze"?  What if you couldn't say ice cream, headache, eating, cold or fast?  Not so easy now, is it?  Because in this game, the obvious clues are strictly TABOO.
In Hasbro's hilarious party game, TABOO, the trick is to give creative, carefully-worded clues to get your team to guess words fast.  But don't mention unmentionables, or you'll get the buzzer and lose the point!  This new TABOO game is raising eyebrows with over 1,000 fresh new words and a game-changer die.
You'd better be shrewd, quick-thinking and willing to take some risks – but don't get shut down by the buzzer!  I recently had the chance to play this game with my husband.  Keep reading to learn more!
I reviewed the
TABOO Game
 from Hasbro Games, which retails for $29.99.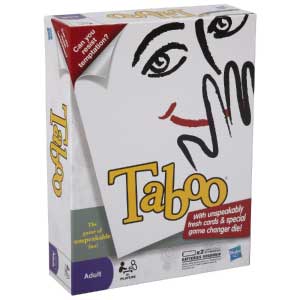 TABOO, everyone's favorite game of forbidden words, has gotten a makeover in 2011!  Now with a new, sleek look, game changing die and hysterical "Uh-Oh!" buzzer sound, players will frantically try to get their teammates to guess the winning word without using the Taboo words and phrases on their card.
How do you get your team to say the word "heart throb" without saying "teenage", "idol", "star" or "movies"?  With more than 1,000 words for players to try to guess, the "unspeakable" fun can continue for hours.
Game Objective:
Be the team with the most points at the end of the game.
Game Play:
Each player helps the team guess a specific word on a card without using the words that are off limits.
Be careful.  Opponents will be listening for the TABOO words that can't be used in game play.  Each time a team hears a TABOO word they can sound the new "Uh-Oh!" buzzer, signaling that the opposing team's turn is up!  But if team members guess the word before the buzzer sounds, a point is won.
And now a new game changing die adds even more excitement to the game, forcing players to do things like not speak or use their hands on their turn!
I had never played the original TABOO game before, so unfortunately, I can't speak to the differences between this version and the original, but I can tell you that TABOO is a complete and utter blast!  My husband and I played it amongst ourselves, even though at least four players are recommended.  We laughed the entire time and made so many crazy gestures and references in order to get the other one to guess the word.
The "Uh-Oh!" buzzer was a hoot too, so much so that we pushed it a few times just to aggravate the other player.  I could see how Hasbro's TABOO game would be a wonderful addition to your board game collection and would liven up any "adults only" party or get-together!
Disclosure: I received the TABOO Game from Hasbro Games in order to facilitate my review. No other compensation was received. This product review is based on my own personal experiences with this item and is completely honest and objective.
I'm a former 7th grade Science teacher turned stay-at-home mom that lives in Houston, Texas. I am married to my college sweetheart and have a beautiful daughter named Riley, who definitely keeps me on my toes! I am also involved in starting a small business which would both manufacture and sell an invention that I've patented, called Toothpaste 2 Go. I love interacting with my readers and hope to learn as much about you as you learn about me!
Melissa @ Mommy Living the Life of Riley!