Colossal Christmas Countdown:

39 Days Until Christmas!

Unfortunately, there is nothing healthier for you to drink than water.  Why unfortunately?  Because I absolutely HATE how water tastes and think that it is also one of the most bland drinks there is.  Of course, because I am trying to live a healthier life and make better dietary choices these days, I'm stuck drinking as much water as I can choke down.

If I deviate from drinking water, I automatically begin consuming additional "empty" calories as well as ingesting artificial sweeteners and colors too, which isn't good either.  Well now, HINT Water has created a way to bring you a hint of fruit flavor along with your water, without bringing you any additional sugar, sweeteners or calories along with it.  Keep reading to find out whether or not HINT Water is my new healthy drink of choice!

I was very excited to hear of HINT Water, which claims to be a lightly flavored, healthy alternative to water.  I was a little surprised to find that HINT Water costs almost 2X what regular bottled water costs, but honestly, if this stuff tastes better than water, I'm afraid that I would just have to pay the additional cost.  I opened up the box of HINT Water I received and was happy to find that I had seven different flavors to sample and almost all of them sounded very appealing.
I decided to try the bottle of HINT that I thought I would like best, which was Blackberry.  I took a sip and I wasn't too happy anymore.  I thought that the HINT Water had hardly any flavor whatsoever and because the flavoring is unsweetened, I was left with a slightly bitter taste in my mouth.  It honestly reminded me of when I was a kid and would make Kool-Aid without sugar or if I didn't rinse my Kool-Aid glass out fully and then drank water out of it.  There was this background bitterness, which to me, wasn't very refreshing at all.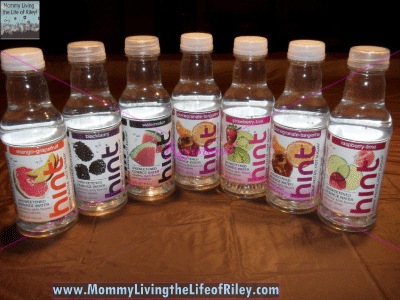 My husband, on the other hand, didn't think the HINT Water was too bad.  He doesn't mind unsweetened tea and often drinks water with just lemon in it.  He also loves water and considers it to be one of his favorite drinks.  He thought that the flavoring was too weak and agreed that the HINT needed to be a tad stronger.  Other than that, he thought that the HINT Water tasted fine.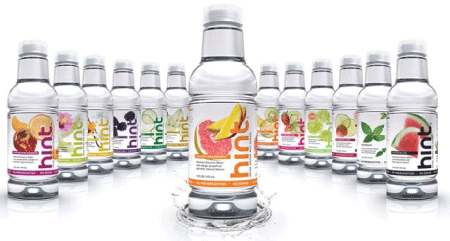 So there you have it.  If you think that you might be more like me and prefer a drink which has some sweetness to it or at least more fruit flavor and less bitterness, then I would not recommend purchasing HINT Water.  If you are like my husband and don't mind unsweetened beverages and think water is a great tasting drink, then I would recommend giving HINT Water a try.
It might be just the thing you're looking for to break out of the ordinary.  Either way, you can be sure that HINT Water is a healthy alternative and won't expand your waistline this holiday season!
Disclosure:  I received the case of HINT Premium Essence Water in order to facilitate my review. No other compensation was received. This product review is based on my own personal experiences with this item and is completely honest and objective.
I'm a former 7th grade Science teacher turned stay-at-home mom that lives in Houston, Texas. I am married to my college sweetheart and have a beautiful daughter named Riley, who definitely keeps me on my toes! I am also involved in starting a small business which would both manufacture and sell an invention that I've patented, called Toothpaste 2 Go. I love interacting with my readers and hope to learn as much about you as you learn about me!
Melissa @ Mommy Living the Life of Riley!