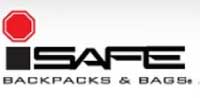 Unfortunately, bullying in school has always been prevalent, but as of late, the problem seems to have reached epidemic proportions.  Personally, I detest bullies and everything they stand for, because of their power to shatter the self-esteem of sweet, innocent little kids.  It makes me sick to think of that happening to my child one day and I have pledged to do anything and everything in my power to make sure she's not affected by those horrible children.
Of course, I believe that the true solution to preventing bullying starts at home, for children should be taught to be empathetic and helpful to others at all times, and to stick up for the rights and respect of the weak and defenseless.  Unfortunately, not all children learn these lessons which make other methods of prevention and protection necessary.
iSafe Backpacks and Bags provide a perfect way to protect ourselves and our children from those who intend to do us harm, for embedded inside is the World's Loudest Personal Alarm System which can attract immediate help in a dangerous situation.  Keep reading to learn more!
I reviewed the School Backpack in Pink from iSafe Bags which retails for $69.99, but is currently on sale for $59.99.
As a former teacher, I witnessed numerous accounts of bullying on campus and always ended those occurrences as soon as I saw them.  Unfortunately though, a school campus can contain thousands of students and only a few hundred teachers.  There are so many blind spots on a campus where bullying can take place and a teacher's eyes just can't be everywhere at once.  This is why it's imperative that a child have a quick, easy and effective way to let adults know they are in trouble.
The iSafe School Backpack looks exactly like any other high-quality pack, except that it's also hiding a serious secret weapon...a complete mobile personal security system.  The iSafe not only emits an ear-piercing siren when a child pulls the activation cord, it also flashes a bright red LED strobe light that will not only startle any bully or child predator and most likely make them run away, it will also bring helpful adults running to see what's the matter.
I've always found through my own life experiences that bullies, in the form of both adults and children, prey on the weak.  When they find a person who won't defend themselves from a bully's antagonisms, the bully gets some sort of thrill and usually makes a constant target of that person, picking on them relentlessly.  That's why typically everyone must confront their bully in one way or another to finally make them go away.
The iSafe School Backpack is one way to confront a bully in a peaceful manner to let them know that you're not to be messed with.  If a child is being picked on and is diligent about keeping this backpack within arms' reach, there's a great chance the bully will just move on to someone else they feel is an easier target.
The iSafe School Backpack weighs only 2.3 pounds and includes two 9-volt batteries, which should be replaced every 4 months for optimum performance.  When the battery power is low, a low battery indicator light, located next to the front strobe light will flash for up to 60 hours to indicate that the batteries must be replaced.  In addition, this strobe light will continue to flash every 30 seconds until all of the battery power is completely drained.
http://www.youtube.com/watch?v=C46mJYGkwoo
The iSafe School Backpack can be carried by any school-age child, though it is made primarily for children ages 8 years old and up.  If you will be outfitting your child with an iSafe this upcoming school year, be careful to remind them that this is not a toy and only to use it in emergency situations.  Care must also be taken not to immerse the school bag in water, throw the backpack on the ground or against hard objects, jump, sit or stand on the backpack.
The iSafe Backpacks and Bags aren't just made for children either.  There are college backpacks, which conveniently house laptops, messenger bags and waist packs too.  These are perfect accessories to carry when traveling on vacation, camping in the woods, taking the subway or any other time when you want to have a source of added protection.  Make sure your child has a healthy, happy school year this fall with an iSafe School Backpack!
Additional iSafe Bags and Backpacks:
Disclosure: I received the School Backpack in Pink from iSafe Bags in order to facilitate my review. No other compensation was received. This product review is based on my own personal experiences with this item and is completely honest and objective.
I'm a former 7th grade Science teacher turned stay-at-home mom that lives in Houston, Texas. I am married to my college sweetheart and have a beautiful daughter named Riley, who definitely keeps me on my toes! I am also involved in starting a small business which would both manufacture and sell an invention that I've patented, called Toothpaste 2 Go. I love interacting with my readers and hope to learn as much about you as you learn about me!
Melissa @ Mommy Living the Life of Riley!