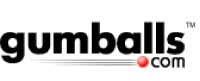 When I was a kid, long before the mega bank of candy dispensers at the mall and large, plastic swirling gumball machines which light up and make noise, there was the classic red gumball machine with glass globe and large metal coin mechanism on the front.
This antique gumball machine brings back fond memories from when I was a kid, for they used to be everywhere...grocery stores, restaurants, malls and discount stores.  You'll be hard pressed to find one of these classic dispensers in public anymore, but thanks to Gumballs.com, you can now have your very own for proud display in your home or office.
I recently had the chance to review the King Carousel Gumball Machine with Stand Gift Set from Gumballs.com.  Keep reading to learn more!
The original King Carousel Gumball Machine with Stand and Gumballs is the classic gumball machine that set the standard for bubble gum machines when they were first introduced in the 1920's, almost 90 years ago.  This brand new replica antique gumball machine is guaranteed authentic and made by Carousel/Ford Gum Machine.  Don't settle for cheap imitations!

At 15" tall (37" with stand), this old fashioned gumball machine is perfect for home, office or dorm room use.  It's also a great gumball machine for kids because it works as a gumball machine bank that helps teach them how to save money. Kids of all ages love to put a coin in and guess which color they'll get.  Four lbs. of Carousel Gumballs are included, giving you everything that you need right out of the box!
King Carousel Gumball Machine Features:
Real glass gumball machine globe
Cast metal gumball machine base, lid, and coin mechanism
Accepts any coins (quarters, dimes, nickels, pennies)
Includes instructions for "free spin" to work without coins
Works as a gumball bank - retrieve coins when full
Anti-spill gumball chute door cover
Machine comes fully assembled in a gift box
Dispenses small gumballs (.62" or smaller), candy, or nuts
Gumball capacity: 5 lbs. of .62" gumballs (4 lbs of gumballs included)
Dimensions: 15"H x 8"W (37" tall with included stand)
Weight: 8 lbs.
Color: Classic red finish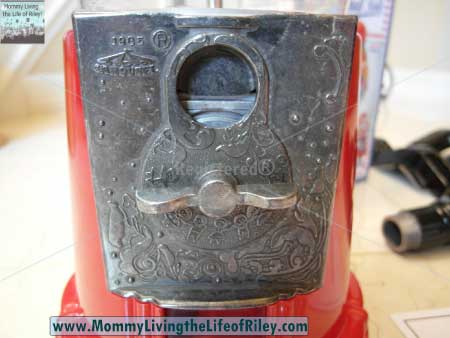 I have to admit that I was thoroughly thrilled with the King Carousel Gumball Machine, for it looked exactly as I remembered.  All of the materials used were top-notch and completely authentic.  Just look at the intricate carvings and details in the coin mechanism plate shown above.  You can honestly see the small children at the bottom of the coin dial which look like they're riding a carousel!  Hmmm...guess that's where they got the name "Carousel" for the gumball machine.  I never knew that before!
The King Carousel Gumball Machine can be filled with gumballs or other hard candies and the amount of candy released with each turn of the knob can be adjusted by the owner.  The factory preset is one gumball per coin.  That's another feature you can change...whether or not you want your gumball machine to take money or work on "freeplay".  Because we have a 3-year old little munchkin with no money, we decided to leave the factory preset of taking 1 coin for 1 gumball, as is.
As you can see, once the King Carousel Gumball Machine is fully assembled, it is quite a beauty!  I love the classic, antique look to this machine and think it makes a fun, yet beautiful statement in our home.  What's more, this gift set came complete with 4 pounds worth of gumballs for us to enjoy once the machine was assembled.  Four pounds worth of gumballs will fill this machine up a little more than halfway.
My husband and I frequently stroll on over to the King Carousel Gumball Machine to sample one of the seven assorted flavors from our classically styled dispenser.  Each and every time I give that ol' silver handle a turn, a part of me returns to my childhood and remembers the delight I used to feel when getting a gumball.  I guess some things really don't change!  :big grin:
Disclosure: I received the King Carousel Gumball Machine with Stand Gift Set in order to facilitate my review. No other compensation was received. This product review is based on my own personal experiences with this item and is completely honest and objective.
I'm a former 7th grade Science teacher turned stay-at-home mom that lives in Houston, Texas. I am married to my college sweetheart and have a beautiful daughter named Riley, who definitely keeps me on my toes! I am also involved in starting a small business which would both manufacture and sell an invention that I've patented, called Toothpaste 2 Go. I love interacting with my readers and hope to learn as much about you as you learn about me!
Melissa @ Mommy Living the Life of Riley!