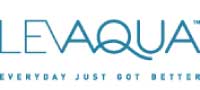 There's  nothing better at the end of a long, hard day than a nice, relaxing shower.  I love taking steaming hot showers, for the water just seems to melt all of the stress away (and leaves me feeling clean and fresh).
Of course, if you've ever stayed at a hotel with a bad showerhead, or watched that episode of Seinfeld where Jerry has low water pressure, you'll know that the showerhead you choose to use can make or break your bathing experience.
LevAqua creates innovative and appealing solutions that are functional, easy to use and affordable for both the kitchen and bath.  They recently allowed me to review the FH220 fixed digital showerhead.  Keep reading to learn more!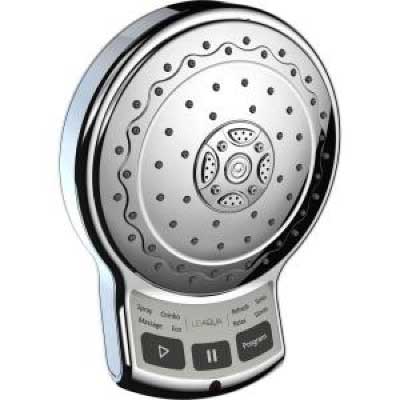 LevAqua's OneTouch FH220 Fixed Digital Showerhead gives you unsurpassed control and comfort at your fingertips.  Digital technology built inside of the showerhead itself allows you to easily select from one of 9 digital settings.  Choose from 4 invigorating sprays, such as spray, massage, combo or eco, with one touch of a button.
Conserve water three ways with Eco Spray, Pause or Timer settings.  Set the timer for 5 or 10 minutes and the shower will give you a quick signal when your time is up.  This unique showerhead features 2 pre-programmed spa settings, designed to relax or energize.  Each 5-minute program varies spray patterns to create a luxurious spa experience.  Use your shower to its fullest potential with LevAqua's OneTouch FH220.
9 digitally controlled settings
4 digitally controlled invigorating spray settings
Extra large 5-inch shower head for a luxurious shower experience
One touch pause button, 2 time settings and eco mode for the ultimate in water saving functions
Quality backed by a 5 year warranty
2 preset shower programs for a relaxing or refreshing experience
Installs in seconds and replaces your existing showerhead
I couldn't wait to install the LevAqua FH220 Fixed Digital Showerhead as soon as it arrived, for taking long, hot showers is one of my favorite ways to relax.  Because it's digital, this showerhead requires the installation of 4 "AAA" batteries (included), so first you must unscrew the battery door and insert new batteries.
Next, simply remove your existing showerhead and thoroughly clean the shower-arm threads.  Then, just screw the LevAqua showerhead on, being careful not to over-tighten.  Now you're ready to enjoy one of the many relaxing and rhythmic water patterns!
Spray - Experience a full-flow water spray.
Combo - This setting combines spray and massage.
Massage - Enjoy a pulsating, more concentrated water pattern.
Eco - Use this setting for an intense, concentrated spray and 20% savings in water consumption.
Pause - When this button is pressed, the flow of water ceases.  Simply press the pause button again to begin the water flow again.
Program (Relax and Energize/Refresh) - Both of these settings run for 5 minutes and use a preset sequence of water spray patterns to set the selected experience.  After the 5 minutes, the water flow reverts back to the Spray setting.
Timer - Press the timer button to select either a 5-minute or 10-minute shower length.  When the timer program is complete, the water will pause for a few seconds and then resume the current spray pattern.  The timer settings cannot be used in conjunction with either programs.
I am a huge fan of our new LevAqua FH220S Fixed Digital Showerhead!  I love the many different water patterns available for both relaxation and invigoration.  I also love how now I can painlessly and effortlessly reduce my water consumption by up to 20%!  Now that's a savings that both Mother Nature and my bank account will appreciate!  The only downside to using the LevAqua FH220 showerhead is that now I never want to get out of the shower!  :big grin:
Disclosure: I received the FH220S Fixed Digital Showerhead from LevAqua in order to facilitate my review. No other compensation was received. This product review is based on my own personal experiences with this item and is completely honest and objective.
I'm a former 7th grade Science teacher turned stay-at-home mom that lives in Houston, Texas. I am married to my college sweetheart and have a beautiful daughter named Riley, who definitely keeps me on my toes! I am also involved in starting a small business which would both manufacture and sell an invention that I've patented, called Toothpaste 2 Go. I love interacting with my readers and hope to learn as much about you as you learn about me!
Melissa @ Mommy Living the Life of Riley!