Now that Thanksgiving is officially behind us, we are all looking forward to the wondrous Christmas season and are probably busy decking the halls in order to make our home a little merrier...stringing lights, hanging wreaths and trimming the tree.
You might also be busy readying your home for the cold winter weather that lies ahead...cleaning out gutters, adding caulking and weather stripping around doors and windows, even adding an extra layer of insulation or trimming back limbs away from your home.
In order to finish all of the tasks listed above quickly and SAFELY, a good ladder is essential.  For the last 40 years, Little Giant Ladder has been successfully making the finest ladders in the world (used by NASA, military, Boeing, DirectTV and millions of homeowners), and now all of their learning and know-how has culminated into their finest ladder to date, the Little Giant Xtreme.  Keep reading to learn more!
The completely new Little Giant Xtreme is a multi-use ladder that combines the strength, safety and versatility of the classic Little Giant Ladder with several new groundbreaking features, including the Comfort Step, AirDeck workstation, user-friendly Rock Locks, and the stronger, safer Quad-Lock hinges.
The integrated Comfort Step serves as a spacious, comfortable standing surface at any height or configuration. When coupled with the AirDeck's safety handrail, the Comfort Step literally makes you feel like you are standing on solid ground.  This is ever so important for counteracting that dangerous feeling of vertigo that sometimes happens when standing up high on a ladder.
In our home, we have a 12-bulb chandelier that hangs in the center of our foyer.  This chandelier is about 15-18 feet off the ground and is in the middle of the room, with no walls or anything else around to hold on to.  I absolutely dread changing these light bulbs whenever they burn out, but now thanks to the safety handrail on the AirDeck of the Little Giant Xtreme, I won't get those shaky knees and fearful feelings that I will topple off the ladder at any time.
Each side of the Little Giant Xtreme telescopes independently, giving you the option of several sizes of stepladders, from 4 to 9 feet depending on the model you select.  You can also adjust one side to work on staircases or uneven surfaces or as a 90-degree stepladder.  The Quad-Lock hinge even allows you to use the ladder as a wide-flared, multi-height extension ladder (from 11 to 19 feet high).
Finally, the inner and outer ladder assemblies separate to form two trestles for a time-saving scaffolding system. The Little Giant Xtreme is the finest multi-use ladder system in the world and couldn't be easier to configure and use in even the toughest situations.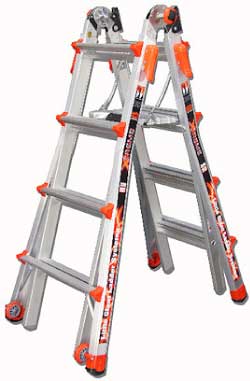 DIY homeowners, general contractors, painters, window cleaners, facility maintenance professionals, landscapers and home decorators are among the many people who will now be able to use the right ladder for the right job every time.  The Little Giant Xtreme ladder is:
Lightweight ~ Exclusive aerospace-grade aluminum alloys, commonly used in military aircraft, make the Little Giant Xtreme lighter than any comparable multi-use ladder on the market.
Comfortable ~ The Little Giant Xtreme is the only multi-use ladder in the world to feature the Comfort Step, a large built-in standing surface that makes standing on the ladder comfortable and safe, no matter the chosen configuration. Standing on the Comfort Step feels like standing on solid ground.
Safe ~ The Little Giant Xtreme meets or exceeds OSHA and ANSI standards.  It is rated to hold 300 lbs. as an extension ladder and as a true two-person, two-sided stepladder.  The AirDeck workstation includes a magnetized tool tray and safety handrail so the user can enjoy the secure feeling of something to hold on to at the top of the ladder.
Versatile ~ Capable of working at multiple positions, the Little Giant Xtreme adjusts to the perfect height to reach even the toughest areas, such as stairwells or vaulted ceilings, and it can be used on uneven surfaces, stairs or sloping ground.
If you want to see just how unique and truly easy to use the Little Giant Xtreme Multi-Use Ladder is, then please watch the following demonstration video.  After viewing this, you'll see that there's nothing in the world like the Little Giant Xtreme!
I couldn't be more thrilled with the Little Giant Xtreme Multi-Use Ladder and honestly don't have one bad thing to say about it!  It folds up compactly, is a 24-in-1 ladder for the maximum in versatility, is extremely safe thanks to the AirDeck workstation and Comfort Step platform and it can replace practically every other ladder you already have in your home or garage.  I also love how easy it is to move from room to room or job to job due to the Tip & Glide Wheels.
I've had ladders in the past which were very bulky and heavy, but the included wheels makes moving the Little Giant Xtreme a breeze.  Now, cleaning gutters, putting up drapes or Christmas trees, changing light bulbs or installing holiday lighting can be quick, easy and super safe with the Little Giant Xtreme.  Make a special homeowner on your list VERY happy this year with a Little Giant Ladder!
More Great Ladders and Accessories from Little Giant:
Disclosure:  I received a Little Giant Xtreme Model 17 Multi-Use Ladder from Little Giant Ladder in order to facilitate my review. No other compensation was received. This product review is based on my own personal experiences with this item and is completely honest and objective.
I'm a former 7th grade Science teacher turned stay-at-home mom that lives in Houston, Texas. I am married to my college sweetheart and have a beautiful daughter named Riley, who definitely keeps me on my toes! I am also involved in starting a small business which would both manufacture and sell an invention that I've patented, called Toothpaste 2 Go. I love interacting with my readers and hope to learn as much about you as you learn about me!
Melissa @ Mommy Living the Life of Riley!