Thank you to LUNA Protein for providing me a LUNA Protein sample pack to review. The opinions I've expressed here are solely my own and represent my honest viewpoint.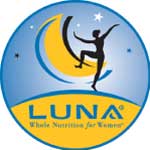 Being a mom is a round-the-clock job with no time outs, lunch hours or other scheduled breaks to take when you need a breather.  So most of the time, that means having to think quick on your feet when life (and your family) is coming at you at full speed!
Because I'm frequently running errands throughout the day, I I love finding healthy, portable snack options which keep me satisfied and full and out of the drive-thru.  Recently, I had the chance to review five varieties of LUNA Protein bars.  Keep reading to learn more about the snack designed just for us busy girls!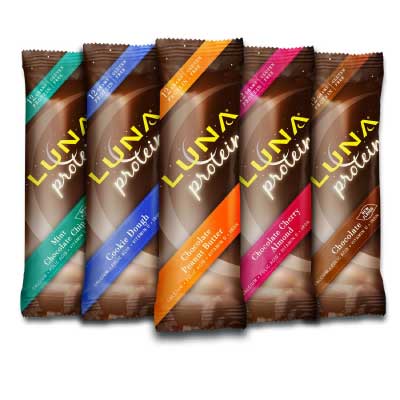 Now there's LUNA Protein, the first protein bar made just for women.  Decadent chocolatey covered nougat with 12 grams of protein, folic acid, calcium, iron and vitamin D and containing less than 200 calories.  I had the chance to sample the five, now gluten-free, LUNA Protein bar flavors:  Mint Chocolate Chip, Cookie Dough, Chocolate Peanut Butter, Chocolate Cherry Almond and Chocolate.  The flavors all sounded extremely tantalizing and the size of each bar made them perfect to toss in my purse for a quick snack on the go.
Each bar is considered low on the glycemic index which means that it digests slow for prolonged levels of satiation and energy, just what any busy mom needs.  Although I considered all of the bars pretty tasty, the cookie dough and chocolate peanut butter varieties were my favorite.  I have to admit though that I have mixed feelings when calling these bars "healthy".
While they do pack in plenty of protein (12 g), dietary fiber (3 g) and B vitamins, they also pack in saturated fat (3.5 g), carbohydrates (21 g) and sugars (14 g).  Saturated fat, carbs and sugar are things I try and limit in my diet if at all possible and so I'm not thrilled that the LUNA Protein bar contains as much as it does of these ingredients.
Basically, I look at the LUNA Protein bar as a great alternative for when you might have a sweet tooth that needs satisfying.  While there is not much nutritional value associated with diving into a hot fudge sundae or eating several cookies, enjoying a LUNA Protein bar instead would be a terrific option.
This sweet treat will stick with you and keep you feeling full for much longer and because it contains less than 200 calories, it won't do any damage to a diet you might be trying to stick to either.  :angel:
Disclosure:  Please click here to learn more about LUNA Protein. I was selected for this sponsorship by the Clever Girls Collective. All opinions are my own. #cleverLUNA
I'm a former 7th grade Science teacher turned stay-at-home mom that lives in Houston, Texas. I am married to my college sweetheart and have a beautiful daughter named Riley, who definitely keeps me on my toes! I am also involved in starting a small business which would both manufacture and sell an invention that I've patented, called Toothpaste 2 Go. I love interacting with my readers and hope to learn as much about you as you learn about me!
Melissa @ Mommy Living the Life of Riley!