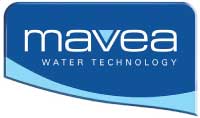 Everyone knows that drinking water is essential to good health.  Of course, the quality of the water we drink is extremely important, for regular tap water can contain plenty of contaminants, such as lead, parasitic organisms and chlorine, any of which can make us ill.  Because of our awareness of the dangers of tap water, bottled water is now looked at as a necessity.
Unfortunately, bottled water is a disaster for the environment and this water can also contain high levels of chemicals which have leached in from the plastic bottles themselves.  So what is a family to do?  How can we provide clean, safe drinking water for ourselves so that we don't compromise our precious health?  Mavea has invented a water filtration pitcher which is super simple to use and yet inexpensive to operate.  Keep reading to learn much more!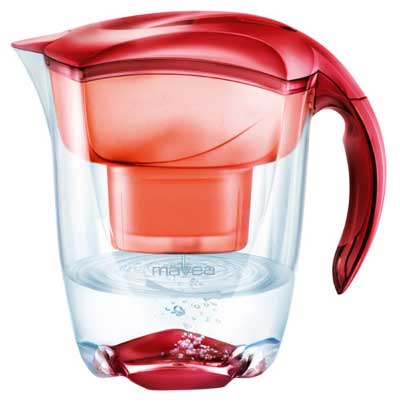 The distinctive European design of the Mavea Elemaris XL is as functional as it is stylish. The Elemaris XL features a Mavea Smart Meter filter change indicator that measures water hardness, water volume, and length of time in use, so there is no more guessing when to change your filter. Soft rubber grips on the handle make for a comfortable hold and prevent the pitcher bottom from sweating on or scratching tabletops and counters.
In addition, the smart pour-through lid utilizes water pressure to open the lid, which automatically swings closed when water flow stops.  Designed for health as well as convenience, this German-made filtration system incorporates the highest quality materials, including BPA-free plastics.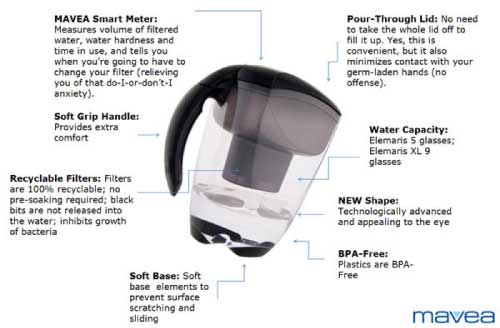 Mavea water filter cartridges are certified by WQA to NSF/ANSI 42 and 53 to significantly minimize chlorine taste and odor, as well as reduce water contaminants, such as heavy metals, agricultural chemicals, and industrial pollutants. Mavea filtered water tastes fresh and clean, as water should.
The filter media is treated with silver to discourage the growth of bacteria and maximize the filter's life. In addition, a micro-screen in the filter reduces the release of black carbon particles. No presoaking is required to activate the filter, which offers consistent flow and filtration throughout its 40-gallon lifespan.
The Mavea Elemaris XL not only saves money and waste associated with buying bottled water, but this premium water filtration system is also 100% reusable. Americans send an estimated 38 billion water bottles to landfills each year. In comparison, each Mavea water filter equals approximately 300 bottles of water--without the associated waste.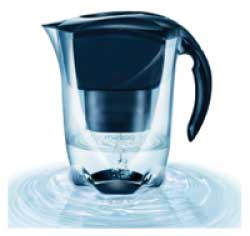 Mavea is the only water filter company that offers a comprehensive filter recycling program. Consumers can easily recycle used filters at recycling bins located in participating stores, or by sending them directly through the mail at Mavea's expense. The company recycles the used filters at its facility, where the components are separated, cleaned, and reused in commercial non-food filter applications - you can be sure absolutely no parts will end up in a landfill.
If you are concerned about the quality of your family's drinking water and want to make sure they have only the best to put in their bodies, then I highly recommend purchasing a Mavea Elemaris XL Water Filtration Pitcher.  Not only will you help improve the health of your family by ridding their water of harmful contaminants, you will also help rid our environment of excess waste.  All of these benefits come at price much cheaper than buying bottled water, so it's definitely a win-win situation!
 

Disclosure:  I received the Elemaris XL Water Filtration Pitcher from Mavea in order to facilitate my review. No other compensation was received. This product review is based on my own personal experiences with this item and is completely honest and objective.
I'm a former 7th grade Science teacher turned stay-at-home mom that lives in Houston, Texas. I am married to my college sweetheart and have a beautiful daughter named Riley, who definitely keeps me on my toes! I am also involved in starting a small business which would both manufacture and sell an invention that I've patented, called Toothpaste 2 Go. I love interacting with my readers and hope to learn as much about you as you learn about me!
Melissa @ Mommy Living the Life of Riley!