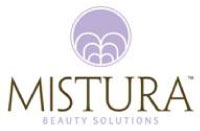 Since becoming a stay-at-home mom, there was one goal I always had for my marriage and that was to try and fix myself up every day.  Sadly, I must admit that I don't typically reach that goal.  When I had a job, it was easy, since I always had my hair fixed, nice clothes on and makeup applied in order to go to work.
But, since the only person I see during the day now is my daughter, finding the time to apply my makeup and style my hair is often very difficult.  That's why I was thrilled to learn about a company called Mistura Beauty Solutions.  They have a revolutionary line of cosmetics which are extremely quick and easy to use.  Keep reading to learn more!
I reviewed the following products from Mistura Beauty Solutions:

Ultimate 6-in-1 Beauty Solution Kit, which retails for CA$73.99

Essential Kit, which retails for CA$28.99

Plump and Glow Lip Plumper in Reese, which retails for CA$18.99
Receive 25% OFF your entire order with coupon code "LHJ25"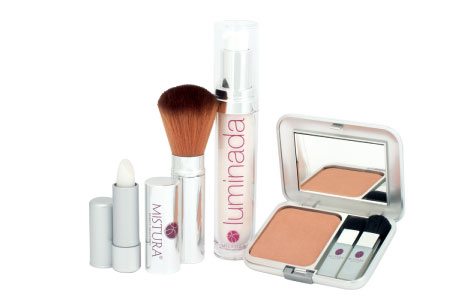 Mistura's Ultimate 6-in-1 Beauty Solution Kit includes everything you need in one handy and beautifully packaged set. This kit includes the addictive Luminada illuminating moisturizer which serves as the perfect moisture base to prepare your skin for the Mistura line of cosmetics.
The kit also includes Mistura's signature 6-in-1 Beauty Solution, which gives a subtle yet iridescent glow to all skin types and colors.  To finish it off, one easy application of Mistura's Vitamin E moisture stick provides the creamiest lip base to turn your miracle powder into a customized lip color.  The Mistura Ultimate 6-in-1 Beauty Solution Kit is one unified palette for the ultimate all around glow.
With the Ultimate 6-in-1 Beauty Solution Kit, you can use just ONE PRODUCT to serve as your foundation, blush, eyeshadow and lipstick!  This was definitely unheard of and what's more, it comes in only one shade.  This specialized cosmetic formula is designed to automatically adjust to your perfect shade, no matter whether you have extremely fair skin or even extremely dark skin.  Now this I had to see!
I really enjoyed the Luminada moisturizer, for it was extremely light and seemed to have a touch of shimmer too.  It glided on my skin quickly and easily and my skin absorbed it like a sponge.  Next, I applied the Vitamin E Stick on my lips to give them some added moisture and prep them for the Mistura Beauty Solution powder.  Now, it was time to apply the Beauty Solution powder to my cheeks and face using the included retractable brush.  I loved how sleek and soft this makeup brush was and it definitely pampered my skin.
Unfortunately, I wasn't thrilled with the results I received from the Mistura Beauty Solution powder.  You see, I have very fair skin which shows everything, including several red marks due to rosacea and acne as well as plenty of sun damage.  I typically wear liquid foundation with loose powder to set it so that I can hide these imperfections and have smooth, flawless skin.  I was impressed that the Mistura Beauty Solution powder was able to match itself to my skin type, but I was unimpressed with the coverage it provided.
In my opinion, I looked just like I had a bronzer powder applied over my skin which added a glow and a shimmer, but didn't cover or mask my skin's flaws.  Now if you don't require the level of coverage that I do and you're already blessed with perfect skin, then this product might work well for you.  But if you happen to wear foundation because your skin isn't perfect, then you may find yourself disappointed with the results.
The Mistura Beauty Solution did work great though on my lips, as blush and as an eyeshadow.  It was very easy to apply and a little goes a long way.  I also really enjoyed the color of the Plump and Glow Lip Plumper in Reese as well as how moisturized and kissable my lips looked while wearing this product.  I can't say that I noticed a substantial amount of lip plumping, but any amount I can get is definitely appreciated!  :kiss:
The Essential is perfect for travel, since it contains a smaller amount of each product in the Ultimate Kit.  This clear zippered makeup kit comes with a 1/8th ounce jar of the Luminada illuminating moisturizer, a mini clamshell of the 6-in-1 Beauty Solution and a baby Kabuki travel brush with Vitamin E lip balm.  The Essential Kit is great for gift giving or an affordable way to try out Mistura's cosmetics for yourself.
If you have been searching for a quick and easy way to fix yourself up when time is of the essence, then Mistura Beauty Solutions have you in mind!  Their Ultimate 6-in-1 Beauty Solution Kit, Essential Kit and Plump and Glow Lip Plumper can definitely have you out the door and looking fabulous in mere minutes!  :time's up:
Disclosure:  I received the Ultimate 6-in-1 Beauty Solution Kit, the Essential Kit and the Plump and Glow Lip Plumper in Reese from Mistura Beauty Solutions in order to facilitate my review. No other compensation was received. This product review is based on my own personal experiences with this item and is completely honest and objective.
I'm a former 7th grade Science teacher turned stay-at-home mom that lives in Houston, Texas. I am married to my college sweetheart and have a beautiful daughter named Riley, who definitely keeps me on my toes! I am also involved in starting a small business which would both manufacture and sell an invention that I've patented, called Toothpaste 2 Go. I love interacting with my readers and hope to learn as much about you as you learn about me!
Melissa @ Mommy Living the Life of Riley!