I LOVE saving money anyway and anywhere I can.  As a matter of fact, I approach stretching my family's dollars as I would a game, and I enjoy strategizing how to get the most bang for my buck.  One of the staples in my money-saving arsenal is the store loyalty card.  These have recently become wildly popular, with almost every store imaginable offering some sort of free discount club.
The upside to this wave of bargains is clear, but the downside is that now my entire wallet and keychain have become overrun with numerous plastic cards and tags.  MoBeam has since developed a nifty little device which can help keep your loyalty cards in check, called the numi key.  Keep reading to find out more about my newest budgetary tool!
I reviewed the
numi key
from MoBeam, Inc., which retails for $19.95.
The numi key is a small (2" x 1.5" x 0.5") device guaranteed to put an end to all of the clutter in your wallet and on your keychain due to the many store loyalty cards you may be carrying.  This portable electronic gadget attaches to your keyring and can store information for up to 50 loyalty cards.  You can now easily add, edit and delete your loyalty cards from any PC, with support for storing coupons and gift cards coming soon.
The numi key is also rechargeable and doesn't use any costly batteries.  Simply plug it into your computer's USB port to charge.  The best part is that when you are ready to use your loyalty card at a participating retailer, you simply point the numi key at the flatbed or handheld laser scanner, push the red button on the numi key and your information is instantly beamed into the register.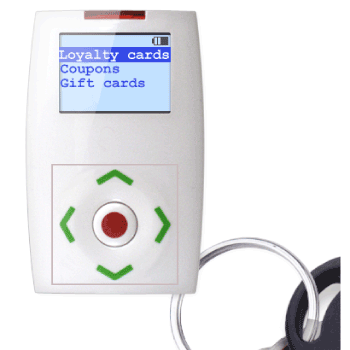 If for some reason, you aren't able to beam your loyalty card information into the register's scanner or you're at a non-participating retailer, you can still easily scroll to find your loyalty card number and have the sales clerk type in what you tell them.  Now, you can replace that huge stack of loyalty cards and keychain tags with just one numi key!
For me, the hardest part was trying to get my computer's browser to recognize that my numi card was connected.  I used Internet Explorer and made sure my security level was set to medium, as per the directions.  For some reason though, I still couldn't get my numi key to connect to the My Loyalty Cards website.  I sent over an email to the MoBeam support team and within a few hours, I received a response which worked.
Turns out, I also had to temporarily disable my pop-up blocker.  Once I did this, the rest of the setup was a breeze.  Just select which retailer you want to enter card information for from the list of participating retailers and type in your card's number.  This information is then instantly saved to your numi key and you are ready to proceed with the next card.  If you want to enter your loyalty card number for a retailer which isn't listed, then it is also very easy to manually input this information too.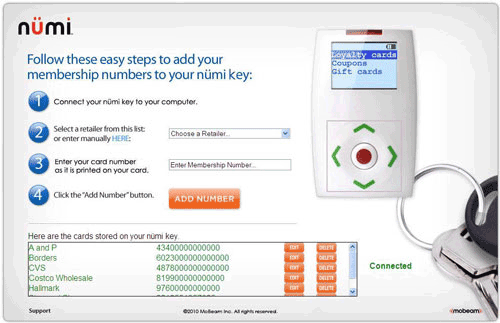 In about 30 minutes, I had completely rid myself of all those pesky loyalty cards and my keyring looked naked!  I took the numi key with me when I went to the grocery store and the cashier there was amazed when I whipped out the numi key and instantly beamed my information right to her.  No more searching and fumbling through all of those loyalty cards either.  I beamed my information to her with the touch of a button!
If you are winning the battle of the budget, but losing the battle of wallet clutter due to too many store loyalty cards, then I highly recommend giving the numi key a try.  Not only will you have every one of your loyalty cards available to you with just the press of a button, you will also amaze and bedazzle everyone around you!
Disclosure:  I received the numi key from MoBeam, Inc. in order to facilitate my review. No other compensation was received. This product review is based on my own personal experiences with this item and is completely honest and objective.
I'm a former 7th grade Science teacher turned stay-at-home mom that lives in Houston, Texas. I am married to my college sweetheart and have a beautiful daughter named Riley, who definitely keeps me on my toes! I am also involved in starting a small business which would both manufacture and sell an invention that I've patented, called Toothpaste 2 Go. I love interacting with my readers and hope to learn as much about you as you learn about me!
Melissa @ Mommy Living the Life of Riley!