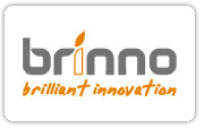 The dreaded peephole...  Ever since I lived in my first apartment, I hated going to the door to look through the peephole to see who was paying me a visit.  I guess I've watched too many gangster movies in my time, but I always noticed how criminals would use that particular moment that the peephole darkened as the perfect opportunity to kick in the door, shoot through the door, etc. thus breaking in and hurting you badly.
Of course, the other option is to not look through the peephole (YIKES!) and play Russian Roulette by opening the door to a complete unknown.  Now that's a situation I don't even want to contemplate.
Is there a way to eliminate both of these scenarios, taking back the privacy and security of your door's peephole forever?  Thankfully, there is!  Keep reading to learn more!
The Brinno PHV132512 Digital PeepHole Viewer is a large LCD panel which displays who or what is on the other side of your door quickly and easily.  With the simple touch of a button, it allows absolutely anyone, including children and the elderly, to discover who's come to visit without darkening the peephole as you look, signifying that you are indeed home.
Most children are too short to look through the peephole directly, but with the Brinno Digital PeepHole Viewer, all that is necessary is to be tall enough to push the button below the screen.  This turns on the peephole viewer which allows shorter people to see who's at the door with minimal effort.  It's also great for the elderly who tend to have trouble seeing the small image displayed through a typical peephole.  With the Brinno Digital PeepHole Viewer, this image is magnified to a much larger size, making it easier for an elderly person to see.
Finally, traditional peepholes are very hard to use in low light conditions and typically display a poor image that's hard to recognize.  With the Brinno Digital PeepHole Viewer, compensation is made for both low-light images and the "fish-eye" distortion seen with a regular peephole so that you can identify the visitor much easier.
There are so many advantages to using the Brinno Digital PeepHole Viewer that I would consider this particular item a household safety necessity.  If you're concerned about the installation process, that's just another way that the Brinno Digital PeepHole Viewer comes through.  Installation is a breeze as the video below illustrates:
I used to live in a rather seedy apartment complex back when I was single.  I was a middle school teacher at the time who was living on a tight budget and didn't live in the best neighborhoods.  My last apartment that I lived in went through about a six-month period where a crime of one kind or another was happening almost daily.
One day, some neighbors of mine who had two children were actually tied up for several hours while they were robbed at gunpoint.  Come to find out, the parents were busy when someone knocked at the door.  One of their children, who was too short to see through the peephole, asked "Who is it?"
The person on the other side said it was the pizza delivery man and the child, who thought that perhaps the parents had ordered a pizza, let the person in.
Of course, he turned out to be a hardened criminal and held the entire family at gunpoint while he robbed them.  This is a horrible scenario, but actually one that could happen at any time to almost anyone.  That's why I'm happy that a product like the Brinno Digital PeepHole Viewer exists.  Preventing crimes of this nature just became a whole lot easier!
Please also check out the new advanced PeepHole Viewer PHV1330 which has the following extra features:
Bigger LCD Display
Brightness Enhancement
Capability of taking the pictures and store them in a Micro SD card
Options of adding Motion Sensor or Knocking Sensor (will take pictures even when you are not at home)
Additional Security Products from Brinno:
Disclosure: I received the PHV132512 Digital PeepHole Viewer from Brinno in order to facilitate my review. No other compensation was received. This product review is based on my own personal experiences with this item and is completely honest and objective.
I'm a former 7th grade Science teacher turned stay-at-home mom that lives in Houston, Texas. I am married to my college sweetheart and have a beautiful daughter named Riley, who definitely keeps me on my toes! I am also involved in starting a small business which would both manufacture and sell an invention that I've patented, called Toothpaste 2 Go. I love interacting with my readers and hope to learn as much about you as you learn about me!
Melissa @ Mommy Living the Life of Riley!