Before becoming a blogger, I was quite a scrapbook hobbyist.  I loved the creative outlet that scrapbooking provided, but I didn't love the hours it would take me to create just one album.  I also didn't care for the endless supply of paper, embellishments and punches that I needed to buy in order to make my masterpieces, for they ended up being quite expensive.
The lack of time I have available for scrapbooking these days recently led me to discover digital scrapbooking.  MyMemories Digital Scrapbooking has several options available for creating wonderful digital scrapbooks and they allowed me to review their popular software, My Memories Suite Version 2.0.  Keep reading to learn more!
Receive $10 OFF My Memories Suite Version 2.0 Digital Scrapbooking Software AND $10 OFF in the MyMemories.com store with coupon code "STMMMS92892"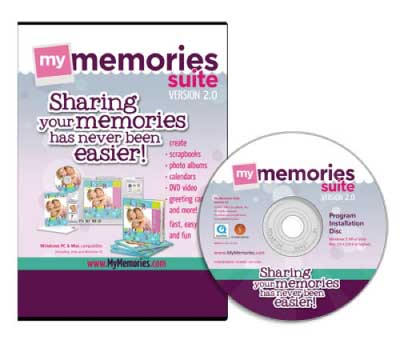 My Memories Suite digital scrapbooking software will help you build beautiful pages from scratch or to make a page using one of the many professionally-designed scrapbook templates provided within the scrapbook software itself.  A large collection of papers and embellishments are available at your fingertips to help you make each page uniquely your own.
Drop in your in pictures in seconds-then crop, edit, retouch and rotate them right on the page.  If this were any other scrapbooking software, you might be finished.  But with My Memories Suite, the real power-and fun-of this software is just beginning.
You can make a beautiful scrapbook an interactive memory experience for anyone who sees it.  Use simple one-click options to enhance your scrapbooks, with music, narration, video, and even the Internet.  Go beyond pictures by showing off video of the birthday party, or record a narration to capture the memories that pictures alone cannot.  With My Memories Suite you simply don't look at a scrapbook-you experience it!
My Memories Suite Version 2.0 software is a complete digital scrapbooking solution that provides a powerful set of creative tools and multiple sharing options that no other software can offer.  Its intuitive workspace and enhanced time-saving features are perfect for a beginner to build an entire album in minutes, or to empower the design pro to build a scrapbook album masterpiece.
Once you have made your scrapbook album, you want to share your creation with others, right?  My Memories Suite can help you show off your scrapbook in so many different ways-and as many times as you want.  Print your pages and share them as a traditional scrapbook-or use the one-click share option to turn your album into professionally-printed and hardbound book.  And not just one book either; you can make 3 or 4, or even a hundred published books from your one album.  Turn your scrapbooks into treasured keepsakes by giving copies to family and friends.
You're not out of options yet.  Take advantage of a full suite of sharing options and turn your scrapbook into a movie to watch on a DVD-or view on an iPod.  My Memories Suite allows you to share an interactive album on a disc (DVD or CD) that will automatically play on a computer (PC or Mac). Viewers can interact with your scrapbook by clicking on video, playing narration or navigating through your scrapbook like a website. You can even place in web links for them to visit or embed hidden files like Grandma's secret cookie recipe.
With My Memories Suite you can even create and share professionally printed and bound calendars, make posters or trading cards for your son's soccer team, post a movie of your scrapbook on your Facebook page-all with the click of a button.  If you are serious about creating the ultimate scrapbook that preserves and shares your memories with a serious amount of "wow" factor, then My Memories Suite is the one-stop solution for you.
I absolutely loved how quick and easy My Memories Suite Version 2.0 Digital Scrapbooking Software was to use!  Within minutes, I had a beautiful page created and then was thrilled with the amount of options I had available to share it with my friends and family.  Of course, being able to make it truly interactive by adding video and music, makes this a cut above traditional scrapbooking.  I'm still learning the ropes of My Memories Suite and finding new bells and whistles to play with and I'm having a blast doing it!
I also love how many additional designer paper packs and other embellishments are available via the MyMemories.com website.  There's a ton of great free resources here and I've already downloaded them all.  The only criticism I have is that each item you download has to be INDIVIDUALLY loaded into your account and then into your software which is extremely cumbersome.  I hope that MyMemories finds a way around this soon, for this slow upload process seems unnecessary.
If you are a die-hard scrapper or would like to try scrapbooking for the first time, I know you'll enjoy the My Memories Suite Version 2.0 Digital Scrapbooking Software from MyMemories Digital Scrapbooking.  Within minutes, you will be creating treasured heirlooms which all of your friends and family will be able to enjoy for years to come too!
Disclosure:  I received the My Memories Suite Version 2.0 Digital Scrapbooking Software from MyMemories Digital Scrapbooking in order to facilitate my review. No other compensation was received. This product review is based on my own personal experiences with this item and is completely honest and objective.
I'm a former 7th grade Science teacher turned stay-at-home mom that lives in Houston, Texas. I am married to my college sweetheart and have a beautiful daughter named Riley, who definitely keeps me on my toes! I am also involved in starting a small business which would both manufacture and sell an invention that I've patented, called Toothpaste 2 Go. I love interacting with my readers and hope to learn as much about you as you learn about me!
Melissa @ Mommy Living the Life of Riley!