I've always tried to treat my bedroom as a sleep sanctuary and have taken great pains to make sure that the lighting (or lack thereof), linens, mattress and pillows are all conducive to a great night's rest.  Any time you spend 1/3 of your life doing something, you should enjoy it, right?
Sleep is such a recooperative process and denying yourself a good night's rest is only going to cause more problems down the road.  The one thing I never understood though is why children shouldn't be afforded that same level of luxury when it comes to their bedding and linens.
Naturepedic is the first and only mattress company to specialize exclusively in the design and manufacturing of infant and children's mattresses that promote natural and organic materials, a non-toxic design, fire-safety, and baby health.  All Naturepedic natural and organic mattresses have been designed with the help of pediatricians, orthopedic specialists, chemists, and engineers.  I recently had the chance to review a 100% organic cotton quilted mattress topper for Riley's twin-sized bed.  Keep reading to learn much more!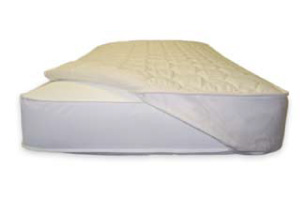 The Naturepedic Quilted Mattress Topper features two layers of luxurious organic cotton fabric with a comfortable layer of PLA batting in the center. PLA is a plant derived fiber made primarily from corn that offers excellent absorption and washability.  The Naturepedic Mattress Topper meets the strictest GREENGUARD certification standards for eliminating chemical emissions, which makes this quilted mattress topper an excellent choice for children seeking a more plush sleep surface.
Features:
Luxurious organic cotton fabric - top and bottom.
Organic Cotton is an ideal material that is both natural and renewable.  It is a healthier alternative to synthetic fibers such as polyester and rayon.
PLA filling for excellent washability that performs particularly well after repeated washings while providing a comfortable resiliency.
Highly absorptive and extra soft.
Provides a softer more mature sleep surface for your toddler or older child.
Helps reduce uneven temperatures, sweating, and clamminess.
Safe hypoallergenic design free from harmful chemicals.
Standard twin size with straps (38" x 75"). Machine wash & dry.
Made in the U.S.A.  :usa: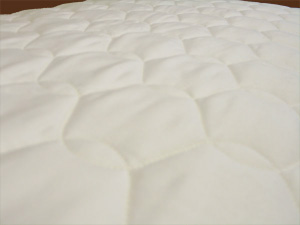 I was thrilled when the Organic Cotton Quilted Mattress Topper arrived for Riley's bed.  As a parent, I always strive to provide the best for my daughter and the Naturepedic Twin Mattress Topper definitely qualifies as a premium bedding product.  Because Riley is still so young and has bedwetting accidents from time to time, I had to leave her waterproof mattress cover on in order to protect her mattress, but the Naturepedic Quilted Mattress Topper went on easily over that.
I love how Riley's bed seems softer with the Naturepedic topper and she doesn't wake up as sweaty during the summer months as she has in the past, thanks to the breathability of the organic cotton fabric.
Of course, the biggest boon to using the Naturepedic Mattress Topper is knowing that Riley is spending 1/3 of her life against a natural, organic material that's free from harmful chemicals.  If you'd like to make sure your child has sweet dreams and a peaceful night's sleep every night, then be sure to outfit their beds with a Naturepedic Organic Cotton Quilted Mattress Topper!
Naturepedic Certifications:
GREENGUARD Children & Schools Certification Program: Certified products must meet stringent chemical emission standards based on established criteria from key public health agencies. GREENGUARD provides the most rigorous product emissions criteria to date.
Certified Organic Mattress Manufacturer: All fiber and fabrics must be made from certified organic materials that meet the National Organic Program (NOP) standard and are processed in accordance with the Global Organic Textile Standard (GOTS).
OE100 Organic Exchange Certified: The Organic Exchange Certification Program ensures proper tracking of organic material from its source to the finished product, demonstrating that the organic fiber in our products has been independently verified.
USDA Certified Organic Cotton: Ensures purity, organic reliability and support for U.S. farmers.
Green America: Approved member of the Green Business Network Leadership Forum and conducts business according to standards that reach beyond contemporary practices in addressing the needs of consumers, employees, communities and the environment.
American Sustainable Business Council: Advocates for stewardship, judicious use of resources, reinvestment, and attention to sustainability through the full product lifecycle.
Disclosure: I received the Organic Cotton Quilted Mattress Topper in Twin from Naturepedic in order to facilitate my review. No other compensation was received. This product review is based on my own personal experiences with this item and is completely honest and objective.
I'm a former 7th grade Science teacher turned stay-at-home mom that lives in Houston, Texas. I am married to my college sweetheart and have a beautiful daughter named Riley, who definitely keeps me on my toes! I am also involved in starting a small business which would both manufacture and sell an invention that I've patented, called Toothpaste 2 Go. I love interacting with my readers and hope to learn as much about you as you learn about me!
Melissa @ Mommy Living the Life of Riley!