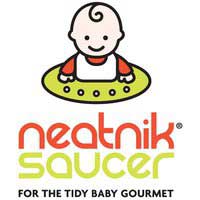 My family loves to go out to eat at any one of our many local restaurants here in Houston.  It's a quiet, peaceful time to get together, enjoy each other's company and let someone else do the work of cooking, serving and cleaning up!  :laugh:
Unfortunately, when you have a small child in tow, you'll find that dining out isn't always as peaceful as it should be.  I'm constantly worried about my child making a huge mess or even worse, getting sick from touching everything in the restaurant she can get her hands on and then putting those little hands back in her mouth.
I'm also well aware of the occasional "stink eye" I get from the waitstaff when walking into a restaurant.  Don't get me wrong, I completely understand, for I used to wait tables for many years while in high school and college and have given many of those "stink eyes" myself.
No waiter wants to have their section completely destroyed by a tot on the loose, and now a mom inventor from Houston has invented a nifty way to keep that from happening.  Keep reading to learn more about the Neatnik Saucer!
It's a handsome high chair cover and baby placemat all-in-one.  Setting up the Neatnik Saucer takes less than a minute, as does packing it up (because we all know that sometimes leaving a restaurant quickly is a must with young children)! Saucer comes as one piece with two main components -- the chair liner and circular tray.
The chair liner portion fits in the seat of the high chair with handy slots for access to the safety straps. Handy Velcro straps prevent projectile toys or pacifiers from leaving baby's reach. The tray portion is designed to overlap with and suction to the restaurant table. The smartly designed rim prevents small food items and liquids from falling to the floor.
Choose from five patterns in easy-to-clean fabrics: The Chicago, The Sydney, The Miami and The Cambridge, and now, The Rome. Each saucer comes with a 12" x 12" carry case with pocket to stow wipes.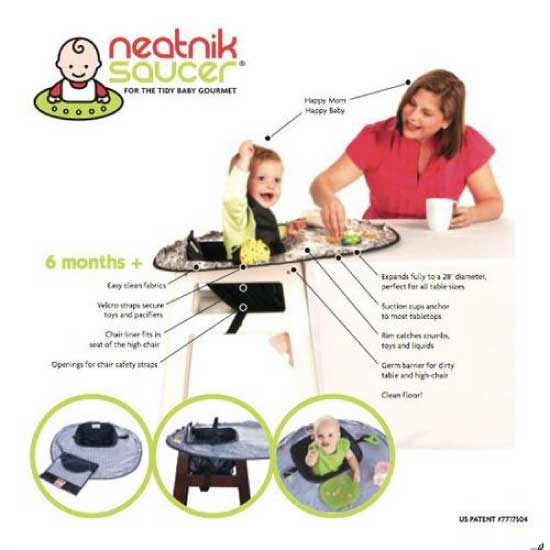 Before the food comes, try coloring while baby is out on the town. The Rome Neatnik Saucer has a clever design for the  white area is actually a large marking area, perfect to use with the enclosed dry-erase crayons. Tic tac toe? Scribbles?
Whatever entertains baby will keep the whole family delighted at mealtime.
Winner of both The National Parenting Center 2011 Seal of Approval and Parent Tested Parent Approved award, the Neatnik Saucer clever line of tidy-up products will make on-the-town meals delicious instead of disastrous. The extended table and play saucer also caught the eye of judges from AblePlay.org, the website for special needs products which gave the Neatnik Saucer their highest rating.
My family definitely enjoyed The Rome Neatnik Saucer when it came time for a night out at a local restaurant.  As you can see from the picture of my daughter above, she was enthralled by having such a large coloring space which was all hers to doodle on as she pleased.  I loved that I could now set her snack food and parts of her entree directly onto the mat and not worry about the germs she might be picking up.  I also appreciated the fact that now we could use the restaurant's high chair instead of bringing our own, which we always did before.
I also began to notice more smiles and nods of approval from the waiters and other patrons of the restaurant once I plopped Riley into the Neatnik Saucer.  They were quick to notice how much cleaner the restaurant remained because of it.  Thanks to this handy mom invention, my husband and I were able to actually carry on an uninterrupted conversation while my daughter ate neatly and scribbled away on The Rome.  YAY!  :party:
Disclosure: I received The Rome Neatnik Saucer from Coulson's Crib in order to facilitate my review. No other compensation was received. This product review is based on my own personal experiences with this item and is completely honest and objective.
I'm a former 7th grade Science teacher turned stay-at-home mom that lives in Houston, Texas. I am married to my college sweetheart and have a beautiful daughter named Riley, who definitely keeps me on my toes! I am also involved in starting a small business which would both manufacture and sell an invention that I've patented, called Toothpaste 2 Go. I love interacting with my readers and hope to learn as much about you as you learn about me!
Melissa @ Mommy Living the Life of Riley!