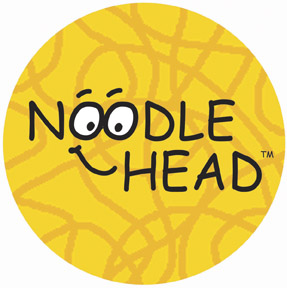 It seems we have a kind of obsession with everything celebrity these days.  They are everywhere on TV, in magazines, online, etc.  We all know that celebrities are living the good life, and they have started a trend whereby they are extending this good life to their pets too.
Celebrity pets are often pampered at ritzy spas, dressed in the finest clothing and carried around in thousand dollar purses.  Noodle Head decided to make this pet pampering trend fun for your child and created a line of toys called Pawparazzi.  These stuffed animals come complete with purse-like carriers and outfits to wear.  I reviewed one of these Pawparazzi sets as well as a Noodle Head Travel Buddies ergonomic children's pillow.  Read on to learn more about my experiences with these items!
PRICE: I reviewed the following items from Noodle Head:
As much as little girls love to play dress up, both with their dolls and even with themselves, I had a good feeling that Riley was going to really like the Toby Pawparazzi Set.  Toby is a very small black and white kitty that comes complete with a purse-like travel carrier, leash with collar, small notepad, pop-out trading card and blanket.  I like that the packaging of this product even tries to be functional by being shaped like a stage so that Toby can strut the runway.  Anytime product packaging serves an additional purpose, I think this is great and a good use of resources.
Riley took to Toby right away and loved putting him in her new little purse.  She also really liked the pet bed and kept laying Toby down to take a nap on it and then covering him with the little blanket.  Riley carried this purse around for the better part of an hour and just kept playing with Toby and singing to him over and over again.
Unfortunately though, I thought the leash on Toby seemed pretty flimsy and I was right.  Within the first five minutes of playing with it, the leash just came unglued and pulled apart.  I was disappointed in the lack of quality with the leash and that it was only glued together and not at least stitched a little to make it more sturdy.  I quickly threw the leash away, but am happy to say that all of the other components of the Toby Pawparazzi Set are holding together nicely and I don't expect to have any future problems.
Since Riley is only 20 months old, and this toy is geared for ages 4 and up, I didn't allow her to play with the tiny magazine, notepad and punch out card that also comes with the Toby Pawparazzi Set.  I also kept the Day at the Spa set away from her too since there were several small pieces here as well.  I can say though that the Day at the Spa set is very cute and when Riley is older, she will love dressing Toby in this little outfit and pretending that Toby is relaxing at the spa!
The only thing strange I noticed from the Celebrity Magazine that is included with Toby is that the magazine makes it look as though each Pawparazzi animal should come with its own matching name tag on its collar.  We didn't receive anything like that and it doesn't state that I should have on the website either.  What's strange is that there is no place to actually buy the "Toby" pet tag on their website or through the little magazine.  I don't understand why you would display something in the magazine that doesn't appear to be sold anywhere. 
Next, we tried out the Travel Buddies ergonomic children's pillow.  Noodle Head sent us the giraffe one which is SUPER CUTE and oh, so soft!  Riley always falls asleep in her car seat whenever we go anywhere and her head will constantly slump forward.  She never gets any good rest this way and wakes up every few seconds, only to immediately fall back asleep.  We put this around her neck and unfortunately, her head still slumped forward while wearing it.
I tried it on myself and think that it is very comfortable and easy to sleep with as long as your head is laying on the animal head side of the pillow.  The tail side of the pillow actually mushes down pretty easily and doesn't provide much support.  I could see how your child's head might roll forward if they were to try and lay on the tail side of the pillow.  I think if the Travel Buddies pillow was plumped up substantially on the tail side, this would be one of the most comfortable travel pillows around for children.
Disclosure:  I received the Toby Pawparazzi Set, Day at the Spa Set, Pink Pet Bed and Giraffe Travel Buddy from Noodle Head, Inc. in order to facilitate my review. No other compensation was received. This product review is based on my own personal experiences with this item and is completely honest and objective.
I'm a former 7th grade Science teacher turned stay-at-home mom that lives in Houston, Texas. I am married to my college sweetheart and have a beautiful daughter named Riley, who definitely keeps me on my toes! I am also involved in starting a small business which would both manufacture and sell an invention that I've patented, called Toothpaste 2 Go. I love interacting with my readers and hope to learn as much about you as you learn about me!
Melissa @ Mommy Living the Life of Riley!