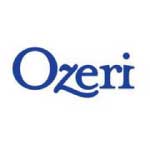 Sometimes, there's just nothing better than relaxing with a nice glass of wine at the end of the day.  I also like to drink a glass, upon occasion, while enjoying one of my favorite pasta dishes for dinner.  Unlike most alcoholic beverages which are best when served as cold as possible, the temperature wine is served at has a tremendous impact on its taste.  Serving wine too cold or too warm will negatively affect its taste and qualities.
A conventional rule of thumb is that red wine should be served at room temperature while white wine should be served chilled.  However, you really need to be more precise, since room temperature varies from city to city and season to season, and some refrigerators may be set at too cold of a temperature.
Ozeri, a specialty manufacturer of digital lifestyle products for the modern home, recently allowed me to review the ultimate wine lover's product...the Maestro Electric Wine Opener with Digital Thermometer.  Keep reading to learn more!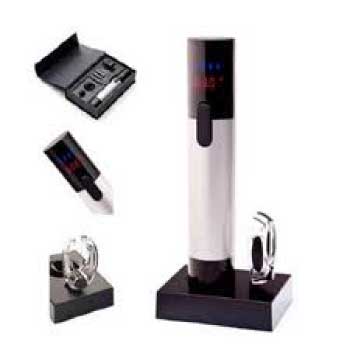 Inspired by the wine cellar tradition of monitoring wine temperature with precision to ensure the best flavors and aromas, the Ozeri Maestro Electric Wine Opener blends an advanced electric wine opener with a new state of the art infrared non contact thermometer.  The Ozeri Maestro Electric Wine Opener opens up to 80 bottles of wine on a single charge, and its built-in thermometer displays both wine bottle and room temperature readings on its digital LCD screen.
As oenophiles know, temperature is one of the major determinants of wine flavor and balance.  Unfavorable temperatures can cause an increase in tannins, excess acidity, aroma decay, premature aging, reduced potency and other undesirable characteristics.  With the Ozeri Maestro Electric Wine Opener, your wine will always be served at the right temperature.
The Maestro also features a digital battery meter on its LCD screen so that you are never out of charge.  The Ozeri Maestro Electric Wine Opener makes opening wine bottles easy, exciting and entertaining.  Designed for home and restaurant use, it operates without cords via the simple push of a button.  The Maestro includes an elegant recharging base with a built in foil cutter to remove wine seals.
The Ozeri Maestro Electric Wine Opener opens both natural and synthetic corks, and features an ergonomic grip for easy handling.  With its latest generation technology, modern design, and superior workmanship, the Ozeri Maestro Electric Wine Opener is the perfect gift and ultimate accessory to every kitchen and wine bar.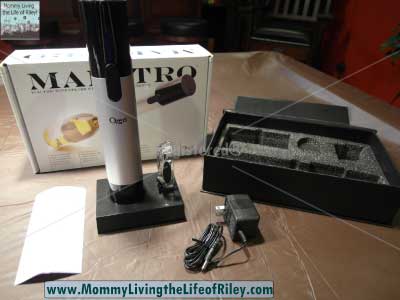 I absolutely loved using the Ozeri Maestro Electric Wine Opener, for it was just so sleek and sophisticated looking right out of the box, as well as quick and easy to master.  When you first remove it from its black gift box, you will assemble both the included foil cutter and the electric wine opener itself on its charging stand.  Then plug the stand into an electrical socket and watch as the battery capacity indicator (the blue bars under the name Ozeri) flashes from 1 to 4 bars when charging.  When the flashing stops and all 4 bars remain lit, the electric wine opener is fully charged.
Once you've charged the Maestro, you're ready to open your first bottle of wine.  Remove the foil cutter from the charging stand, place it on top of a wine bottle and then twist to cut and remove the bottle's seal.  Next, place the electric wine opener on top of the wine bottle making sure that it is as upright as possible at all times.  While firmly holding the wine bottle, depress the extract button.  The corkscrew spiral will turn in a clockwise direction to penetrate the cork and then gradually remove it from the bottle.  The electric wine opener will automatically stop when the cork has been fully removed.  Depress the release button and the cork is automatically released from the electric wine opener!
Now, it's also possible to accurately measure the temperature of the wine by aiming the lens of the infrared sensor at the center of the wine bottle or glass, and placing the wine bottle as close to the lens as possible without touching it.  Wait for 2 to 3 seconds and the temperature will be displayed on the LCD for about ten seconds.  To ensure the maximum accuracy, repeat this process 3 times and take the average.
I was amazed at just how easy the Ozeri Maestro was to use!  Finally, no more broken corks that are dangerously stuck in the neck of the bottle.  I also no longer have to worry about hurting my hand while trying to twist and turn a corkscrew into a rather stubborn bottle of wine.  Of course, most importantly of all, I can finally guarantee that the wine I am drinking is being served at the proper temperature, so that I can truly enjoy it as it was meant to be enjoyed.
On average, for best results, wine must be served at the following temperatures:
Sparking Wine: 48˚F (9˚ C)
White Wine: 53˚F (12˚ C)
Rose Wine: 51˚F (11˚ C)
Red Wine: 62˚F (17˚ C)
Slight variations of less than +/-10% are acceptable.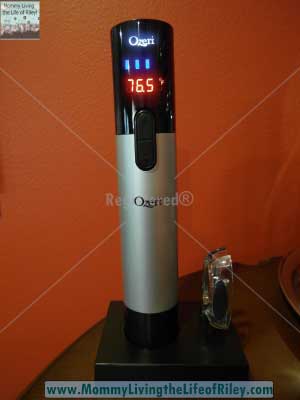 If you love to enjoy a great tasting glass of wine, then by all means, make sure to serve it at the proper temperature so as to experience its peak flavor, clarity and bouquet.  The Ozeri Maestro Electric Wine Opener with Digital Thermometer will ensure that every bottle you drink is opened quickly and easily, while the digital temperature gauge will allow the true complexity and character of each vintage to be appreciated.
This item also makes the perfect gift for any wine lover on your holiday shopping list this year.  It's also such an affordable luxury, thanks to the 20% off coupon code shown above.  Just think, right now you can nab the Ozeri Maestro with foil cutter and sleek gift box for only $23.96 plus FREE SHIPPING!
Disclosure:  I received the Maestro Electric Wine Opener with Digital Thermometer from Ozeri in order to facilitate my review. No other compensation was received. This product review is based on my own personal experiences with this item and is completely honest and objective.
I'm a former 7th grade Science teacher turned stay-at-home mom that lives in Houston, Texas. I am married to my college sweetheart and have a beautiful daughter named Riley, who definitely keeps me on my toes! I am also involved in starting a small business which would both manufacture and sell an invention that I've patented, called Toothpaste 2 Go. I love interacting with my readers and hope to learn as much about you as you learn about me!
Melissa @ Mommy Living the Life of Riley!