Books are an amazing (and inexpensive) way to travel to far away lands and even visit different eras in time.  Some of my favorite novels are so well-loved because of the wonderful and interesting characters they contain.  Well, what if I told you that the next mystery novel, steamy romance novel or even classic book could star YOU and everyone you know?  How much more fun and interesting could a book be then?
Book By You has developed a way to put YOU into the story in whatever capacity you choose.  These stories won't just incorporate your name, they'll also include certain details about you, such as hair color, eye color and maybe even your pet's name!  Keep reading to learn more!
Order by February 12th to ensure Valentine's Day delivery!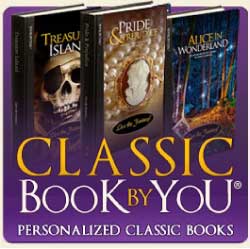 Star in your own personalized novel for Valentine's Day!  You co-author the personalized books from Book By You with the names and features in these full-length, 100 to 200-page books that look and feel just like classic paperback or hardback novels. They've been featured on ABC's The View, CNN, Fox News, The Wall Street Journal, and media across the country. This is definitely a unique Valentine's Day gift option that will be cherished forever!
I couldn't wait to begin personalizing the novel of my choice and loved the Classic Book By You section, which contained favorites such as Robin Hood, Dracula, Sherlock Holmes and one of my favorite Dickens' books of all time, A Christmas Carol.  You even get a chance to sneak a free preview of what your personalized novel will look like.
Here's a selection from "A Christmas Carol" with my husband starring as Scrooge, my daughter starring as Fred and me playing Bob Cratchit.  (This story didn't work quite as well for my family because Scrooge and Cratchit are often called by their last names and with Michael and I having the same last name, things got rather confusing).
Michael Cleaver is the stingiest man in all of London, working his poor clerk Melissa Cleaver to the bone. Even the friendly greetings of his nephew Riley Cleaver can't raise a smile. Just when it seems nothing can penetrate his cold heart, several ghostly apparitions might do the trick! But is Cleaver beyond redemption?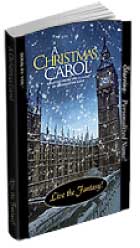 Oh! But he was a tight-fisted hand at the grind-stone, Michael Cleaver! a squeezing, wrenching, grasping, scraping, clutching, covetous, old sinner! Hard and sharp as flint, from which no steel had ever struck out generous fire; secret, and self-contained, and solitary as an oyster.
The cold within him froze his old features, nipped his pointed nose, shriveled his cheek, stiffened his gait; made his blue eyes red, his thin lips blue; and spoke out shrewdly in his grating voice. A frosty rime was on his auburn head, and on his eyebrows, and his wiry chin.
Cleaver carried his own low temperature always about with him; he iced his office in the dog-days; and didn't thaw it one degree at Christmas.
Nobody ever stopped him in the street to say, with gladsome looks, "My dear Cleaver, how are you? When will you come to see me?" No beggars implored him to bestow a trifle, no children asked him what it was o'clock, no man or woman ever once in all his life inquired the way to such and such a place, of Cleaver. Even the blind men's dogs appeared to know him; and when they saw him coming on, would tug their owners into doorways and up courts; and then would wag their tails as though they said, "No eye at all is better than an evil eye, dark master!"
But what did Cleaver care! It was the very thing he liked. To edge his way along the crowded paths of life, warning all human sympathy to keep its distance, was what the knowing ones call "nuts" to Cleaver.
Once upon a time—of all the good days in the year, on Christmas Eve—old Cleaver sat busy in his counting-house. The door of his office was open that he might keep his eye upon his clerk, Melissa Cleaver, who in a dismal little cell beyond, a sort of tank, was copying letters, his blue eyes straining at the weak lamp light. Cleaver had a very small fire, but the fire near Melissa was so very much smaller that it looked like one coal.
But he couldn't replenish it, for Cleaver kept the coal-box in his own room; and so surely as the clerk came in with the shovel, the employer predicted that it would be necessary for them to part. Wherefore poor Melissa put on his white comforter, and tried to warm himself at the candle; in which effort, not being one of a strong imagination, he failed.
"A merry Christmas, uncle! God save you!" cried a cheerful voice. It was the voice of Cleaver's nephew, Riley Cleaver, who came upon him so quickly that this was the first intimation he had of his approach.
"Bah!" said Cleaver, "Humbug!"
The nephew had so heated himself with rapid walking in the fog and frost that Riley was all in a glow; his face was ruddy and charming; his blue eyes sparkled, and his breath smoked again.
"Christmas a humbug, uncle!" Riley said. "You don't mean that, I am sure?"
"I do," said Cleaver. "Merry Christmas! What right have you to be merry? What reason have you to be merry? You're poor enough."
"What reason have you to be morose? You're rich enough."
Cleaver having no better answer ready on the spur of the moment, said, "Bah!" again; and followed it up with "Humbug."
http://www.youtube.com/watch?v=eYMLsxJ5A0
I think the Book By You concept of making completely personalized novels is a terrific idea that's long overdue!  Now you can instantly cast yourself as the heroine or the antagonist, the bit character or the leading lady with just a few strokes on your keyboard.  If you're looking for a completely original way to express your love this Valentine's Day, then start by shopping the wide range of titles available from Book By You and "live the fantasy"!
Disclosure: I received a personalized novel of my choice from Book By You and MamaMob in order to facilitate my review. No other compensation was received. This product review is based on my own personal experiences with this item and is completely honest and objective.
I'm a former 7th grade Science teacher turned stay-at-home mom that lives in Houston, Texas. I am married to my college sweetheart and have a beautiful daughter named Riley, who definitely keeps me on my toes! I am also involved in starting a small business which would both manufacture and sell an invention that I've patented, called Toothpaste 2 Go. I love interacting with my readers and hope to learn as much about you as you learn about me!
Melissa @ Mommy Living the Life of Riley!