Well, it's that annual time of the year when I don my gym shoes and newest pair of athletic pants in an attempt to win the battle of the last 10-15 pounds.  It seems that I've been fighting this battle religiously since having Riley and I've found that my biggest deterrent to actually losing this weight is my inability to stick to a regular exercise routine.  For me, I'm just so drained throughout the day and it takes more energy than I have to get going to the gym.
Once I'm there, life is good and I'm proud of myself for having made it there to work out.  But every day the struggle to get off the couch begins anew.  If only there were a way to get that much-needed energy boost without adding a ton of sugar, caffeine and undo calories to the equation.  Now, thanks to Phix, my prayers just might be answered.  Keep reading to learn more!
I reviewed the All-Natural Energy Aid and All-Natural Sleep Aid from Phix, which retails for $9.95 each.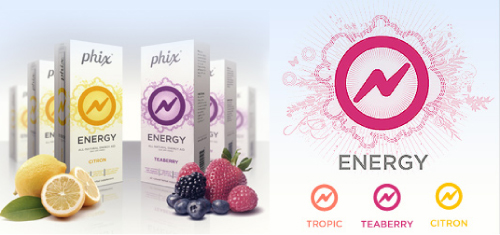 Phix Energy is a sophisticated, natural energy drink mix blending green tea antioxidants, energy-restoring NADH, and yerba maté for enhanced vigor, plus added vitamins and minerals to keep you feeling healthy. Their natural energy drinks give you an immediate lift, but unlike other energy drink mix products, there are no spikes, jitters, or crashes. Phix Energy is smooth and sustained energy designed to give you a natural boost day in and day out. Phix Energy drinks come in three flavors: citron, tropic and teaberry.
Phix Sleep is a natural sleep aid formulated under the direction of licensed dietitians and a world-class naturopathic physician. It's designed to help you feel better every day. The natural sleep aid product blends Lemon Balm, Chamomile, Gaba, Jujube Berry and Magnesium to help you let go of your daily stress and drift off to a sound and blissful sleep.
To put the icing on the cake, everything from Phix's all-natural, organic, and vegan ingredients, to their boxing, packaging, and shipping is completely green! They use completely eco-friendly materials for their boxing and packaging, and even their shipping peanuts are biodegradable.
If you're in need of an extra energy boost throughout the day, or a gentle way to relax and get ready for bed, then I recommend giving the all-natural drink supplements from Phix a try.  These healthy, eco-friendly alternatives will help you keep those New Year's resolutions and feel great, all at the same time!
Disclosure: I received the All-Natural Energy Aid and Sleep Aid from Phix in order to facilitate my review. No other compensation was received. This product review is based on my own personal experiences with this item and is completely honest and objective.
I'm a former 7th grade Science teacher turned stay-at-home mom that lives in Houston, Texas. I am married to my college sweetheart and have a beautiful daughter named Riley, who definitely keeps me on my toes! I am also involved in starting a small business which would both manufacture and sell an invention that I've patented, called Toothpaste 2 Go. I love interacting with my readers and hope to learn as much about you as you learn about me!
Melissa @ Mommy Living the Life of Riley!