Do you know what it takes to keep your nursery clean and your baby healthy?  Probably not, according to a recent study commissioned by Playtex, surveying moms and moms-to-be on their germ-related knowledge.  The survey revealed that the majority of moms scored in the 'D' range – meaning that most don't make the grade when it comes to minimizing the spread of germs in the nursery.
According to the survey, most moms have the basic germ knowledge down pat.  Nearly all respondents (95% of new moms and 97% of expectant moms) correctly answered that it is best to wash your hands after every single diaper change.  Similarly, 87% of both new and expectant moms recognized that there is no such thing as the "five second rule" and correctly identified the rule as a myth since germ transfer is instantaneous.  Keep reading to learn more!
However, moms' germ knowledge seriously faltered on detecting and disinfecting germ hot spots in the nursery – areas where most bacteria typically gather including the floor, changing table, toys, and laundry hamper. And according to Dr. Benjamin Tanner, a germ expert and microbiologist who partnered together with Playtex for this study, putting an emphasis on cleaning these spots is a key element in helping to keep the nursery as germ-free as possible.
According to the survey, only about half of those surveyed (49% of new moms and 51% of expectant moms) correctly answered that germ hot spots should be disinfected at least once daily. And only about a third (32% of new moms and 35% of expectant moms) was aware that the changing table is the nursery's number one germ hotspot.
Moms' knowledge further faltered when asked about the best ways to eliminate germs and knowing whether or not those germs can be harmful to their baby. Less than half (47%) of new and expectant moms polled knew the correct amount of time a disinfectant must remain wet on a surface to effectively do its job, and a majority (53%) of those surveyed incorrectly thought that exposing children to germs strengthens their immune systems.
To help moms brush up on their germ knowledge and pass with flying colors, Playtex partnered with Dr. Tanner to educate moms on simple things they can do to keep their nurseries clean.
"Keeping the nursery as clean and as germ-free as possible is such an important aspect for most parents," said Dr. Tanner. "But when we surveyed moms, we found that they generally aren't aware of the best ways to do it. The good news is, with the right knowledge, keeping germ levels to a minimum in the nursery is much easier than most moms think."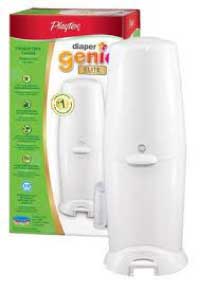 To help moms improve their germ knowledge and simplify their nursery cleaning routines, Dr. Tanner developed a number of simple steps including:
Disinfect germ hot spots (floor, changing table, toys and laundry hamper) at least once a day to kill any harmful bacteria that may be lurking. Make sure to focus on these key areas more than others when disinfecting in the nursery.
Develop a mess-free changing routine that incorporates the Diaper Genie Elite Disposal System. Its built-in antimicrobial protection inhibits odor causing bacteria, and its convenient foot pedal makes for an easy, hands-free disposal, helping to minimize the spread of germs in the number one germ hotspot in the nursery: the changing table.
Use an EPA-registered disinfectant when cleaning and always allow it to remain wet for 5-10 minutes before wiping to let it do its job. Afterwards, wipe the surface down with water to get rid of any chemical residue that may irritate your baby's skin.
Keep a separate hamper in the nursery specifically for heavily soiled baby laundry. These clothes should be washed using hot water, which will help prevent bacteria from spreading in the wash.
The belief that exposing children to germs strengthens the immune system is a major misconception. Germ exposure should always be avoided!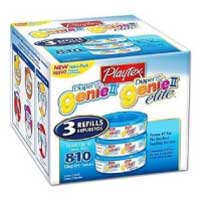 "In a typical day most moms spend three or more hours in the nursery with their little ones, which makes it essential that it's a clean place," said Carolyn Turoczi, Brand Manager at Playtex. "Creating a space that is as germ free as possible doesn't need to be an overwhelming task. In fact, using the Diaper Genie Elite Disposal System is a perfect way to help moms establish a less messy diaper changing routine, which is especially important as the changing table is the number one way germs are transferred to baby's skin."
For more of Dr. Tanner's tips and information about the Diaper Genie Elite Disposal System, visit www.playtexbaby.com. Or visit the Playtex Baby Facebook Page to test your own germ knowledge and have the chance to win great prizes.
Disclosure: I received the Diaper Genie Elite and 3 Pack of Full-Size Refills from Playtex Baby in order to facilitate my review. No other compensation was received. This product review is based on my own personal experiences with this item and is completely honest and objective.
I'm a former 7th grade Science teacher turned stay-at-home mom that lives in Houston, Texas. I am married to my college sweetheart and have a beautiful daughter named Riley, who definitely keeps me on my toes! I am also involved in starting a small business which would both manufacture and sell an invention that I've patented, called Toothpaste 2 Go. I love interacting with my readers and hope to learn as much about you as you learn about me!
Melissa @ Mommy Living the Life of Riley!