I was a Genetics major in college and if there's one thing I've learned from all of my microbiology classes, it's that germs are absolutely EVERYWHERE and it doesn't take much contact at all with a contaminated surface for them to make you VERY SICK!
That knowledge has served me well over the years and I've always taken the necessary precautions when going out in public.  I wash my hands frequently and even carry hand sanitizer with me when I'm not readily near a bathroom to wash.  But since having Riley, I've been searching for a new way to keep her healthy and away from these contaminated areas when we go out in public.
Children want to touch EVERYTHING and it is next to impossible to take them to the bathroom for a good hand wash when they've handled something they shouldn't have.  So what's a mom to do?  Sanitize the surfaces they come in contact with so that they are germ-free and perfectly safe for your little ones.  I was fortunate to have the chance to review the Purely Products Pocket Purifier as well as the SunMate UV Indicator.
I reviewed the following two items from Purely Products:

Pocket Purifier, which retails for $29.95

SunMate, which retails for $19.95
I was very excited to have the opportunity to try out the Pocket Purifier because I am still looking for a QUICK and portable way to sanitize surfaces both in my home as well as out in public.  Riley was first born when the swine flu epidemic started sweeping through our country.  This scared her father and I so much that we didn't take her out in public for over 3 months.
Being a newborn in this type of severe cold and flu season made us very wary.  I was hoping that the Pocket Purifier could help bring my family a new layer of protection against all of the bacteria and viruses out there which make everyone so very sick. When I took the Pocket Purifier out of its packaging, I was very pleased at its super compact size.  This UV sanitizer was roughly the size of a chocolate eclair, which is perfect for throwing in my purse or baby bag (the pocket purifier, not the chocolate eclair! :)).
Next, I discovered that it only uses 4 "AA" batteries and has a handy wrist strap so that you don't accidentally drop this product and break the UV bulb.  The Pocket Purifier even has a flashlight on one end of it, so that it can be useful when trying to unlock the back door to your home at night.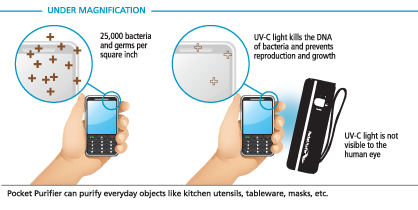 The best feature of the Pocket Purifier is how fast it works!  Because this device uses the same UV light technology used in hospitals to sterilize their surgical equipment, the Pocket Purifier will sanitize most surfaces in only 10-15 SECONDS!  I have tried portable sanitizers in the past and they required a minimum of 2-3 MINUTES, which is not practical at all.
This feature completely sold me and guarantees that it will always be found in my purse or baby bag when we leave the house.  In just 10-15 seconds, I can know that I have safely protected Riley from 99.9% of germs that cause colds and flu, plus E. coli, salmonella and staphylococcus.  What's more, the UV bulb is guaranteed to last up to 9,000 hours!
Where can it be used?  ANYWHERE!  I plan on using the Pocket Purifier to sanitize my kitchen counters after preparing meats and eggs, which can all leave behind dangerous bacteria.  I will definitely use this product to sterilize Riley's toys after a play date or whenever she is sick.
When we go out to eat, I will use the Pocket Purifier to sanitize the table top and silverware for Riley, since she still puts her fingers in her mouth.  During cold and flu season, I will sanitize our cell phones, remote controls, door handles, refrigerator handles and other high-contact surfaces.  I could go on and on...the possibilities are endless!
Next, I was able to review the SunMate.  This product measures the strength of the Sun's Ultraviolet intensity and converts it to a 5-point scale.  Here's what each number on the scale represents:
1 - Low Danger
2 - Moderate Risk
3 - High Risk (Sounds an alarm)
4 - Very High Risk (Sounds an alarm)
5 - Extreme Risk (Sounds an alarm)
These values also coordinate to the National Weather Service's Ultraviolet Index Scale by roughly multiplying the 1-5 scale of the SunMate by 2.  For instance, if you are registering a 3 on the SunMate, that is basically a 6-7 on the National Weather Service's Ultraviolet Index Scale. Being in Texas, I am used to having extreme UV conditions almost daily in the summer.  I decided to test the accuracy of the SunMate by looking up what my area's UV intensity was and then taking it outside to see if I got the same result from the SunMate.
| | |
| --- | --- |
| | |
I have to admit that the SunMate is super easy to use and very accurate.  There is a tiny sensor on top which should be pointed up toward the Sun.  Next, simply push the button on top and the SunMate will automatically register the Sun's UV intensity.  I tried using it first in my kitchen and the SunMate registered a 1.  I took it outside and used it in the shade and the SunMate registered a 2.  Finally, I stood in the direct sunlight and pushed the button again.
This time, the SunMate registered a 3 and even sounded an audible alarm.  This reading was accurate for the National Weather Service said that my area had a UV 6 rating today. To be honest though, I don't really see the need for the SunMate.  With today's technology and the ability to access the web from your cell phone, iPod, etc., it is just too easy to find out the UV index for the day if you so desire.  Also, I can't say that I would stay indoors or change my plans just because of the UV index rating.
My family slathers on the sunscreen no matter the UV index and so I'm not quite sure how practical this device is, but I can tell you that it definitely works and it is accurate!
Disclosure:  I received the Pocket Purifier and SunMate from Purely Products in order to facilitate my review. No other compensation was received. This product review is based on my own personal experiences with this item and is completely honest and objective.
I'm a former 7th grade Science teacher turned stay-at-home mom that lives in Houston, Texas. I am married to my college sweetheart and have a beautiful daughter named Riley, who definitely keeps me on my toes! I am also involved in starting a small business which would both manufacture and sell an invention that I've patented, called Toothpaste 2 Go. I love interacting with my readers and hope to learn as much about you as you learn about me!
Melissa @ Mommy Living the Life of Riley!