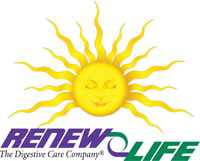 I've always been one who believes that "you get out what you put in".  I think this statement can be applied to almost every facet of life including your personal relationships and career, but I especially think this applies to the health of your own body.  I am a huge proponent of fasting and undergoing regular detoxification and body cleanses in order to maintain optimal health.
Unfortunately, our westernized lives consist of diets high in fat, sugar, preservatives and empty calories.  These toxins can wreak havoc on our organs over time and a good flushing is needed occasionally to help repair the damage.  That's why I was thrilled to discover a company called
ReNew Life that is dedicated to promoting natural digestive health, detoxification and internal cleansing.  I recently had the chance to sample the Brenda Watson's Vital Woman Flush & Be Fit herbal cleansing kit.  Keep reading to learn much more!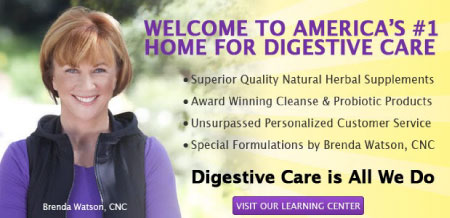 If you've been following my blog for a while, you may remember me mentioning last year that I underwent a 21-day juice fast.  This is by far the deepest full-body cleanse I've ever underwent and to say it was easy would definitely be a lie.  I reaped a wonderful amount of benefits from this cleanse though and will be performing another juice fast this August.  I was drawn to the Flush & Be Fit system because it seemed like a quick and easy way to help rid your body of harmful toxins in just a 2-week period.
All of the products sold by ReNew Life are aimed solely at promoting proper digestive health and the first question you may be asking yourself at this point is, "Why would I need to undergo a digestive system cleanse?"  Basically, the excess processed food in our diet makes our body sluggish and to function improperly. The common symptoms of an unhealthy colon are:
Excess Weight Gain
Fatigue and General Tiredness
Feeling Sluggish After Meals
Constipation and Bloating
Gas and Intestinal Discomfort
Poor Digestion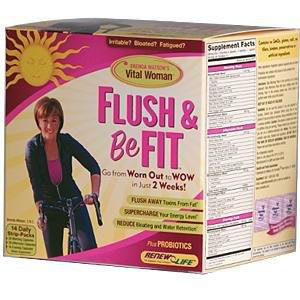 The Flush & Be Fit program is a simple 3-part formula developed exclusively for women to help eliminate toxins from stored fat, increase and sustain energy levels, improve digestion and regularity, reduce belly bloat and water retention, relieve stress and irritability and promote a balanced intestinal environment.
The great thing is that this system couldn't be easier to follow for you simply need to take a set of different pills three times per day.  Your Flush & Be Fit package contains 14 strips of 3 pill packs each (morning, afternoon and evening) that you take according to the following schedule:
Morning Pack (Flush & Detox): Take in the morning on an empty stomach.
Afternoon Pack (Energize & Balance): Take with your midday meal.
Evening Pack (Cleanse & Eliminate): Take in the evening before bed.
All three of the daily packs contain a different combination of natural herbs and probiotics geared at getting you back on the road to wellness.  I took these pill packs as instructed and after a few days, I began to feel my energy level increase dramatically.  I also could tell that my waistline became smaller for I was able to fit in a pair of jeans I haven't worn in at least six months.
Since I had definitely fallen off the wagon regarding my New Year's fitness resolution, I used the Flush & Be Fit program as a way to kick start my renewed dedication to a healthy lifestyle.  The increased energy I feel has given me the much-needed motivation to begin working out again and I've even lost 4 pounds in only two weeks, thanks to the program!
What's great about the Flush & Be Fit system is that you don't have to radically change your diet in order to use it.  I am trying to eat more healthy, as always, but there aren't any mandatory dietary changes needed.  The healthier you choose to eat though, the more benefits from the cleanse you will receive.
Of course as with any cleanse, you are encouraged to drink plenty of purified water, which helps the body eliminate toxins easier.  If you do have any dietary allergies, you will be pleased to know that the Flush & Be Fit cleansing kit doesn't contain any GMOs, gluten, salt, rye, fillers, binders, preservatives or artificial ingredients either.
What I really appreciated about Brenda Watson's Vital Woman Flush & Be Fit program is that they offer free access to a personal cleansing & detox coach through a convenient toll-free number.  Sometimes undergoing your first cleanse can be a little scary, since your body can have reactions you're not sure are normal.  I definitely wish that I would have had access to a resource like this the first time I underwent a cleanse.
With ReNew Life, it seems they have thought of everything!  If you would like to flush the toxins from your body and experience a renewed sense of self and a greater degree of wellness, then I highly recommend shopping the all-natural, herbal cleanses from ReNew Life.
Disclosure:  I received the Brenda Watson's Vital Woman Flush & Be Fit Cleansing Kit from Renew Life in order to facilitate my review. No other compensation was received. This product review is based on my own personal experiences with this item and is completely honest and objective.
I'm a former 7th grade Science teacher turned stay-at-home mom that lives in Houston, Texas. I am married to my college sweetheart and have a beautiful daughter named Riley, who definitely keeps me on my toes! I am also involved in starting a small business which would both manufacture and sell an invention that I've patented, called Toothpaste 2 Go. I love interacting with my readers and hope to learn as much about you as you learn about me!
Melissa @ Mommy Living the Life of Riley!