More than any other season, I believe summer to be the season of fitness.  I mean, the weather is warm, bikinis are in and if you're covered from head to toe in the hopes of camouflaging those extra pounds, everyone will notice.  I've long been a fan of working out at home, for there are some terrific programs out there which really kick butt.
Of course, now that I'm a mom and my free time is virtually nonexistent, I need a program which will deliver big results quickly.  That's why I was drawn to the RKS Workout Series.  This kettlebell-based exercise program claims to come through in a big way if you dedicate 30 minutes per day, 4 days a week.  I decided to throw my hat in the ring and get in shape.  Keep reading to learn more!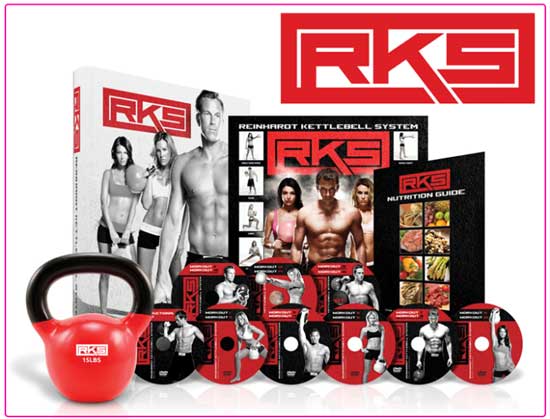 RKS is a full body workout using a kettlebell that increases your strength, endurance, flexibility and cardiovascular conditioning, all while simultaneously melting away unwanted body fat.  Using a kettlebell provides a much higher-intensity workout than standard weight-training routines and offers superior results in a short amount of time.  Just sixteen workouts is all it takes to transform your body over a 4-week program.  A person can easily burn several hundred calories in a brief period of time using these iron orbs, which makes them appealing to those looking for time-efficient results.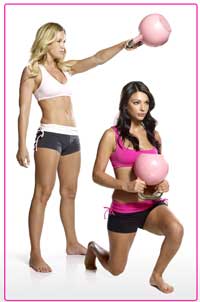 Also, the RKS 30-minute training program only uses one kettlebell, making this the most versatile, well-rounded, completely portable gym anywhere. With weekly challenges built into the program, the user will also have a way to gauge progress over the training period.
Many of the popular fitness video programs out on the market today are much too long and cardio-centric, which causes high amounts of muscle breakdown, fatigue, and training plateaus.  The RKS program of progressive training gives the user a balance of strength, flexibility and conditioning while molding a lean, powerful physique with lungs that won't quit.
Because kettlebell training teaches the body to communicate and work as a complete unit, rather than as individual parts, the user will experience amazing results in athleticism and coordination, which is very important for kids playing sports or for adults hoping to stay active and pain-free. 
I've completed several workouts with the RKS Workout Series using a 15 lb. kettlebell and let me tell you...these exercises work!  I was sore the first day before the 20 minute workout was even over.  What surprised me though was how many reps you are expected to complete of the same exercise.  The downside to this is that after a while, the workout becomes quite stale.
The upside is that you are getting maximum results and are definitely exhausting those muscle groups.  Since the kettlebell workouts use virtually every muscle in your body, you're also getting maximum cardio and calorie-burning results too.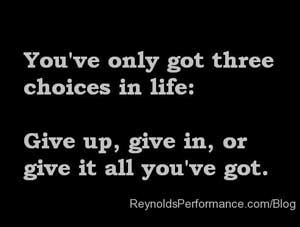 What's more, I was totally impressed by the phenomenal cool-downs in each workout of the RKS Workout Series.  Most of the time, I've found exercise video cool-downs to be quite a joke and thus end up skipping them altogether.  This is NOT the case here!  These cool-downs incorporate a ton of wonderful stretches and a LOT of yoga moves so that you really work your muscles out after a hard workout.
I've noticed a big difference in my recovery time as well as in the level of soreness I'm experiencing the day after which I directly attribute to the remarkable cool-downs.
In my house, I've got a stack of workout videos a mile high, but I can honestly say that I'm excited to complete the 4-week RKS Workout Series.  In just the short time I've been using this system, I feel stronger, thinner and more toned overall.  What's more, the 30 minute time frame is perfect for my busy schedule and is even something I *almost* look forward to!
Disclosure: I received the RKS Workout Series with 15 lb. Kettlebell from RKS Inc. in order to facilitate my review. No other compensation was received. This product review is based on my own personal experiences with this item and is completely honest and objective.
I'm a former 7th grade Science teacher turned stay-at-home mom that lives in Houston, Texas. I am married to my college sweetheart and have a beautiful daughter named Riley, who definitely keeps me on my toes! I am also involved in starting a small business which would both manufacture and sell an invention that I've patented, called Toothpaste 2 Go. I love interacting with my readers and hope to learn as much about you as you learn about me!
Melissa @ Mommy Living the Life of Riley!