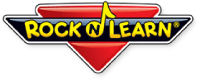 Rock 'N Learn began as an idea that would help children learn by putting educational material to music with a current sound -- the kind of music that kids enjoy and find motivating.  If a child found the music genuinely entertaining, could they learn the lessons taught from it?
Rock 'N Learn programs help students learn math, phonics, reading, early childhood, social studies, Spanish, test-taking strategies, writing, and science.  Their DVDs incorporate music with exciting, colorful imagery.  Recently, I had the chance to review the Rock 'N Learn Colors, Shapes & Counting DVD with Riley.  Keep reading to find out more!
I reviewed the
Colors, Shapes & Counting DVD
 from Rock 'N Learn, which retails for $19.99, but is currently on sale for $17.99 with FREE SHIPPING.
Receive 25% OFF your entire order with coupon code "JQ7711"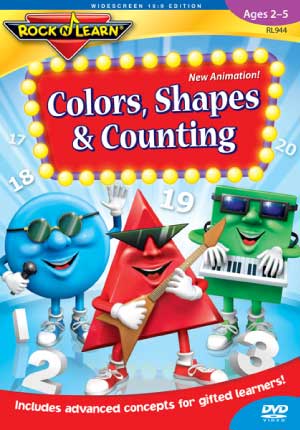 Watching the Rock 'N Learn Colors, Shapes & Counting DVD is a great way to get your child ready for starting school. Young learners will enjoy all of the kindergarten readiness activities, including learning to count objects by color, shape, or a combination of both.  Even gifted children will be challenged by advanced colors (maroon, turquoise, gray) and shapes (polygons, ellipses, trapezoids, decagons).
The animations used are extremely bright and colorful and definitely held my daughter's attention.  The animations are obviously computer generated, which is fine, but they come across a little too mechanical at times.  Riley didn't seem bothered by this though, so it wasn't a big deal.
I absolutely loved some of the new concepts infused in this DVD like understanding the difference between an oval and an ellipse, introducing the different shapes of a pentagon to a decagon and even showing how primary colors are used to make other familiar colors.  There was plenty that Riley learned about trapezoids, the difference between a square and a diamond and polygons.  I must admit though that the colors and counting sections of this DVD were a little long and repetitive in places and didn't hold my daughter's attention at times.  The shapes segment of this movie though is absolutely superb.
For a really good sample of what kind of toe-tapping preschool lessons you're in for as well as the kind of songs that your children will be listening to, just watch the short video clip below:
Riley did love watching the Rock 'N Learn Colors, Shapes & Counting DVD.  She sang, counted and answered the questions asked by the characters of this DVD.  I know that she absorbed the new lessons which were sprinkled throughout, for she started repeating new words and concepts previously unknown to her, such as nonagon and decagon.
I think that the Rock 'N Learn DVDs are an excellent way to infuse education into entertainment in a way that will "stick" in your child's head.  They also carry such a wide variety of titles, like "Dance with the Animals" and "Letter Sounds" that you will find plenty to start your child's education off on the right foot...and more than likely, that foot will be tapping to the music!  :dancing:
Disclosure:  I received the Colors, Shapes & Counting DVD from Rock 'N Learn in order to facilitate my review. No other compensation was received. This product review is based on my own personal experiences with this item and is completely honest and objective.
I'm a former 7th grade Science teacher turned stay-at-home mom that lives in Houston, Texas. I am married to my college sweetheart and have a beautiful daughter named Riley, who definitely keeps me on my toes! I am also involved in starting a small business which would both manufacture and sell an invention that I've patented, called Toothpaste 2 Go. I love interacting with my readers and hope to learn as much about you as you learn about me!
Melissa @ Mommy Living the Life of Riley!