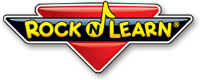 As a former Science teacher, I'd have to say that in my experience, the number one thing that can hinder a child's performance in school is their inability to read well.  I've also noticed that the children who behave poorly and are the ones who are always in trouble in school usually have the lowest levels of literacy and thus become bored or frustrated by their lessons and act out.
I have attended numerous lectures and conferences which demonstrate how schools can readily improve their students' test scores in ALL academic subjects simply by teaching children better reading skills.  For this reason, I was very excited to learn about a company called Rock N Learn and their unique approach to helping children become great readers.
I reviewed the
Phonics Volume 1
and
Volume 2 DVDs
 from Rock N Learn, which retail for $19.99 each, but can be purchased together for only $34.99.
Reading is one skill that Michael and I will be teaching Riley as soon as she is able to learn it and so I was very eager to learn the Phonics method of reading.  Phonics basically believes in teaching your child their vowels first and then coupling consonant sounds immediately with vowel sounds so that your child reads more quickly and learns in a more natural way.  Now, because Riley is only 22-months old, she was not yet ready for the Phonics Volume 1 & 2 DVDs, for these are recommended for children ages 6 and up.
I was interested to see though how much attention Riley paid to these videos and whether the music would keep her involved, since she loves music.  Each of these videos are around 70 minutes long, but it is not recommended to sit your child down and have them watch the entire video, beginning to end.  You should only have them try and learn a few of the songs at a time and then practice those until the child is comfortable with moving on.
As I turned on the videos, I wasn't very impressed by the cartoon characters used.  There was a dog, a cat and a boy with a guitar who talked and their mouths barely moved.  They also looked painfully awkward and computer animated and I didn't find them interesting or a good "hook" at all.  Even Riley, who would normally have been enthralled with cartoon characters, wasn't very interested.  Thankfully though, these cartoon characters didn't last too long and the real learning began soon.
A man's mouth then came on the screen and began teaching all about the different long and short sounds that vowels make.  Before long, he was coupling these vowel sounds together with consonant sounds to start reading short words.  I thought the pace of the lesson was great and it had a very syncopated pattern that was easy to start following along with.  Personally, I think children would gain a lot of confidence by being able to read short words already.  Once the child saw this DVD was working for them, they would try even harder to keep going.
| | |
| --- | --- |
| | |
Once the basics were mastered, then the Phonics DVDs started teaching other reading tools such as sounding it out, rhyming words, plurals, three letter blends, and silent e.  They integrated a few more songs as well as some stories to help your child practice these new skills. Phonics Volume 2 utilizes the same learning format as Volume 1, but definitely teaches much harder techniques as you probably guessed.  In Volume 2 your child will learn all about the long vowel sounds, er, ir, ur and ire, are, air, schwa sound, ph and gh and silent consonants.
I have to say though, that I wasn't a big fan of the cartoon characters and thought that the lessons tended to lag when they were onscreen.  I would have given these DVDs an easy five stars, if only there had been more songs used to teach these lessons and if they would have used more interesting and more animated cartoons too.  I still highly recommend these Rock N Learn DVDs and think that they are an excellent way to teach your child the fundamentals of reading.
After watching these videos, I also feel like I have a better idea of how best to teach Riley when that time comes.  What's more, you can always go to the free-phonics-worksheets.com web page and download free printable resources which go right along with the videos to help your child master reading in no time!  Teaching your child to read for only $34.99?  Now that's the best money you can spend!
Disclosure:  I received the Phonics Volume 1 and Phonics Volume 2 DVDs from Rock N Learn and

Family Review Network

in order to facilitate my review. No other compensation was received. This product review is based on my own personal experiences with this item and is completely honest and objective.
I'm a former 7th grade Science teacher turned stay-at-home mom that lives in Houston, Texas. I am married to my college sweetheart and have a beautiful daughter named Riley, who definitely keeps me on my toes! I am also involved in starting a small business which would both manufacture and sell an invention that I've patented, called Toothpaste 2 Go. I love interacting with my readers and hope to learn as much about you as you learn about me!
Melissa @ Mommy Living the Life of Riley!