If there's one thing that concerns me as a parent, it's the physical health and well-being of my child.  I am always appalled to hear the latest stats and figures concerning the rapidly declining health of the children in our country.  Poor diet and lack of physical exercise have resulted in several generations of children whose outlook is not as bright as it should be.
For this reason, I was very excited to discover a company whose aim is to educate our children in a fun and informative way about how to make smart and healthy choices regarding their bodies.  The OrganWise Guys sent me a comprehensive Back to School Kit to review.  Keep reading to find out more and how it could be just the ticket to a healthier kid!
I reviewed the Back to School Kit from The OrganWise Guys, which retails for $34.80.
The first thing that surprised me about the Back to School Kit from The OrganWise Guys, was just how inexpensive it was.  You actually receive five quality educational products for under $35.00.  I thought the prices were extremely reasonable and the kit included a variety of interesting items, including a calendar, book, DVD, CD and plush toy.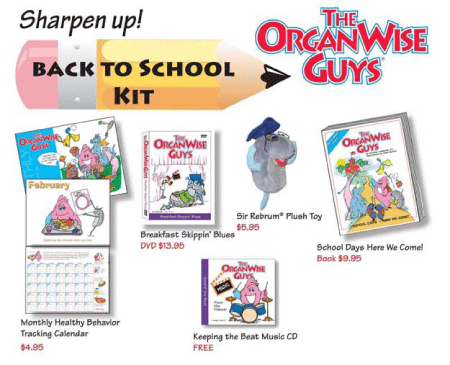 Next, I was immediately intrigued by the cast of characters who comprise The OrganWise Guys.  I really loved how interesting and memorable the human body's organs can become with names like Madame Muscle, Windy (Lungs), Hardy Heart, Peri (Intestines), Kidney Brothers, and of course my favorite, Sir Rebrum (Brain)!
The book is a wonderful introduction to who the OrganWise Guys are as well as their basic functions.  It is filled with large colorful illustrations and tips for how to keep your vital organs happy and healthy.  The DVD included with the Back to School Kit is entitled, "Breakfast Skippin' Blues".
It is all about how Sir Rebrum and Madame Muscle are having some serious troubles remembering their lines for the school play because they didn't have any breakfast to give them the energy they needed.  I have to admit that the video was very short, around 16 minutes long, but still very entertaining and chocked full of health facts and great information.  The video also reminded me of Sesame Street in a way, since The OrganWise Guys were large puppets who were imparting an educational message to the children.
I also liked the CD included with this kit, for there were some really catchy tunes on this disc.  I don't know about you, but I always seem to remember absolutely anything as long as it is in a song.  Believe me, I wish I didn't still remember the words to "I'm Too Sexy" by Right Said Fred, but unfortunately some music has a way of sticking in our Sir Rebrum!  So it goes with The OrganWise Guys "Keepin' the Beat".  Some of my favorite songs had to be "Wash Your Hands", "Calci Yum, Yum, Yum!" and "Low Down Kidney Blues".
My favorite item in the Back to School Kit was definitely the Good Health Calendar.  I thought this calendar was such a great idea and so unique because every month, your child is presented with a new challenge, designed to instill and reinforce good health habits.
For instance, one month your child is asked to circle every time they complete 10 minutes of straight physical activity, with the goal being to try and move for 60 minutes per day.  During another month, your child is asked to make one low-fat food choice at each meal and color in the heart on the calendar each time they do.  I think this calendar is ingenious and one that will definitely start being utilized in my household right away!
If you are also concerned about the health of your children and want to give them a good start for a foundation of healthy decisions and choices, then I think the Back to School Kit from The OrganWise Guys is a wonderful way to start.  The OrganWise Guys have discovered a way to make learning about the health of the human body fun, entertaining and memorable.
Disclosure:  I received the Back to School Kit from The OrganWise Guys in order to facilitate my review. No other compensation was received. This product review is based on my own personal experiences with this item and is completely honest and objective.
I'm a former 7th grade Science teacher turned stay-at-home mom that lives in Houston, Texas. I am married to my college sweetheart and have a beautiful daughter named Riley, who definitely keeps me on my toes! I am also involved in starting a small business which would both manufacture and sell an invention that I've patented, called Toothpaste 2 Go. I love interacting with my readers and hope to learn as much about you as you learn about me!
Melissa @ Mommy Living the Life of Riley!