I'm probably not alone out there when I say that I really need my morning cup of coffee in order to get me heading in the right direction!  Most mornings I hit the ground running, and so when I finally get a chance to stop, catch my breath and partake in my favorite morning ritual, I really try and enjoy the moment.
I can't say that I've had too much experience with what would be considered gourmet coffee, so I was very excited to have the chance to review the Senseo SL7810 Single-Serve Gourmet Coffee Machine.  Senseo machines use specially prepared coffee pods, instead of the regular ground coffee and filter, which makes brewing your favorite cup of joe a breeze!  Keep reading to find out my experience with the Senseo Original Coffee Machine.
The Senseo Original Coffee Machine is unique in that you no longer have to waste your valuable time inserting a coffee filter and measuring ground coffee or even grinding coffee beans before making a cup of coffee.  Simply pop in one (or two) of the Senseo coffee pods and you're off!  The Senseo coffee maker has two different pod holders - a shallow one geared to hold one coffee pod for a 4 oz. cup of coffee and a deeper one to hold two pods for an 8 oz. cup.
Since I can down a 4 oz. cup of coffee in about one sip some days, I definitely used the 8 oz. pod holder.  One of the benefits of using two pods at a time to brew one cup of coffee is that you can actually experiment with creating your own custom coffee creations.  For example, I would love to try the Paris Vanilla Bistro blended with the Senseo Capuccino!  Sounds pretty yummy to me!
I decided to try the Breakfast Blend variety for my first cup of coffee using the Senseo.  The Senseo SL7810 Coffee Machine actually came with three full bags containing 16-18 pods each in the following flavors:
Dark Roast
10% Kona Coffee Blend
Breakfast Blend
All that I had to do was insert two of the Breakfast Blend coffee pods (flat side up) into the top of the Senseo machine and lock the lid into place.  Next, I filled the removable reservoir, located on the back of the machine, to the max line.  Then, I pushed the on/off button and selected the 8 oz. coffee serving option.  I only had to wait less than a minute for my fresh cup of coffee!  I was very happy with the way the Breakfast Blend tasted too.  It had just the right strength for my liking and the aroma was sensational!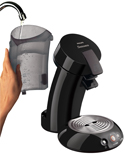 I have to say that I really liked the Senseo SL7810 Single-Serve Gourmet Coffee Machine and think that it is a great way to begin my day.  The only downside I've found so far is that the coffee pods required for use with the Senseo can be kind of expensive, especially since I need to use two just to make one cup of coffee.  Some days, I can easily drink 2-3 cups which are 8 ounces in size.  The cheapest place I found to purchase the Senseo coffee pods was Amazon.com.
You can buy roughly 72 coffee pods for around $20.00 (not including shipping).  This works out so that each coffee pod costs about 28 cents per piece, which means that I am spending 56 cents per 8 oz. cup of coffee.  Though the coffee is extremely convenient and tastes delicious, I just wanted to make sure that you knew the costs of the pods before purchasing one of the Senseo machines for yourself.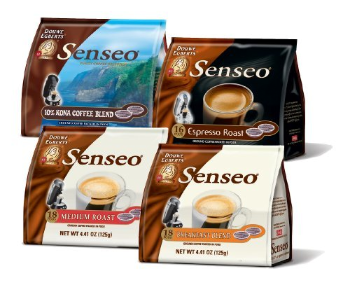 Senseo has designed an excellent single-serve coffee machine with the SL7810!  This machine doesn't take up much counter space, looks sleek and modern, is super convenient and cleans up in a snap.  All of the removable parts are even dishwasher safe!  Senseo has also created some mouthwatering flavors of coffee, including the Vienna, Paris and Sumatra blends.  If you are like me and love to start your day with a fresh cup of delicious coffee, then I highly recommend the Senseo Original Coffee Machine to brew it for you!
Disclosure:  I received the Senseo SL7810 Single-Serve Gourmet Coffee Machine in Black from Senseo in order to facilitate my review. No other compensation was received. This product review is based on my own personal experiences with this item and is completely honest and objective.
I'm a former 7th grade Science teacher turned stay-at-home mom that lives in Houston, Texas. I am married to my college sweetheart and have a beautiful daughter named Riley, who definitely keeps me on my toes! I am also involved in starting a small business which would both manufacture and sell an invention that I've patented, called Toothpaste 2 Go. I love interacting with my readers and hope to learn as much about you as you learn about me!
Melissa @ Mommy Living the Life of Riley!