As a mom, I feel it's my job to do my best to keep my family safe and healthy.  Carefully reading food labels in order to eliminate harmful toxins from our diets, like trans-fats and artificial dyes, is something I've been doing for years, but I never considered reading the labels on our household cleaning products before.
So when I learned about the new Get Clean products from Shaklee, I was more than ready to take the green cleaning challenge to see what's really going on underneath my kitchen sink.  Needless to say, I was shocked at what I discovered.  Keep reading to learn more!
I reviewed the Get Clean Starter Kit from Shaklee Corporation, which retails for $115.32.
Become a Shaklee member and save 15% - 25% off ALL your purchases.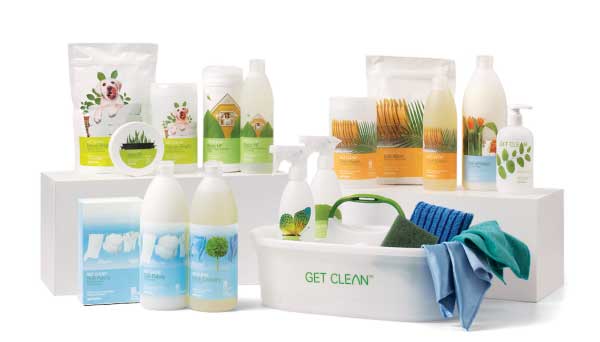 The first thing that startled me when I dug out my most trusted household cleaners, was that it was next to impossible to discover what ingredients they actually contain!  After reading the myriad of bold cautionary warnings instructing me to keep this product away from children, pets, my skin, my eyes, my clothing and my food, it seems quite ridiculous that they are then able to not explain exactly what's inside.
As you can see from the pictures below of a VERY POPULAR all-purpose cleaner that I have used my entire life, only one ingredient, which makes up only 0.3% of this substance, is listed.  The other 99.7% of ingredients are a complete and utter mystery and I'm guessing if they were proud of them, they would be proudly displayed, instead of hidden as they are.
Even when I went to the Household Products Database from the National Institutes of Health, I still couldn't find out what was in this popular cleanser.  Very suspicious indeed and judging from the active ingredient of alkyl dimethyl benzyl ammonium chloride and the multitude of serious warning labels displayed on the bottle, I'm afraid that this product is not something I want to use to clean my home anymore.
I checked one other VERY POPULAR bathroom cleanser, that once again I have used my entire life, and was shocked by what I found in the Household Products Database:
"IARC found sufficient evidence to classify silica as a carcinogen in animals. However, the evidence in humans is limited. It is anticipated to be a carcinogen by NTP."
A carcinogen?  Oh boy, that's great!  I'm thrilled to know that I've been scrubbing my toilets, bathtubs, sinks, etc. with this particular cleaning product.  My family's skin comes into direct contact with these surfaces multiple times per day, so now I know I must do something different to protect my family from these harmful substances.  Enter in the Shaklee Get Clean Starter Kit!
Get Clean products are superconcentrated, saving you money, ounce for ounce.  You would have to spend more than $3,400 on conventional, ready-to-use products from major name brands to get the same amount of clean you'll find in the Get Clean Starter Kit.  When you use Get Clean products, you're not just cleaning, you're also making your family healthier because Get Clean is formulated without volatile organic cleaning compounds.  You're even saving plenty of money too without dirtying the earth.
Get Clean products also outperform or matches 15 national brands, including such products as Pledge® Multi Surface Clean & Dust™ Wipes, OxiClean®, and Downy® April Fresh Ultra Concentrated Fabric Softener Liquid.  I put the Get Clean Basic H2 to the test against my traditional multi-purpose cleaner and just look at the results!  The Basic H2 solution got my countertop sparkling clean again in no time.
The one and only Get Clean Basic H2 is a versatile, superconcentrated cleaner with a thousand uses. Ninety-nine percent natural and 100% powerful, Basic H2 replaces all the cleaners you're probably buying now—window cleaners, all-purpose cleaners, degreasers, floor cleaners, tub and tile cleaners, and more—saving you money and space. Get Clean Basic H2 is the ultimate superconcentrated cleaner! Look how much you would have to spend to get the equivalent cleaning uses:
Nearly $482 for the equivalent amount of all-purpose cleaner
$12,250 for the equivalent amount of window cleaner
$144 for the equivalent amount of degreaser
Get Clean uses natural and naturally derived ingredients from sustainable sources to offer nontoxic and natural cleaning choices that are Safe for You, Your Home, and Your Planet®. They also contain no phosphates, borates, nitrates, or many other chemicals the planet doesn't appreciate.  When you buy the Get Clean Starter Kit versus conventional, ready-to-use cleaners, 108 pounds of packaging waste stays out of landfills and 248 pounds of greenhouse gas is eliminated.
And if that's not enough, through the sale of Shaklee Get Clean Basic H2 in the last year alone, Shaklee has eliminated the need for 2.7 billion 26-ounce bottles of conventional window cleaner—if placed end to end, these bottles would wrap around the earth more than 18 times!
After trying the Shaklee Get Clean products in my home, there's no doubt that I will continue to use these year after year.  Now, I feel like my home is a much safer environment for my family and who can argue with the economical and environmental benefits you're receiving too!
Every cleaning item I've used so far in the Shaklee Get Clean Starter Kit works just as well, if not better, than my traditional products and I feel so much better knowing that I've eliminated a ton of deadly toxins from my home.  I highly recommend that you also try the Shaklee Get Clean products for yourself.  Since all Shaklee products come with a 100% money-back guarantee, the only thing you have to lose is dirt, toxins and excess waste!  :thumbs up:
Disclosure: This review and giveaway were made possible by the Shaklee Corporation & Mom Spark Media. Incentives, product and support were provided. Thoughts are my own.
I'm a former 7th grade Science teacher turned stay-at-home mom that lives in Houston, Texas. I am married to my college sweetheart and have a beautiful daughter named Riley, who definitely keeps me on my toes! I am also involved in starting a small business which would both manufacture and sell an invention that I've patented, called Toothpaste 2 Go. I love interacting with my readers and hope to learn as much about you as you learn about me!
Melissa @ Mommy Living the Life of Riley!