Colossal Christmas Countdown:

16 Days Until Christmas!

Ladies, I know we've all been there at one time or another.  We're dressed to the nines and wearing some super cute sandals, wedges or pumps when all of a sudden, before we know what happened, we're caught in a thunderous rainstorm!  Now, being the prepared girls that I'm sure we all are, we whip out our umbrella to protect our hair and clothes, but what about our precious shoes and feet?

What's going to happen as we slosh to our home or office?  Well, the folks at Shuella have come up with a nifty little invention to protect those high-dollar shoes of ours from becoming ruined by the occasional puddles in our path.  They've invented shoe umbrellas called Shuellas!  Keep reading to learn much more!
I reviewed the Shuella Shoe Umbrellas in Classic Black from Shuella, which retails for $49.95.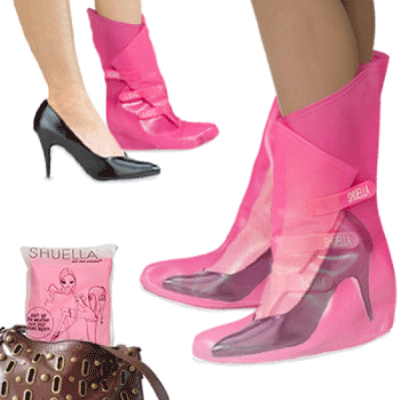 As soon as I laid eyes on the Shuella, I knew that this was a great idea that I just had to let everyone know about.  I used to wear dress shoes quite often, before I became a stay-at-home mom, and don't know how many times I've arrived completely dry to my destination, while in a  thunderstorm...except for my feet!
My feet were usually cold and wet for hours afterward and I've even slipped and hurt my ankle once due to walking in high heels in the rain.  I've also ruined several pairs of shoes, due to the elements, including a VERY cute pair of purple suede pumps which I have never been able to find again since.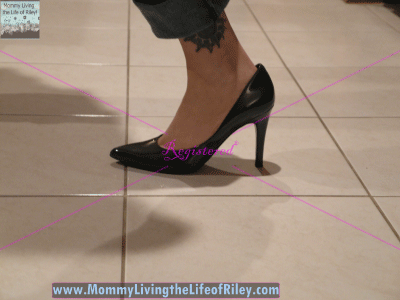 Shuellas are literally an umbrella for your dress shoes, for they fold up neatly in a convenient waterproof pouch and are at the ready when you need them.  Simply slip them in your large purse or briefcase, as you would your umbrella, so that your feet and shoes will always be protected from the elements.  The Shuella is designed in such a way so that they will fit perfectly over ANY SIZE HEEL!  They are not designed to be worn over athletic shoes, but most of the time athletic shoes protect your feet fairly well from the rain anyway.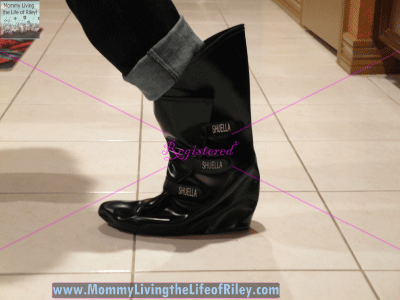 As you can see from the side picture above, the Shuella has three Velcro straps which will secure tightly around your foot.  Considering they are boots which can fold up fairly small, I thought they looked rather stylish too!  These are so much better and more convenient than having to carry around a pair of galoshes for when it rains and having to store your dress shoes in a bag.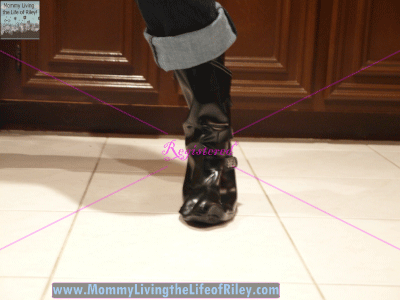 If you are looking for a wonderfully practical holiday gift for a traveling fashionista, then I highly recommend purchasing a pair of Shuellas!  These nifty shoe umbrellas are perfect for carrying in a large purse or briefcase so that you never ruin another pair of shoes due to the weather again.  They will also help keep your feet warm and dry and prevent any injuries from occurring while you dash through the rain too!  With Shuellas, your rain gear will finally be complete!
Disclosure:  I received the Shuella Shoe Umbrellas in Classic Black from Shuella in order to facilitate my review. No other compensation was received. This product review is based on my own personal experiences with this item and is completely honest and objective.
I'm a former 7th grade Science teacher turned stay-at-home mom that lives in Houston, Texas. I am married to my college sweetheart and have a beautiful daughter named Riley, who definitely keeps me on my toes! I am also involved in starting a small business which would both manufacture and sell an invention that I've patented, called Toothpaste 2 Go. I love interacting with my readers and hope to learn as much about you as you learn about me!
Melissa @ Mommy Living the Life of Riley!