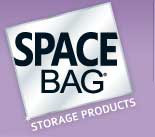 Recently, my husband and I decided to give our guest bedroom a complete and total makeover.  We're redoing practically everything and I've since realized something I pretty much knew all along.  We need more storage space!  I'm quite the organizational freak and love having a place for everything and everything in its place.
But, what do you do when your home's storage spaces begin to run low?  That's when it's time to bring in the major reinforcements and for me, that means Space Bag!  Keep reading to learn more!
Join the
Space Savers Community
 and save 20% OFF the Space Bag Starter Set plus other exclusive members-only benefits!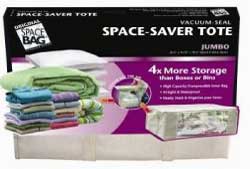 Want a storage option that combines Space Bag technology with the function of a storage bin?  The Space Bag High Capacity Storage Tote is the answer.  Featuring a canvas outer cover, the tote turns a cluttered garage or closet into an attractive, neatly organized space.  The tote also includes a see-through window for easy identification of contents and handles for easy lifting.
The Space Bag High Capacity Storage Tote is available in two sizes to meet the needs of any room that requires some reorganization.
Jumbo – Holds up to two bedding sets, four pillows and 12 sweaters or jackets.
Under Bed –  Holds up to one bedding set, two pillows, and five to seven sweaters or jackets.
All Space Bag products are airtight, waterproof and reusable.  They also protect against bugs, moths, dirt, mildew and odors.  Here are some of the ways you can put the High Capacity Storage Tote to use in your home:
Gather up the plush toys and stuffed animals your child no longer plays with on a regular basis and place them in the Tote. Once compressed, these soft playthings will take up a fraction of the size they usually do piled up in the corner of the room.
Puffy winter jackets, ski attire and bulky sweaters have no place in the closet during warmer months. Place these items in the Tote and store it in the garage or attic. The airtight seal and canvas cover will protect items inside from dust, mildew, odors and pests during storage.
The Tote can also be used as a hand-me-down helper. Place outgrown children's clothing in the bag and seal it for future use. Jot down the size, gender and season of the clothing on a piece of paper and store it in the Tote's see-through window for easy identification later.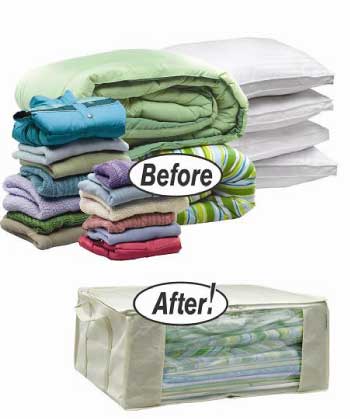 Using the Space Bag Tote was a cinch, though you must be careful while doing so.  It's easy to start stuffing and cramming various items in these bags, but I've found that if you're too rough, a seam could break or the zipper could give.  Other than that, it's a matter of neatly folding your items and then gently placing them inside the bag.  Finally, attach the hose of your vacuum to the patented turbo valve and watch your belongings shrink away!
My linen closet was literally just that...stuffed only with linens!  I had so many large comforters, sheet sets and pillows stored inside that there was hardly room for anything else.  The Space Bag High Capacity Storage Tote made a serious dent in my guest room closet's storage woes and now I'm going to buy a few more to really reclaim that valuable closet space.
My favorite feature of these storage bags is that they even stack!  This is perfect for attics and garages or for the bottom of closets.  If you'd like to reorganize your home this spring and seriously cut down on the clutter, then a High Capacity Storage Tote definitely needs to be in your organizational arsenal!
Disclosure: I received a High Capacity Storage Tote from Space Bag in order to facilitate my review. No other compensation was received. This product review is based on my own personal experiences with this item and is completely honest and objective.
I'm a former 7th grade Science teacher turned stay-at-home mom that lives in Houston, Texas. I am married to my college sweetheart and have a beautiful daughter named Riley, who definitely keeps me on my toes! I am also involved in starting a small business which would both manufacture and sell an invention that I've patented, called Toothpaste 2 Go. I love interacting with my readers and hope to learn as much about you as you learn about me!
Melissa @ Mommy Living the Life of Riley!