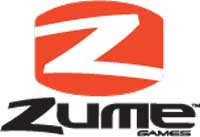 Picture it...an absolutely gorgeous summer afternoon.  The day is long and your to-do list is short, which means it's the perfect time to get outside with family and friends and have some fun!  But on days like this, sometimes we have a hard time deciding exactly WHAT to do and end up wasting precious time.
Zume Games is all about helping us seize those perfect summer afternoons with an entire collection of fun, portable, family friendly outdoor games.  I recently had the chance to review three of these games with my own gang.  Keep reading to learn more about how Zume Games will take your family's summer fun to the next level!
I reviewed the following outdoor games from Zume Games:
SPINNERZ Outdoor Game
which retails for $99.99, but is currently on sale for $79.99 with FREE SHIPPING
CANZ Outdoor Game
which retails for $89.99, but is currently on sale for $63.91 with FREE SHIPPING
DIZK Great Grip Flying Disc
which retails for $14.99, but is currently on sale for $14.84 with FREE SHIPPING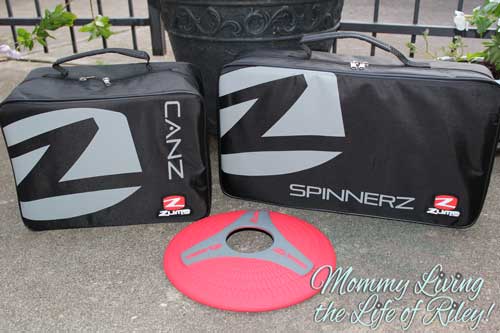 Escalade Sports, one of America's leading manufacturers of home recreational indoor and outdoor sports products and accessories including table and lawn games, recently announced the launch of its new Zume brand of innovative games, including CANZ, SPINNERZ, TENNIZ, DIZK and TOZZ, just in time for summer.
Zume Games' new indoor/outdoor games will transform a day at the beach, night on the deck, concert tailgating or rainy day into instant fun.  Some of the most innovative games of their kind on the market, Zume Games are fun, easy to play, portable, durable and designed for safe play.
"We are excited to announce the launch of our Zume brand of games just in time for the summer season," said Nick Martin, product manager, Zume Games.  "For almost 85 years, Escalade Sports has been a leading innovator in the sporting goods industry.  But we're more than just game makers; we are consumers who enjoy the competition and fun that these products provide.  We are confident that America will love them as much as we do."
Here's a brief synopsis of the five new outdoor games from Zume:
CANZ
Master your technique with CANZ, the new toss target game with a twist.  CANZ tossers have an aerodynamic look and feel designed to channel air for perfect twisting spirals.  Providing hours of fun family competition, indoors or out, CANZ is lightweight, portable and ultra-quick to setup.
A great option for a day at the beach, concert tailgating or a backyard barbeque,   CANZ comes complete with six air funnel tossers, one target goal with ground stakes and a carrying case for easy portability. CANZ is suitable for ages 8 years old and up.
SPINNERZ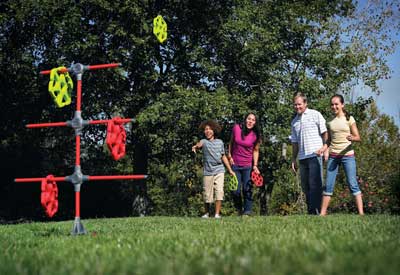 Get your spin on with SPINNERZ, the original gripping disc target game. Hours of fun, the strategy is simple – lock yours on, knock theirs off.
It's that easy with the one-of-a-kind SPINNERZ grip disc. Play almost anywhere, indoors or out, SPINNERZ is lightweight, portable and ultra-quick to setup. SPINNERZ includes six SPINNERZ grip discs, a target goal with ground stakes, and carrying case for easy portability.  SPINNERZ is suitable for ages 8 years old and up.
TENNIZ
The instant tennis match you can play almost anywhere. TENNIZ is ideal for building skills and having fun. Perfect for kids and beginners or family recreational play, TENNIZ is lightweight, portable and features ultra-quick setup. TENNIZ comes complete with two 21-inch rackets, 2 TENNIZ balls, 12-foot net and convenient carrying case.  TENNIZ is suitable for ages 8 years old and up.
DIZK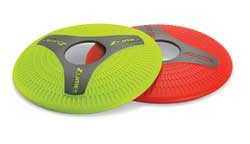 DIZK is a super-tough, soft-touch, great-grip flying disc perfect for fun at the beach, barbeque, tailgating or just plain fun at the park. Its unique design helps DIZK fly, float and flex like no other and its center hole creates more ways to catch. Its versatility makes if great for perfecting those flying disk tricks. DIZK is suitable for ages 6 years old and up.
TOZZ
TOZZ is a super-tough, soft-touch, great-grip football allowing you to get more out of your arm.  TOZZ was made to grip it and rip it. Its center aerodynamic air tunnel helps create an amazing spiral on every throw. TOZZ's easy to launch, easy to catch design is suitable for ages 6 years old and up.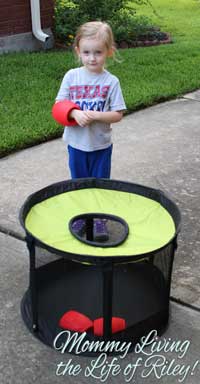 My family thoroughly enjoyed all three items we were sent from Zume Games.  Both CANZ and SPINNERZ are extremely easy to learn and are played and scored in much the same way as horseshoes or washers.  Michael and I can each sit outside and play horseshoes or washers until the cows come home and love every minute of it, so we were thrilled to play both CANZ and SPINNERZ.
We both loved how rugged and durable the game sets were as well as how travel-friendly they are.  With football season nipping at our heels, it's good to know that we've already got the perfect entertainment for our next tailgate party.
I can guarantee that the next time we leave the house to visit friends and family or take a short day trip, both of these outdoor games will be coming along too.  Even Riley got in on the action and helped us play a few rounds of CANZ.  My husband and I enjoyed the many different ways the CANZ air funnels can be tossed.
You could give them an underhand spiral, overhand spiral, barrel roll, tumbler or any other way you could think of.  This of course started a showdown to see who could master their CANZ toss first.  I don't want to brag but...  :superstar:  You get the picture!
The DIZK super tough, great grip flying disc was much better to play with than a typical plastic Frisbee, in my opinion.  First of all, because it was thicker and had such a unique design, it didn't flop around and get carried away in the breeze so easily.  Also, it seemed to fly much farther than a traditional plastic flying disc would.  I'm assuming that again, it was because of the unique design and reduced air resistance of the DIZK model.  My family headed out for a rousing game of Frisbee golf with our new DIZK and loved it!  My aim was much more accurate than ever before and I attribute it all to the new flying DIZK we used.
In short, I can't say enough good things about the three amazing outdoor games I reviewed from Zume Games.  These items were of the highest quality, as well as simple to assemble, easy to learn, traveled well and most of all, fun to play!  I know my family's summer will be all the richer because of the memories we'll make while playing these wonderful outdoor games from Zume.
More Ways to Go Out and Play:
Disclosure:  I received the CANZ, DIZK and SPINNERZ Outdoor Games from Zume Games in order to facilitate my review. No other compensation was received. This product review is based on my own personal experiences with this item and is completely honest and objective.
I'm a former 7th grade Science teacher turned stay-at-home mom that lives in Houston, Texas. I am married to my college sweetheart and have a beautiful daughter named Riley, who definitely keeps me on my toes! I am also involved in starting a small business which would both manufacture and sell an invention that I've patented, called Toothpaste 2 Go. I love interacting with my readers and hope to learn as much about you as you learn about me!
Melissa @ Mommy Living the Life of Riley!