Colossal Christmas Countdown:

21 Days Until Christmas!

Proper footwear is essential for the health and well-being of your baby or toddler, but when their little feet are growing so fast, it can be hard to justify paying a lot of money for just one style of shoe.  Of course, pediatricians recommend young children going barefoot as much as possible so that their growing feet aren't hindered by confining shoes.

But what do you do when the temperature begins to drop and they desperately need something on their tootsies?  Stonz Wear has some of the neatest booties on the market, for their shoes are extremely versatile, yet completely waterproof and wind resistant.  Keep reading to learn much more!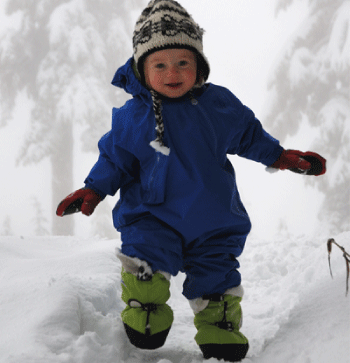 Stonz Wear booties are perfect for developing feet because they are loose and non-conforming.  They also have skid-resistant bottoms, just right for little ones who are beginning to take their first steps.  I have always heard that soft-bottomed shoes are the best thing for young walkers, since their feet can more easily feel and grasp the floor beneath them.  I also love how Stonz Wear booties are made to be oversized so that you can slip them on over footsie pajamas, pants, socks and even most shoes.
This way, Stonz Wear booties can serve as a pair of galoshes or even as the shoes themselves.  The two drawstring toggles ensure a tight and secure fit each time and will grow right along with your child.  Now I know that Riley will be able to use these booties for more than one season and possibly even for an entire year before she outgrows them!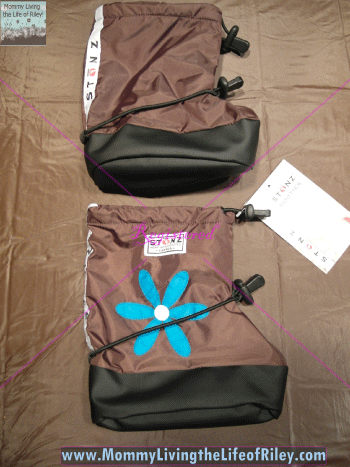 I also appreciate the soft, fleece lining inside the Stonz Wear booties.  This soft lining ensures that these booties could even be used as a pair of slippers for when the floors in your home get cold.  Because they are oversized and have a very large opening, I don't have to worry about them fitting over Riley's thicker socks or her footsie pajamas that she wears around the house.  The skid-resistant bottoms mean that she won't risk falling indoors on our tile floors either.
Finally, Stonz Wear booties can even accommodate additional  Stonz Wear Sherpa fleece Linerz so that your baby's toes can stay warm and dry in even the coldest weather.  I'm happy that these additional Linerz are an option and not a standard feature of the Stonz Wear booties.
This way, the Linerz can be removed when the weather turns warmer, so that children can wear the same shoes in the spring that they donned in the winter.  Of course here in the South, where snow is pretty much a rare, unseen myth, an extra set of Linerz would probably not be necessary at all.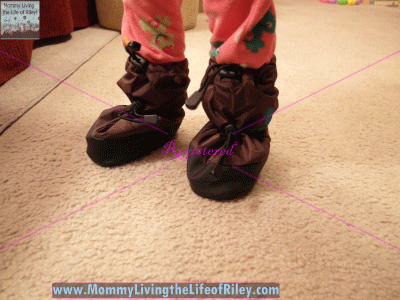 I absolutely loved these Stonz Wear booties and appreciated how easy it was for Riley to successfully take these shoes on and off.  As soon as I showed her a few times how to work the toggles, she was a pro at putting on her new shoes.  The only thing I didn't like about the Stonz Wear booties is the sizes they offer.  They only carry booties in the newborn to three years old (S-XL) sizes, which I don't quite understand.
Why would a newborn need a weatherproof boot when, more than likely, their feet wouldn't touch the ground anyway?  My husband even commented on how he would love to have a pair of shoes like these so that he could slip them on quickly to go get the mail when it's raining outside or to slide them on over his dress shoes when the weather gets bad.  I have to agree with him.  I would love for Riley to always have a pair of Stonz Wear booties and don't understand why they're not made in larger sizes.
Stonz Wear also carries a limited number of designs in the XL size too.  For instance, I really thought the Dragonfly booties were some of the cutest things I've seen, but unfortunately, they aren't carried in the XL size.
If you have a baby or toddler in need of some warm, weatherproof shoes this winter or spring, then I highly recommend checking out the wide variety of adorable Stonz Wear booties.  These soft-soled, non-skid booties are extremely versatile and will grow right along with your child.  Stonz wear even carries matching gloves and hats for some select patterns of their booties so that your child will be warm and cute from head to toe!
Disclosure:  I received the Daisy Brown Booties from Stonz Wear Inc. in order to facilitate my review. No other compensation was received. This product review is based on my own personal experiences with this item and is completely honest and objective.
I'm a former 7th grade Science teacher turned stay-at-home mom that lives in Houston, Texas. I am married to my college sweetheart and have a beautiful daughter named Riley, who definitely keeps me on my toes! I am also involved in starting a small business which would both manufacture and sell an invention that I've patented, called Toothpaste 2 Go. I love interacting with my readers and hope to learn as much about you as you learn about me!
Melissa @ Mommy Living the Life of Riley!