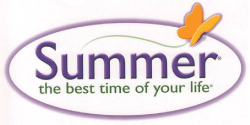 I love my home, but since having a child, I like it a little bit less because I have the dreaded thing that fascinates all children, yet can cause devastating injuries...STAIRS!  It's imperative to protect your children from themselves sometimes and thankfully, Summer Infant has once again developed an amazing product to do just that.
I had the chance to install the Stylish&Secure Deluxe Wood Top of Stairs Gate with Dual Banister Kit at the top of my home's stairs to help prevent a nasty fall from occurring.  Keep reading to learn more!
The Summer Infant Stylish&Secure Deluxe Top of Stairs Gate with Dual Banister Kit is versatile enough to accommodate all of your needs.  Banister-to-banister installation allows you to easily mount the gate at the top or bottom of your stairs, fitting stairwells between 32" and 48" wide.  The banister kit is included to make mounting quick and simple, and the mount fits between 2.75" and 5" thick banisters.
The gate can also be installed in doorways, hallways and wide openings to block off unsafe rooms, and it is 33" tall to ensure that your child will not be able to climb over it. A quick-release mechanism allows you to easily remove and reinstall the gate in any area of your home, making life simple for you. The stylish and durable wood design is sure to complement any home décor.
I have been looking for a high-quality safety gate like this that doesn't require you drill into your banisters, for a LONG time and I almost gave up hope of ever finding one.  Thankfully, Summer Infant came through with a quick, easy, secure and STYLISH way to safely protect your child from a nasty fall down the stairs.
The Stylish&Secure Deluxe Wood Top of Stairs Gate can actually be configured in several ways, one of which is bound to be appropriate for your particular staircase.  If you have square-shaped banisters, you can use the included zip ties to mount this safety gate with absolutely NO DRILLING required!  Otherwise, for round banisters or no banisters at all, you will need to drill the hinge and latch assemblies into the wall or banister.
My home actually has a banister on one side of the staircase and a wall on the other.  We were lucky enough to find a stud on the wall where we needed to drill, so the installation was actually a cinch!  After the gate was assembled, we just tightened a few bolts, lined up the gate with the bottom of the floor, made sure it was aligned evenly on both sides and PRESTO...a safe landing for my daughter at the top of our stairs!
I love the look of this safety gate and think it matches our decor really well.  Better yet, with the height of the Stylish&Secure Deluxe Wood Top of Stairs Gate coming in at 33 inches, I know that my daughter won't accidentally injure herself by being able to climb over it.
To unlock the door so that it will swing open, just squeeze both the top and bottom areas of the gate's handle together.  The gate swings easily to either side like a swinging door so that traffic can go whichever way it pleases.  The only criticism I have of this safety gate is that small hands might figure out how to squeeze both sides of the latch together and then be able to open the gate.
My daughter was already eyeing this handle suspiciously and even tried to open it once, but then I explained to her that it was unacceptable to touch the gate at all (of course, AFTER the picture above was taken :big grin:).  I didn't want her watching me open and close the gate too many times and then figure out how to do it herself, so I just told her that she's not to touch the gate at all.  She seemed to understand (fingers crossed) and so I hope my little Houdini doesn't try to "crack the mystery of the baby gate" anytime soon!
STAY IN TOUCH: Want to be in the loop? You can also check out Summer Infant on the following sites:
SUMMER INFANT
If you have been searching for a stylish and secure solution to protect your child from any dreaded staircase injuries, then I highly recommend the Summer Infant Stylish&Secure Deluxe Wood Top of Stairs Gate with Dual Banister Kit.  This wonderfully designed safety gate is easy to install, easy to operate and will keep your child well-protected from their own curiosity.
Disclosure:  I received the Stylish&Secure Deluxe Wood Top of Stairs Gate with Dual Bannister Kit from Summer Infant in order to facilitate my review. No other compensation was received. This product review is based on my own personal experiences with this item and is completely honest and objective.
I'm a former 7th grade Science teacher turned stay-at-home mom that lives in Houston, Texas. I am married to my college sweetheart and have a beautiful daughter named Riley, who definitely keeps me on my toes! I am also involved in starting a small business which would both manufacture and sell an invention that I've patented, called Toothpaste 2 Go. I love interacting with my readers and hope to learn as much about you as you learn about me!
Melissa @ Mommy Living the Life of Riley!