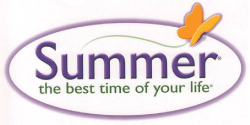 From the moment I found out I was pregnant, I had babies on the brain.  In my mind, I had just nine months to make sure everything was perfect for the new bundle of joy that would soon be arriving.  Knowing absolutely nothing about babies before becoming Riley's mommy meant that I had a big job ahead of me.  I read everything I could find about basic baby care, supplies, breastfeeding, SIDS and the like.
After taking a newborn care class with my husband, I decided right then and there that swaddling my child was the way to go.  Unfortunately, I wasn't very good at doing it with a traditional swaddling blanket, which is why I was thrilled to learn of the SwaddleMe product line from Summer Infant.  These wonderfully designed adjustable infant wraps take all the guesswork out of swaddling your little one.  They also help protect your baby from improper swaddling, which can lead to hip dysplasia.
Of course, Summer Infant didn't just make parents' lives easier with the SwaddleMe blanket.  They even went the extra mile and designed adorable bedding ensembles for your baby's nursery that feature the SwaddleMe infant wrap!  Now that's the kind of one-stop shopping all new parents need.  Keep reading to learn more!
I reviewed the Team Monkey 8-Piece SwaddleMe Bedding Set from Summer Infant which retails for $189.99.
The Summer Infant SwaddleMe 8-Piece Bedding Sets come in four delightful patterns which are all ready to welcome your newest arrival into the world.  The Team Monkey design features a cast of cute monkey characters playing various sports like football, baseball and basketball, while the Who Loves You set features owls, butterflies and a vivid array of pinks, greens and blues.  If you have a little diva on the way, then the Tu Tu Cute selection is a perfect choice.  With ballerina tutus, bold pinks and animal print accents, any little girl would go wild for this one.
Finally, the Giggle Gang is a great choice for a more gender neutral pattern and offers adorable giraffes and elephants to keep your child company.  This pattern most resembles the one I used in Riley's nursery, since I was sure she was going to be a boy, yet wanted to keep it a little on the neutral side in case I was wrong...and I was!
All of the Summer Infant SwaddleMe 8-Piece Bedding Sets include the original SwaddleMe, a SwaddleMe Sack, and the new SnugWrap. The SnugWrap's innovative design eliminates gaps between crib slats and the mattress, keeping baby safe from entrapment.  The SwaddleMe 8-Piece Crib Bedding Sets feature:
Includes 1 Original SwaddleMe, 1 SwaddleMe Sack, 1 comforter, 1 crib SnugWrap, 2 comforter clips, 1 fitted sheet, and 1 crib skirt
One-piece SnugWrap extends beneath mattress and is adjustable to fit most cribs
Original SwaddleMe wrap for babies 0-3 months
SwaddleMe sack for babies 0 - 6 months
Decorative clips allow you to hang the comforter on the wall as a design centerpiece
Crib SnugWrap, sheet and skirt fit crib size 28 x 52 inches
SwaddleMe and SwaddleMe Sack in 100% cotton; SnugWrap, comforter, sheet and skirt in a polyester/cotton blend; comforter in polyester with polyester/cotton blend backing
Dimensions: SnugWrap: 52 x 27 x 15 inches; Comforter: 45 x 35 inches; Sheet: 52 x 28 inches; Skirt: 26 x 50 x 14 inches; SwaddleMe Wrap: Small/Medium (7 - 14 lbs); SwaddleMe Sack: Small (7 - 18 lb; up to 26 inches)
Machine wash cold, tumble dry low
I've had several years of experience with Summer Infant products and hold this brand in high esteem.  Their attention to detail, quality and safety are unsurpassed and I have to say that they've done it once again with the SwaddleMe 8-Piece Bedding Sets.
I received the Team Monkey style to review and was immediately taken with the level of detail in stitching and applique of the pattern itself.  Everything looked flawless and certainly of the highest quality.  I would have been proud to have this collection displayed in Riley's room and love how they've not only made the 8-piece set, but also many other nursery decor accessories to complement it.  Summer Infant even went above and beyond to help you choose coordinating paint colors and fabrics to match this bedding set.  They list three shades of Behr paint and several complimentary fabric suggestions, making decorating your new nursery a breeze!
The coordinating SwaddleMe infant wraps is just another way Summer Infant shows their attention to detail and to the safety of your child.  Not only will your child's bedding correlate, now even the baby itself will match its surroundings!  What's more, because of the two sizes of SwaddleMe included in this set, your child will actually be covered from birth up to 6 months of age...how convenient!
Of course, in my opinion, the new Crib SnugWrap was the neatest feature of the Summer Infant 8-Piece Bedding Set.  This innovative one-piece design is the perfect combination of both style and safety.  Your child will be protected from their crib's slats without risking entrapment due to the gaps caused by traditional crib bumpers.  It's also not pillow-like at all so as to reduce the risk of suffocation.
I think the Team Monkey bedding set from Summer Infant was a total home run!  I honestly can't find one bad thing to say about this set or even one detail which I thought could be better or wasn't completely thrilled with.  If you're looking for an amazingly cute, yet functional way to decorate your new baby's nursery, then by all means, choose one of the four Summer Infant SwaddleMe 8-Piece Bedding Sets!
Additional Items from Summer Infant:
Disclosure: I received the Team Monkey SwaddleMe 8-Piece Bedding Set from Summer Infant in order to facilitate my review. No other compensation was received. This product review is based on my own personal experiences with this item and is completely honest and objective.
I'm a former 7th grade Science teacher turned stay-at-home mom that lives in Houston, Texas. I am married to my college sweetheart and have a beautiful daughter named Riley, who definitely keeps me on my toes! I am also involved in starting a small business which would both manufacture and sell an invention that I've patented, called Toothpaste 2 Go. I love interacting with my readers and hope to learn as much about you as you learn about me!
Melissa @ Mommy Living the Life of Riley!