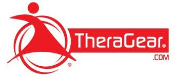 Since having a child, it seems that my workout days at the gym have quickly come to an end.  I want to try and remain as healthy as possible so that I can keep up with my little girl and be around for her and my husband for a very long time.  If I can't go to the gym on a regular basis anymore, then I need to bring the gym to me!
This means that I have a whole library of workout videos and various gym equipment at home, such as dumbbells, resistance bands, a balance ball, etc.  I had never heard of body toning bars before, but once I saw them on TheraGear.com, I just knew that this would be a new and unique way to increase my strength, flexibility and conditioning.  Keep reading to find out whether or not the body toning bar I tried worked well for me!
TheraGear makes a body toning bar for every fitness level imaginable, ranging from 6 lbs. to 24 lbs.  If you are interested in finding out which weight of toning bar is for you, then please reference this general guide:
6 lbs      Beginner

9 lbs      Beginner - Moderately Fit

12 lbs    Moderately Fit - Fit

15 lbs    Fit - Very Fit

18 lbs    Very Fit - Extremely Fit

24 lbs    Extremely Fit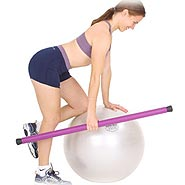 Since right now I would consider myself moderately fit, and I would like to have a piece of equipment that continually challenges me, I decided to choose the 12 lbs. body toning bar.  Boy, did I definitely get a challenge!  The body toning bar is a high quality steel exercise bar enclosed in a dense, comfortable foam.
The weight is evenly distributed throughout the bar so that you can challenge all the muscles you use equally.  Because of it's long rod-like shape, there are thousands of exercises and ways to use this bar, so it is much more versatile than a set of hand weights.  I found the body toning bar extremely easy and comfortable to hold with many different grips and found that it was also easy to incorporate into a lot of the home exercise videos I already own.
I thought that I would be able to handle the 12 lbs. body toning bar rather easily, but boy was I wrong!  This bar challenged me from beginning to end and after my workout was over, my arms were BURNING!  What was also burning was my shoulders, back and abs too!  I thought that I received a fabulous workout using the body toning bar and was glad to have it in my at-home gym arsenal.
Not quite sure what exercises to do with the body toning bar?  TheraGear has you covered there too!  Simply check out this link for a ton of wonderful exercises using each and every piece of workout equipment that TheraGear sells.  If you're interested in exercises geared specifically for the body toning bar, then please look at numbers 330 - 388.  Personally, I really liked the Dynamic Crisscross Lunge and the Golf Twist exercises.  I never knew that lunges could be such a challenging upper body workout too!
TheraGear makes a wide array of high-quality fitness equipment guaranteed to get you in shape and feeling great!  I love how they even offer products geared for agility training and physical therapy too.  I am thrilled with the body toning bar I received and know that if I use this on a regular basis, I will have an upper body of steel in no time!
What's more, TheraGear also has an extensive library of free exercises to use with any of the products they sell.  The next time I decide to purchase anything workout related, I'm going to check out TheraGear.com first!
Disclosure:  I received the Body Toning Bar (12 lbs.) from TheraGear in order to facilitate my review. No other compensation was received. This product review is based on my own personal experiences with this item and is completely honest and objective.
I'm a former 7th grade Science teacher turned stay-at-home mom that lives in Houston, Texas. I am married to my college sweetheart and have a beautiful daughter named Riley, who definitely keeps me on my toes! I am also involved in starting a small business which would both manufacture and sell an invention that I've patented, called Toothpaste 2 Go. I love interacting with my readers and hope to learn as much about you as you learn about me!
Melissa @ Mommy Living the Life of Riley!