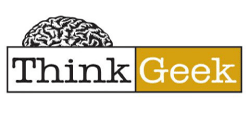 As a product review blogger, I give my opinions on a variety of items and it's my duty to try and take the best pictures possible of the product I'm reviewing.  When I don't feel that my pictures are doing the item any justice, I have to resort to using the stock manufacturer pictures, which I dislike doing, for it discredits my review's authenticity.
I'm also a big seller on eBay, where the pictures you include in your online auction can make or break the amount of money you can sell an item for.  Finally, my husband and I have our own family business whereby we are selling an invention I've created, called Toothpaste 2 Go.  I was in the middle of putting together our brand-new website, when I realized that we just HAD to have professional looking pictures of our new product.
Of course, professional pictures cost a lot of money, so what's a resourceful mommy to do?  Why, consult ThinkGeek's online store!  When I did, I was thrilled to find the Portable Photo Studio, which enables amateur photographers the ability to take professional images at home.  Keep reading to find out whether or not it worked!
The Portable Photo Studio contains everything you need to take great shadowless pictures, just like the pros.  It contains a fully-collapsible photo lightbox, which is 16-inches cubed.  It also comes complete with two high-powered light sources, 35-watt light bulbs and a mini-tripod, to help keep a steady hand.  Finally, all of these items can be taken anywhere, quickly and easily, in the included nylon zippered carrying pouch.
I couldn't wait to get started, for I had very high hopes for the Portable Photo Studio.  Unfortunately, as soon as I opened the lightbox, I anticipated a problem.  First of all, there were way too many seams included in this lightbox to give me the true professional-looking pictures I was hoping for.  The setup was easy enough though.  Simply shine one of the light sources on either side of the lightbox and adjust the mini-tripod to the angle you desire.
But, when I did this as directed, I took pictures like the one on the lower right.  I didn't like the way these pictures came out at all, for you could easily see the background, which is not at all like the pictures shown on the ThinkGeek website.  I consulted the instruction manual for help, but there wasn't any help to be found.  The instructions were very vague and didn't tell me to do anything different than what I was already doing.
I also quickly became frustrated with the mini-tripod too, for it simply sat too high up to capture the pictures I was after.  The 6 to 7-inch tall tripod kept angling my camera downward, instead of at eye-level with the product.  Eventually, I had to ditch the tripod completely, in favor of my daughter's "Miserable Monkey" book, which ended up being the perfect height.
I also had to get creative and go to my local store to purchase a piece of white poster board.  I cut this poster board into a long strip and placed it inside the lightbox, as shown below.  Once that was accomplished, my professional pictures became a lot more professional looking.  Look at the bottom right picture to see the end result, with the poster board and children's book being used along with the light sources and lightbox from the Portable Photo Studio.
These pictures still showed slight shadows, but they turned out well enough that they are currently on the new Toothpaste 2 Go website.  I believe that if the light sources came equipped with a higher wattage light bulb, the background wouldn't be so gray looking and the shadows would disappear.  I would have tried upping the wattage of the bulbs myself, but I didn't want to over power the light sources, which is definitely a fire hazard.
Overall, I have to say that I'm a little disappointed in the Portable Photo Studio, since I had to make so many changes in order to get the pictures I was after, but eventually everything worked out okay.  If you don't mind making a few adaptations to the kit, then I would still recommend purchasing it.
Disclosure:  I received the Portable Photo Studio from ThinkGeek in order to facilitate my review. No other compensation was received. This product review is based on my own personal experiences with this item and is completely honest and objective.
I'm a former 7th grade Science teacher turned stay-at-home mom that lives in Houston, Texas. I am married to my college sweetheart and have a beautiful daughter named Riley, who definitely keeps me on my toes! I am also involved in starting a small business which would both manufacture and sell an invention that I've patented, called Toothpaste 2 Go. I love interacting with my readers and hope to learn as much about you as you learn about me!
Melissa @ Mommy Living the Life of Riley!