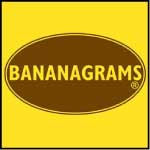 The warmer weather is here to stay and it won't be long now until school is out for summer...and you know what that means?  Travel, travel and more travel!  Summer is typically the time for family reunions, trips to camp, vacations and other fun away from home.  Oftentimes, the long car or plane rides a trip can bring are the most dreaded part of a family outing, but this doesn't have to be the case anymore!
Bananagrams is a family-owned company that believes in having fun anywhere and everywhere and they've created a whole "bunch" of creative and addictive word games to get your family in the fun-loving spirit no matter where you're at.  I recently had the chance to review all five of their on-the-go games.  Keep reading to learn more!
I reviewed the following travel games from Bananagrams:
Bananagrams
, which retails for $14.95, but is currently on sale for $14.08 with FREE SHIPPING
Appletters
, which retails for $16.95, but is currently on sale for $9.99 with FREE SHIPPING
Pairs in Pears
, which retails for $16.95, but is currently on sale for $9.99 with FREE SHIPPING
Zip-It
, which retails for $14.95, but is currently on sale for $9.99 with FREE SHIPPING
Fruitominoes
, which retails for $12.95, but is currently on sale for $9.99 with FREE SHIPPING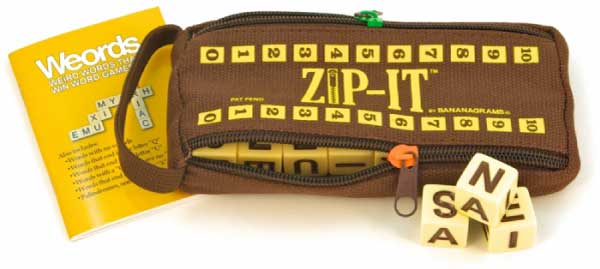 Zip-It is an exhilarating, high-speed, two-player game with 24 letter cubes in a unique cloth pouch with colored scoring zippers.  The ability to play on an airplane or train tray makes ZIP-IT the ultimate travel game! Each pouch includes a WEORDS dictionary of weird words that win word games!
A clever take on crossword creation, Zip-It is the ultimate travel game to generate fun in quick moments in between here and there (one hand can be played in as little as 20 seconds), and make lengthy, blah intervals seem shorter. Players use 24 ivory-like letter cubes to form their own crossword grid using ANY side of the cubes. The first player to use ALL their own cubes calls "ZIP!" and scores a point by moving their own zip up the pouch scale. The first person to score 10 points shouts "ZIP-IT!!" and wins the game!
Race to form your own crossword grid using ANY side of the cubes
24 beautiful ivory-like letter cubes
Everything you need is in the bag! No pencil, paper or board needed!
Unique self-scoring zippers on a high quality cloth pouch
Includes complimentary WEORDS Dictionary -weird words that win word games!
Play anytime, anywhere! ZIP-IT is the NEXT BIG THING for games on the go!
Bananagrams is a FAST and FUN word game that requires NO pencil, paper or board. All you need is a table. One hand can be played in as little as 5 minutes. Great family fun as well as being educational! Bananagrams' portability again makes it perfect for travel.
All letters are placed face down on the table.  Everyone takes 11-21 tiles (depending on the number of players).  Someone says "SPLIT" and the players turn over their tiles and proceed, simultaneously, to create their own individual crossword. When a player has no letters left, that player shouts "PEEL" and takes a tile from the "BUNCH".  All other players must also take a tile at this time.
At any time, a player with a letter that is difficult to play may say "DUMP" and return it, face down, to the "BUNCH" but must take three tiles in return.  Once all the letter in the "BUNCH" are gone, the first player with no letter left shouts "BANANAS" and is the winner of that hand.
Appletters is the domino game where you don't connect the DOTS... You connect the LETTERS! Originally designed with younger players in mind and features three levels of play to amuse children and challenge adults. The game comes in an apple-shaped cloth pouch containing 110 ivory-like tiles. In addition to the version for a younger audience, the game also includes instructions for more adult play - APPLE TURNOVER for an extra challenge and APPLESCORE for word lovers who like to have fun with palindromes and semi-palindromes.
Players take turns building a "snake" of words that stretches across the table. New words are added to the first or last letter of the "snake", and the first player to use all their tiles wins. It's an addictive, intense, and exhilarating game, but the fun doesn't end there. You can use the same tiles to play Applescore, with bonus points for big words, and Apple Turnover, where words can be replaced— but only with longer words.
Pairs in Pears, true to its name, is a fast-paced pair-making game, packed in a pear. Lettered tiles come in four distinct alphabet sets, and players race against each other to make connected pairs of words in matching patterns. It's a great way for children to develop memory and cognitive skills while learning the alphabet, pattern recognition, word construction, vowels, vocabulary, rhyming and more. Deceptively simple and exceptionally fun, PAIRSinPEARS is perfect for family time and classroom activities.
Fruitominoes is a fresh, fruity, and colorful twist to the classic game of dominoes! Each player takes turns matching the six attractive fruit patterns and is played just like traditional dominoes.  Twenty-eight Fruitominoes in a compact pouch make this a game that's great for young and old.  My daughter really liked this game, for the small, monochromatic dots on a typical set of dominoes was far too confusing for her.  Fruitominoes makes playing a hand of dominoes much easier for youngsters, because now they can match the dominoes by both color and fruit.
I really enjoyed giving these wonderful word games a try!  My family and I are game fanatics and we all loved how totally portable and easy to play each game from Bananagrams was.  I can guarantee that when we head out on our next adventure, our stash of fun, fruity games from Bananagrams will be along for the journey too!
What kind of games do you like to play when traveling?
Disclosure:  I received the five travel games shown above from Bananagrams in order to facilitate my review. No other compensation was received. This product review is based on my own personal experiences with this item and is completely honest and objective.
I'm a former 7th grade Science teacher turned stay-at-home mom that lives in Houston, Texas. I am married to my college sweetheart and have a beautiful daughter named Riley, who definitely keeps me on my toes! I am also involved in starting a small business which would both manufacture and sell an invention that I've patented, called Toothpaste 2 Go. I love interacting with my readers and hope to learn as much about you as you learn about me!
Melissa @ Mommy Living the Life of Riley!