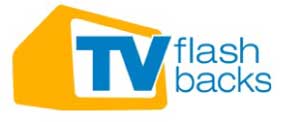 When I was a kid, I couldn't get enough of watching TV sitcoms.  I never seemed to have the attention span or could sit still long enough to watch a full-length movie, but a 30-minute TV show was just right!
I loved how these TV sitcoms would make me laugh, cry and really care about the characters they portrayed.  One of my favorites growing up had to be Roseanne.  I came from a blue-collar household where times were tough every now and then and I could definitely relate to the topics covered on that show.
There were so many wacky characters and sarcastic humor too, that I always found myself with a smile on my face from beginning to end.  Even now, when I catch an episode of Roseanne or That '70s show on TV by accident, I find myself tuned in just like the good 'ol days.
TV Flashbacks has a wide variety of family-friendly programming available at very reasonable prices.  They not only offer the best in TV sitcoms, they also offer hard-hitting documentaries and the new series, Beautiful Planet, on Blu-ray too.  Keep reading to learn more!
I reviewed 5 DVDs from TV Flashbacks, which retail for $12.99 each.
Receive 25% OFF your entire TV sitcoms order with coupon code "PRIMETV25"

Receive 25% OFF your entire documentaries order with coupon code "DOCS25"

Receive 25% OFF your entire Beautiful Planet order with coupon code "TVPLANET25"

Hurry! All 25% OFF codes expire on 5/15/12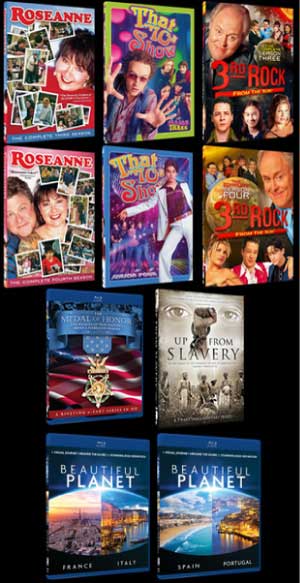 ROSEANNE (seasons 3 and 4): See Leonardo DiCaprio as Darlene's classmate (season 3) ... see Neil Patrick Harris as Dr. Doogie Howser (season 4) ... see two of the best seasons of the show TV Guide ranked #35 in their list of the 50 Greatest TV Shows of All Time! 

THAT '70s SHOW (seasons 3 and 4): The split screens! The dream sequences! The circle! ... season 3 includes the episode, "Too Old to Trick or Treat, Too Young to Die" (banned from Nick at Nite airings!) ... season 4 includes the classic "That '70s Musical" episode. 

3rd ROCK FROM THE SUN (seasons 3 and 4): John Lithgow won 6 Emmys for outstanding lead actor ... season 3 received 8 Emmy nominations ... season 4 received 7 Emmy nominations ... there's no question: 3rd Rock is among the greatest TV comedies ever!
Medal of Honor: This 6-part documentary chronicles the highest award given to military personnel for their extreme bravery, valor and harrowing sacrifices. Covering the Civil War through the wars in Iraq and Afghanistan, learn about the most courageous acts performed by the people who fight for American freedom.

Up From Slavery: With incredibly detailed historical reenactments, expert commentary and the stories of slavery told through first-hand accounts, this is an epic struggle 400 years in the making. A journey into the past like none other. This is the story of these men and women who by their hands laid the foundation of what would become the most powerful nation on Earth.
Beautiful Planet on Blu-ray: Embark on spectacular guided tours of the world's most marvelous sights and places. Capturing the nature and culture of these exotic destinations, these lusciously filmed documentaries offer a vivid and entertaining portrait of the history and significance of distant cities and countries.  Shot in dazzling high definition, prepare to be whisked away to one thrilling attraction after another across our most Beautiful Planet.
Disclosure:  I received 5 Retro Sitcoms' DVDs from TV Flashbacks and Mill Creek Entertainment in order to facilitate my review. No other compensation was received. This product review is based on my own personal experiences with this item and is completely honest and objective.
I'm a former 7th grade Science teacher turned stay-at-home mom that lives in Houston, Texas. I am married to my college sweetheart and have a beautiful daughter named Riley, who definitely keeps me on my toes! I am also involved in starting a small business which would both manufacture and sell an invention that I've patented, called Toothpaste 2 Go. I love interacting with my readers and hope to learn as much about you as you learn about me!
Melissa @ Mommy Living the Life of Riley!