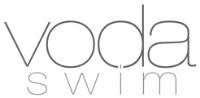 It's been my experience that bathing suits can either be your best friend or your worst enemy, depending on whether they showcase your assets or not.  I've been lucky so far in that I've always been thin, but I have not been blessed with curves whatsoever.  I've got the classic "ruler" body...straight up and down, all the way.
So, what can I do to avoid being confused with a boy when swimsuit season rolls around?  Find a swimsuit that INVENTS curves for me!  VODA SWIM has a patent pending bikini top, called the Envy Push Up, which is guaranteed to increase your bust line by 1-2 CUP SIZES!  Did VODA SWIM help make my curveless body sexier?  Keep reading to find out!
I reviewed the Envy Push Up Seascape String Bikini from VODA SWIM, which retails for $110.00.
When I learned about VODA SWIM's unique Envy Push Up Bikini Top, I couldn't get this swimsuit in the mail fast enough!  I've tried push up bikini tops before to give my poor excuse for cleavage a boost, but I've always been disappointed.  Most of the time, these other bikini tops used removable padding, which usually ended up looking as though I stuffed my top with tissue, since these pads NEVER stay in place.
Once they would get wet, those pads resembled wet lumps of misshapen tissue, which wasn't fooling anyone!  Sometimes these other bikini tops would use a lot of underwire in order to give you a lift, yet underwire is not very comfortable and would always end up bent and misshapen after only a few times wearing the top.  Once again, I wasn't fooling anyone!
The Envy Push Up top is radically different though!  First of all, they don't use any removable padding.  The padding that they use is actually sewn into the top itself and doesn't absorb water much at all.  Now I don't have to worry about the weird lumps and sagging that used to occur when the removable padding I've had in other bikini tops gets wet.  The Envy Push Up also doesn't use any underwire either, so that the fit of the bikini top is perfectly comfortable and will never become misshapen and fake looking.
When I put this top on, I was blown away!  I normally wear a B cup bra, but in the Envy Push Up bikini top, I looked like a full C or maybe even a D CUP!  YIPPEE!  :)  I have to admit that this top was completely comfortable and completely NATURAL LOOKING!  I had to do a double take in the mirror because I just couldn't believe how large my chest suddenly looked!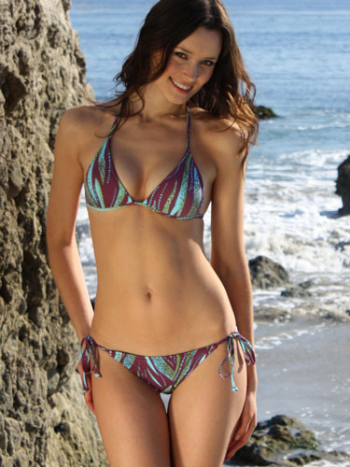 I also loved the pattern of the Seascape String Bikini!  The colors were so earthy and natural, being a unique mix of turquoise blue, brown, and grass green.  This pattern instantly caught my eye but didn't appear overly flashy or loud.  Because I don't like my bathing suits to fit extremely tight, I always tend to order them one size larger than normal.
In my opinion, it is not a figure-flattering move to have your bathing suit cutting into your body.  If you have any lumps or rolls you are trying to camouflage, wearing a slightly larger bathing suit can sometimes accomplish that.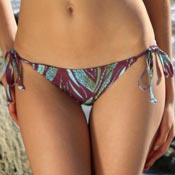 I've also always been drawn to the string bikini, because for my body shape, this is usually the most flattering.  I don't have a particularly narrow waistline and so the further down on my hips the bathing suit bottoms are, the more narrow my waistline looks.  I loved the Seascape String Bikini bottoms except for one thing.  The backside of the swimsuit didn't offer enough coverage.  I've worn my fair share of string bikinis, but I've never had one that gave me the never-ending wedgie.
As soon as I would pull it out, I'd walk two feet and it was right back in there again!  At first I thought that maybe the suit was supposed to be more of a thong style, but after examining the back of it again, I don't think that's it either.  The bikini bottoms just seemed to be at that awkward width where there was too little of material to cover my behind adequately and too much material to act as a thong.
Other than that, I have to admit that the VODA SWIM Seascape String Bikini is my new favorite and one that I will definitely be sporting all next summer...and this time I'm REALLY bringing the girls with me!  :)

Disclosure:  I received the Envy Push Up Seascape String Bikini from VODA SWIM in order to facilitate my review. No other compensation was received. This product review is based on my own personal experiences with this item and is completely honest and objective.
I'm a former 7th grade Science teacher turned stay-at-home mom that lives in Houston, Texas. I am married to my college sweetheart and have a beautiful daughter named Riley, who definitely keeps me on my toes! I am also involved in starting a small business which would both manufacture and sell an invention that I've patented, called Toothpaste 2 Go. I love interacting with my readers and hope to learn as much about you as you learn about me!
Melissa @ Mommy Living the Life of Riley!