My daughter is at that heartbreaking age when she has completely left behind everything that she used to do as a baby.  I love her new independence and am extremely proud of her for accomplishing all of these "big girl" things like being fully potty-trained, no longer using a pacifier, feeding herself, etc.  But, a part of me still likes to reminisce on her younger years.  The one thing that Riley has always done and will continue to do for many more years to come is sleep with a night light.
White England Rabbit understands the importance of this special nightly ritual and has designed a series of night lights that will inspire a lifetime of fond childhood memories for your little one.  Their night lights, which are made from 100% bone china, will also become instant family heirlooms for them to pass on to their own children.  Keep reading to learn more!
I reviewed the Rabbit Lamp from White Rabbit England, which retails for $95.00.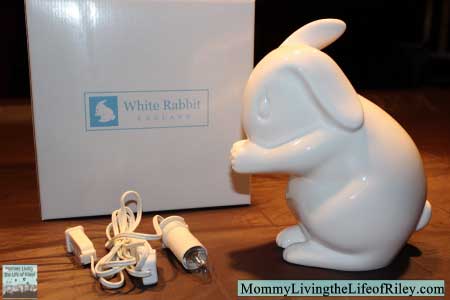 As little girls growing up in the 70's, Victoria and her sister Charlotte slept with an enchanting pottery toadstool light beside their beds.  Hand painted in earthenware and decorated with dancing elves and fairies, it was the magical centerpiece of their bedside table, filling their bedroom with a gentle, reassuring light.
Some years ago, now grown up, married and with young children of their own, the sisters set out to find a modern replacement for the light they had known and loved as children.  When they couldn't find anything suitable, they resolved to make their own.  But not just for themselves; for children all over Britain too. And so White Rabbit England was born.
Victoria and Charlotte were spurred on by research by a leading British electrical company which stated that as many as 70% of young children today need some form of low light source to help them sleep at night. Working closely with expert craftsmen in the Staffordshire Potteries, the pair produced designs for two toadstool lamps, one named 'Dewdrop', and another named 'Bramble'.  Their new bone china animal lamps in the shape of their famous rabbit and now a dog and an owl are proving to be best sellers as well.
I was absolutely enamored with the Rabbit Lamp from White Rabbit England from the first moment I saw it.  Unlike other night lights I've seen in the past, this Rabbit Lamp stands a full 22 cm tall.  It is quite large and lends an immediate comforting presence in your child's bedroom.  Of course, you can't look at the Rabbit Lamp for more than a few seconds without noticing the impeccable quality and attention to detail in its design.
The Rabbit Lamp is composed of 100% bone china from England which serves two purposes in my opinion.  First, the bone china gives the rabbit character a flawless appearance:  smooth and minimal in its design, which is timeless.  The Rabbit Lamp is stylishly classic and would have blended in perfectly to a room's decor 100 years ago or 100 years from now.
Second, White Rabbit England got the bone china's thickness for this night light just right because when it's turned on, it emits the warmest, softest, most comforting glow.  Any child would drift sweetly off to sleep thanks to the calming effect of the Rabbit Lamp.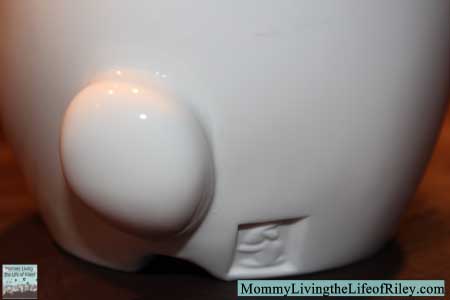 But what almost brings tears to my eyes is knowing that my daughter will have plenty of wonderful childhood memories of the Rabbit Lamp from White Rabbit England.  :tear:  It's careful construction and high-quality materials guarantee that it will become a cherished family heirloom, passed down from parent to child, for generations to come.
If you're looking for the perfect way to illuminate your child's bedroom at night or need an absolutely unforgettable baby shower gift, then by all means, shop the incredible collection of night lights from White Rabbit England.
Disclosure: I received the Bone China Rabbit Night Light from White Rabbit England in order to facilitate my review. No other compensation was received. This product review is based on my own personal experiences with this item and is completely honest and objective.
I'm a former 7th grade Science teacher turned stay-at-home mom that lives in Houston, Texas. I am married to my college sweetheart and have a beautiful daughter named Riley, who definitely keeps me on my toes! I am also involved in starting a small business which would both manufacture and sell an invention that I've patented, called Toothpaste 2 Go. I love interacting with my readers and hope to learn as much about you as you learn about me!
Melissa @ Mommy Living the Life of Riley!