Girls love playing with dolls of all kinds and of course, stuffed animals seem to reign supreme in their lives too.  So why not combine a child's love of dolls and stuffed animals together and expose them to different cultures and geography at the same time?
Zylie the Bear is a company that decided to do just that with their lovable character, Zylie.  She is quite the world traveler, you see, and has all sorts of adventures around the globe.  I had the fortunate opportunity to delve into the realm of Zylie and find out what makes this doll so very special.  Keep reading so I can tell you all about it!
I reviewed both Zylie the Bear and Shen the Panda Kits from Zylie the Bear, which retail for $75.00 each.
Zylie the bear is a wonderful merging of both doll and teddy bear.  She stands a full 18" tall and is jointed like a regular doll, but she is also cute and cuddly like a teddy bear, combining the best of both doll and teddy!  This is also one smartly dressed bear wearing designer duds from Katie Fong.  Her adorable jacket, jeans and flounce top are flawlessly designed with such careful attention to detail!
  These clothes aren't only for looks though, for they are all fastened using Velcro enclosures so as to be easily taken on and off.  She also comes complete with her own orange purse, passport, map and diary, so she is ready to travel around the world at a moment's notice.
Finally, the Zylie the Bear Kit includes a storybook chronicling her adventures in New York City along with her little brother, Theo.  This is no ordinary storybook though.  It is a four chapter book with four different stories about her travels.  This book is very well-written and interesting and even includes a glossary, so as to help your child learn new words, and idea pages at the very end.
Shen the Panda is a friend that Zylie meets while visiting China.  He is just like Zylie in that he is both doll and stuffed animal rolled into one.  Shen stands 18" tall and also is wearing clothes designed by Katie Fong.  Shen is wearing a very cool black leather jacket, tan cargo pants and a green and black shirt.  These clothes are remarkably detailed and are of a very high-quality.
Shen loves playing the drums and so comes complete with a backpack, tiny drumsticks and his own passport too.  The Shen the Panda Kit also has a storybook detailing Zylie's adventures in China and this particular book includes eight chapters of fun, along with a glossary to help build your child's vocabulary.
Zylie the Bear has also worked hard on creating a complete website experience for your child too.  They can read up-to-the-minute news of Zylie's travels and adventures, and soon they will be able to submit their own versions of stories and tell the creators what clothes Zylie should wear and where she should travel next.
Zylie the Bear is also working with Stanford University so as to create fun, interactive learning games based on Zylie's travels.  This is a wonderful way for children to be exposed to different cultures, people and traditions, and learn invaluable information about geography, currency, wildlife and history.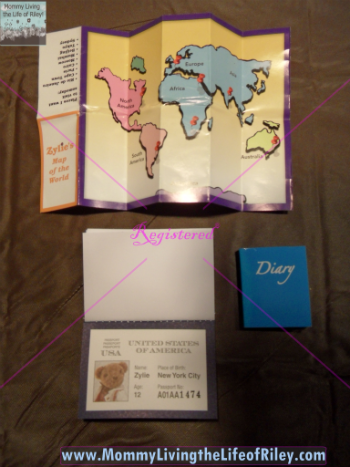 Zylie the Bear also has her own passport which is interactive as well.  With this passport, you are given a special code which will soon grant you online access to the website.  Also, every time that Zylie has a new outfit to wear, you will receive a sticker with it to put in your passport, which serves as proof that she's been to that particular country.
This company is still up and coming and new stories, diary entries, outfits, friends, etc. are still in the works.  I think they are definitely on the right track with this idea and can't wait to see what wonderful, high-quality products they create next!  Riley, being only 22 months old, is still a little too young to play with such detailed and well-designed dolls, since these are recommended for children ages 6 and up.  I know though, that when her sixth birthday comes, she will just be too excited to play with these lovable characters and learn all about the exotic places they travel to!
Disclosure:  I received both Zylie the Bear and Shen the Panda Kits from Zylie the Bear in order to facilitate my review. No other compensation was received. This product review is based on my own personal experiences with this item and is completely honest and objective.
I'm a former 7th grade Science teacher turned stay-at-home mom that lives in Houston, Texas. I am married to my college sweetheart and have a beautiful daughter named Riley, who definitely keeps me on my toes! I am also involved in starting a small business which would both manufacture and sell an invention that I've patented, called Toothpaste 2 Go. I love interacting with my readers and hope to learn as much about you as you learn about me!
Melissa @ Mommy Living the Life of Riley!