I love it when I have the opportunity to showcase a company that takes the welfare of our Earth seriously and aims to try and help our planet, instead of contributing to its many problems.  TD Innovations is an environmentally conscious company that actually donates 10% of its profits to the World Wildlife Fund and other organizations which are trying to make a difference.  They also name each and every one of their products after an endangered animal to help raise awareness.
Since today is Earth Day, I couldn't think of a better company to partner with, so please keep reading to learn more about how the GreenSmart brand from TD Innovations is turning trash into treasure!
I reviewed the
GreenSmart Mandrill Deluxe Backpack
in Black from TD Innovations, which retails for $74.95 but is currently on sale for $53.92 with FREE SHIPPING from Amazon.com.
GreenSmart offers a wide variety of products all constructed from an eco-friendly material called Neogreene, which is a water-based material that feels very similar to neoprene without the harmful chemicals and toxins that neoprene contains.  TD Innovations make many different styles of laptop sleeves, bottle koozies, wine totes, backbacks, lunch kits and messenger bags which contain no toxic residue and are actually made from a fabric derived 100% from recycled plastic bottles.  I think this is a wonderful idea, since plastic bottles are quickly overrunning our landfills and are becoming a huge waste concern.
I reviewed the Mandrill Deluxe Backpack in Black and have to admit that I would have never dreamed this item was made out of 40 recycled plastic bottles or anything else other than neoprene.  This backpack has a host of wonderful features that make it a real treasure to have on the go.
Stow your sweatshirt under the cord, your laptop in the separate access garage (up to 16"), have a large mid-section for your notebooks or texts and a front pocket for the smaller stuff and you're good to go.  Don't miss the two side pockets for bottles or cellphones either. For comfort, airmesh straps with an integrated handle make this backpack a delight to carry by hand, or on your shoulders.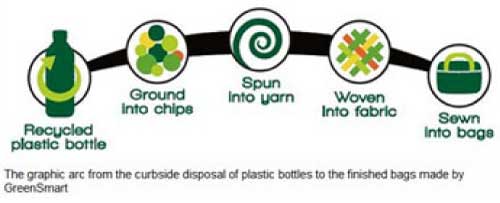 Because we always have a toddler in tow, my husband and I insist on carrying a backpack whenever we go almost anywhere.  Recently, my family took a trip to the museum so that Riley and I could see the museum itself as well as the large butterfly exhibit.  My husband and father-in-law wanted to see the special history exhibit being showcased there instead.  Guiding an excited toddler through a busy museum by yourself is no small feat, but thanks to the GreenSmart Mandrill Deluxe Backpack and some careful packing, I had the situation completely under control.
This backpack offered plenty of room to store a few snacks and bottles of water for when we took a break to rest our bones.  I also had room to carry my wallet, large camera with telephoto lens (for some stunning butterfly pictures) and a sweater in case the museum got chilly.  The Mandrill backpack was such a stylish and eco-friendly way to tote absolutely everything we needed with room for much, much more!
If you'd like to help make a difference this Earth Day, both by ridding our landfills of 40 plastic bottles and donating to a cause which is saving endangered animals around the planet, then by all means purchase the GreenSmart Mandrill Deluxe Backpack from TD Innovations.  Our planet will love you for it!  :love:
Disclosure: I received the GreenSmart Mandrill Deluxe Backpack in Black from TD Innovations in order to facilitate my review. No other compensation was received. This product review is based on my own personal experiences with this item and is completely honest and objective.
I'm a former 7th grade Science teacher turned stay-at-home mom that lives in Houston, Texas. I am married to my college sweetheart and have a beautiful daughter named Riley, who definitely keeps me on my toes! I am also involved in starting a small business which would both manufacture and sell an invention that I've patented, called Toothpaste 2 Go. I love interacting with my readers and hope to learn as much about you as you learn about me!
Melissa @ Mommy Living the Life of Riley!