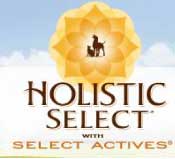 When my dog, Noel, was a puppy, I never worried much about what she ate, for I knew she was young and spry and could handle anything.  But as she's matured, I've changed my ways and consider what I feed her to be of the utmost importance.  You see, Noel is about to be twelve years old and proper nutrition and exercise are essential to her health and well-being.
Holistic Select, a natural line of pet food which prides itself on providing optimal nutrition for your dogs and cats, has developed an interactive quiz to aid you in discovering your pets' level of health.  The results you receive will help you gain valuable insight into your precious pets' whole-body health and are also accompanied by experts' tips and guidance.
I recently had the chance to review a Healthy Pet Basket full of treats from Holistic Select with my dog, Noel.  Keep reading to learn more!
Holistic Select, is the line of pet food and snacks for the pet-wise parent. Holistic Select items are built on a foundation of premium proteins, fats and carbohydrates and are filled will a unique set of Select Actives, known as "Nature's Power Ingredients."  This complementary blend of enzymes, direct fed microbials, botanicals and phytonutrients provides superior nutritional benefits and enhances the whole body health of pets.  Holistic Select food and snacks have no added artificial colors, flavors or synthetic preservatives.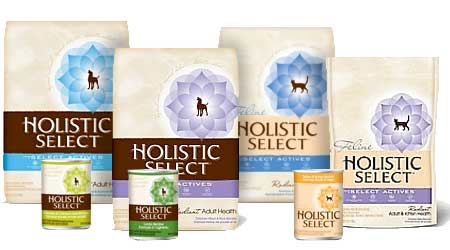 Few things in life have brought me as much joy as my relationship with my dog, Noel.  She is the most loyal, kind and loving dog I've ever known and has been a true friend through the last twelve years.  I don't know what I'd do without her and now that she is a "mature adult", I want to make sure that her golden years are just as fun and happy for her as her previous years have been.
That's why I was glad to receive the Holistic Select Healthy Pet Basket.  The products in this pet basket address all five components of the Holistic Select Health Scale.  Take this online quiz today and learn more about:
Nutrition
Education
Socialization
Physical Health
Environment
Participants rank their pets on a scale of 1 to 5 based on the accuracy of a set of statements pertaining to each of the five focus areas.  This fun and interactive online tool is a great way for pet parents to discover how they're doing with respect to their pet's whole body health and gain valuable insight with experts' tips for improvement.  And, for a limited time only, each pet parent that completes the Holistic Select Health Scale will receive an exclusive savings offer for Holistic Select pet food.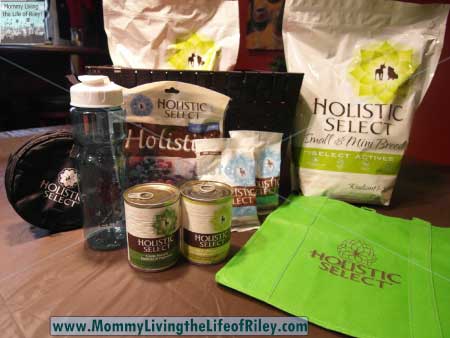 When I took the Holistic Health Scale quiz, I discovered that I'm an "Aspiring Pet-Wise Parent".  Although I'm doing many things right, my dog scored very low in the socialization part of the quiz.  Noel has always been super protective of me and will bark uncontrollably if anyone new comes around or even if someone she does know is appearing to hurt me.
I can't tell you how many times she has barked, growled and gotten aggressive with my husband when we're roughhousing with each other.  Noel doesn't understand that my husband and I are just playing and she quickly lets Michael know that hurting me is NOT acceptable!  :thumbs up:
Noel couldn't have been more thrilled with the natural dog food selections we received from Holistic Select.  She loved the dry dog food, but completely went wild for the Holistix dog biscuits and canned dog food.  I went wild for the eco-friendly tote bag, collapsible water dish and travel water bottle included in the Healthy Pet Basket, for these items are perfect to take along when Noel and I go for long walks through our neighborhood.
Pets are good for body, mind and spirit, so make sure to provide the perfect combination of nutrition, exercise, training, socialization and environment for your loved one!  Take the Holistic Select Health Scale quiz today and aspire to be a pet-wise parent.  Holistic Select can support your pet's proper nutritional needs, ensuring that you and your pet enjoy a healthier, longer and more fulfilling life together!
Disclosure:  I received the Healthy Pet Basket from Holistic Health in order to facilitate my review. No other compensation was received. This product review is based on my own personal experiences with this item and is completely honest and objective.
I'm a former 7th grade Science teacher turned stay-at-home mom that lives in Houston, Texas. I am married to my college sweetheart and have a beautiful daughter named Riley, who definitely keeps me on my toes! I am also involved in starting a small business which would both manufacture and sell an invention that I've patented, called Toothpaste 2 Go. I love interacting with my readers and hope to learn as much about you as you learn about me!
Melissa @ Mommy Living the Life of Riley!