My father-in-law is one special person that is next to impossible to forget once you've met him.  He has such a zest for life and has truly never met a stranger.  I love that even at nearly 80 years old, he's always on the go, though my husband and I often worry about him.
You see, he lives almost 3 hours away from us in a house all by himself.  Now while he has innumerable friends and family nearby, what worries us constantly are the following scenarios:
What would happen if he tripped and fell down the stairs in his home?
What would happen if he had a heart attack or other sudden illness that would make it impossible for him to reach the phone?
What would happen if someone were to break in to his home while he was there?
What would happen if a fire were to accidentally start at his home?
All of these situations would be disastrous for my father-in-law and are ones we don't like to think about for long.  So how do you keep your special seniors safe and secure without compromising their freedom and independence?  That's where the new VTech CareLine + Home Safety Telephone System comes in!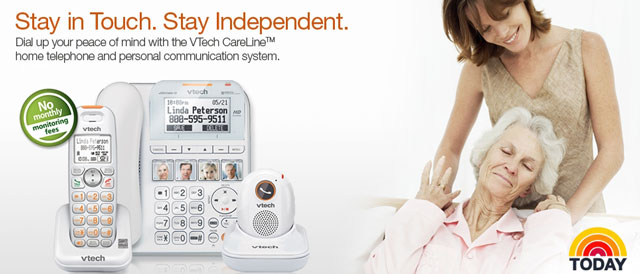 Dial up peace of mind with the VTech CareLine + Home Safety Telephone System.  Both corded and cordless phones make it easy to communicate with family and friends, while a portable safety pendant puts you in touch with the help you want, from anywhere in your home.  All three devices come with comfortable, big buttons, large display screens and lots of user-friendly features.
When you need help right away, the lightweight safety pendant comes in handy.  Plus, it's portable - perfect for everyday communication from any room in your home.  The VTech CareLine + offers no monthly monitoring fees by allowing you to connect directly to emergency contacts using big, speed-dial buttons.  The portable safety pendant is easy to wear, either around your neck or clipped to a pocket or waistband.
Corded Phone Features:
Never miss a call with Voice Announce Caller ID, a visual ringing indicator and a digital answering machine.
Assign a number and picture of frequently dialed numbers to the four large speed dial keys for easy one touch dialing.
Stay grounded with the corded handset - always know where the phone is when it's ringing.
Cordless Handset Features:
Make and answer calls from any room - even in your backyard.
Carry on hands-free conversations with the built-in speakerphone.
Catch all your calls with Voice Announce Caller ID and a visual ringing indicator.
Portable Safety Pendant Features:
Call for help with one-button or voice-activated dialing.
Connect directly to emergency contacts - no third parties required and no monthly monitoring fees.
Be more mobile at home by using the speakerphone for everyday conversations, to play pre-recorded reminders or confirm the date and time.
The VTech CareLine + is a dream come true for our family!  Now we no longer have to worry about whether or not my father-in-law could reach us, emergency services or other friends and family whenever he needs to.  The portable safety pendant is a real godsend because he can communicate from absolutely anywhere in his home with just the press of a button.  He always wears this pendant clipped to his belt so that help is literally at his fingertips.
I love how cost effective this unit is too.  Because VTech puts you in direct contact with emergency services like 9-1-1, the fire department and police, you don't have to pay any monitoring services or monthly fees.  This is the perfect solution for any senior living on a fixed income.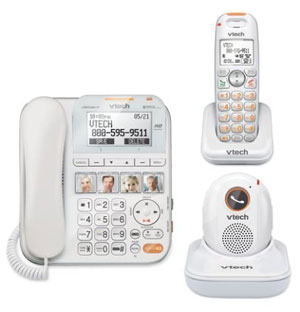 My father-in-law really enjoyed the Voice Announce Caller ID feature which announced who was calling loud and clear.  That way, he could decide whether or not to answer the phone from across the room and not have to try and run to either handset to see who was calling.  He also thought that the Audio Assist feature was tremendously helpful.  If for any reason you're having a hard time hearing the caller on the other end of the line, simply press this button for a temporary boost of volume while you're on a call.
The digital answering system is also great for catching those important calls when you're unable to answer the phone.  Since my father-in-law is frequently out and about, the 14 minutes of recording time is crucial in making sure he doesn't miss any important communications.  Finally, the photo speed dial feature and large, big buttons and display screens are great for seniors whose memory and eyesight are not as sharp as they once were.
If you have a beloved senior in your life, put your mind and theirs at ease with the VTech CareLine + Home Safety Telephone System.  With no monthly fees, installation costs or contracts, this communication system is perfectly priced for your budget and designed for the entire family's piece of mind.
Disclosure:  I received the CareLine + SN6197 system from VTech in order to facilitate my review. No other compensation was received. This feature is based on my own personal experiences with this item and is completely honest and objective.
I'm a former 7th grade Science teacher turned stay-at-home mom that lives in Houston, Texas. I am married to my college sweetheart and have a beautiful daughter named Riley, who definitely keeps me on my toes! I am also involved in starting a small business which would both manufacture and sell an invention that I've patented, called Toothpaste 2 Go. I love interacting with my readers and hope to learn as much about you as you learn about me!
Melissa @ Mommy Living the Life of Riley!