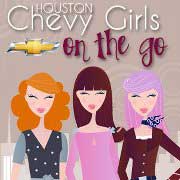 If you've been reading my blog since last year, you may remember that I was lucky enough to be chosen to work with the Houston Area Chevy Dealers by test driving a 2010 Chevy Malibu, whom I affectionately named Trudy.  
That was such an awesome summer for me and my family, so of course, I was thrilled to learn that Chevy wanted me to have another go at it...this time with the brand new 2012 White Diamond Edition Chevy Traverse! 
I had the privilege to test drive this state-of-the-art crossover SUV for two whole weeks, during which time my family and I did our best to drive the wheels off of it.  :thumbs up:  We took trips to see family and friends, visited a college campus and toodled all around Houston in it.
Keep reading to learn more of my adventures and thoughts about the Chevy Traverse...and find out how you could score a $40 SpaFinder gift card for FREE!
Test drive a Chevy Traverse between October 31st and November 26th and receive a $40 SpaFinder gift card!
It would be impossible to list for you every single wonderful feature of the 2012 Chevy Traverse, for there are just too many to count.  I will say though, that I thoroughly and completely LOVED driving it.  I've always wanted an SUV of my very own and couldn't get over the spaciousness of this vehicle.
If you think that a vehicle this large would have to sacrifice some maneuverability, suffer from reduced gas mileage or take a while to get up and go on the freeway...THINK AGAIN!  I was absolutely floored by how well it performed in all three of these areas!
We took it on a long road trip to visit family in Jacksonville, Texas and cruising down the highway in the new Chevy Traverse truly felt like a luxury.  Riley had plenty of backseat room, and because there were two rows of seats in the back as well as a spacious amount of cargo room behind that, we could take along as much gear as we liked without having to scrimp for every inch of available space as we traveled.
There were a ton of adjustable cup holders for our beverages and plenty of cubbies and compartments to house all of our cell phones, sunglasses and other travel paraphernalia.  Of course, I was thrilled with the Traverse's ability to automatically pair to my cellphone via Bluetooth, so that every one of my calls was truly hands-free.  OnStar was also a blessing, for their navigation is second to none.  Simply give them a call, tell them your destination and watch as their turn-by-turn directions are automatically beamed to your stereo.
One of my absolute favorite features of the Chevy Traverse was the remarkable sound and capabilities of the XM radio itself.  Although Houston is the country's fourth largest city, our radio stations here really stink!  Thanks to the vast array of wonderful XM stations available, my family constantly be-bopped down the road and sang along to the great tunes we heard.
Taking the Traverse to Jacksonville also made me realize that with XM radio, you never have to worry about being between radio stations while you travel and having to try and navigate your way through all that static!
My family had such a great time traveling in the Chevy Traverse, that on the second weekend of our test drive, we drove it to College Station, Texas...home of the Fightin' Texas Aggies!  :big grin:  Since Michael and I both graduated from there as well as met each other while in college, this town holds something special for us.
What better way to spend a weekend than to show Riley around our old stomping grounds?  We also decided to get our diplomas framed together as our 5-year anniversary gift to ourselves.  Check out the video below for a little insider advice on where to eat and what we did while visiting College Station:
Parting with the Chevy Traverse after my test drive period of two weeks was definitely hard and I have to admit that my family and I miss her still.  If you are in the market for one superb family car, then I highly recommend the 2012 White Diamond Edition Chevy Traverse!  I honestly don't have one bad thing to say about this car and would love to own one myself someday!
Test drive a Chevy Traverse between October 31st and November 26th and receive a $40 SpaFinder gift card!
Disclosure:  The Chevy Traverse campaign is being sponsored by the Houston Area Chevy Dealers.  They are letting me test drive a Traverse for two weeks as well as providing me with a gas card and a spa gift card.
I'm a former 7th grade Science teacher turned stay-at-home mom that lives in Houston, Texas. I am married to my college sweetheart and have a beautiful daughter named Riley, who definitely keeps me on my toes! I am also involved in starting a small business which would both manufacture and sell an invention that I've patented, called Toothpaste 2 Go. I love interacting with my readers and hope to learn as much about you as you learn about me!
Melissa @ Mommy Living the Life of Riley!