My daughter is at that magical age where she wants to help me with everything.  Even something as boring and mundane as taking out the trash or putting dirty dishes in the dishwasher holds an endless amount of fascination for her.  I realize that children will not always be so eager to do the chores their parents ask of them, so I want to take advantage of this golden age now.
If there's one shortcoming I have as a housewife, it would have to be cooking.  Now, while I can follow a semi-easy recipe and make yummy dishes, I wish I was more accomplished in the kitchen.  I didn't start cooking until late in life, which is why I have the skills of a child at times.
Handstand Kids has found a way to get those eager children in the kitchen right alongside their parents, cooking up delectable dishes from around the world.  I recently had the chance to get Riley involved as my new "chef's assistant", thanks to Handstand Kids.  Keep reading to learn more!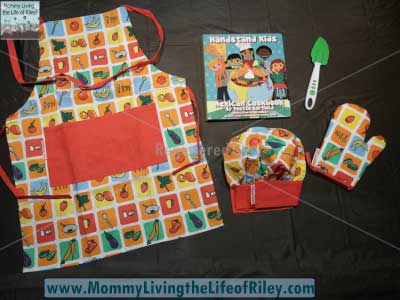 I was sent four items to review from Handstand Kids and I couldn't wait to begin.  All of these items looked like so much fun and Riley was beside herself with excitement and eager to begin creating dishes, just like a real chef.  Each Handstand Kids cookbook sold at Bed Bath & Beyond and now even Walmart, features over 20 kid-friendly and healthy recipes from around the world and includes Curious Chef kitchen products.
The Handstand Kids Cookbook series is an international children's cookbook series, featuring the languages and cuisines of Italy, Mexico and China.  Each Handstand Kids cookbook introduces children to new and familiar foods, and familiarizes them with the language of the corresponding country.  The cookbooks translate each of the ingredients and utensils into the country's primary language and are each uniquely packaged with a child-friendly cooking accessory.
The Handstand Kids Cookbooks make it fun for families to explore international culture, cuisine and healthy lifestyles together.  Each Handstand Kids cookbook sold will include utensils from Curious Chef's line of uniquely designed kitchen products including a rubber-edged pizza cutter packaged with the Italian Cookbook, a cooking spoon with the Chinese Cookbook, and a spatula with the Mexican Cookbook.
The Mexican Cookbook that I reviewed was extremely well-written and was a wealth of knowledge on the Mexican culture too.  Every recipe included within clearly stated the level of difficulty (from 1 to 4 avocados) as well as the number of servings it will yield.  The ingredients, tools needed and instructions for preparing the dish are plainly written and very easy to follow.  There are also alternative suggestions at the bottom of each recipe in case you'd like to change things up just a little or make a different variation of that recipe.
Riley and I tried one of the 1 avocado (easy) recipes, which was making guacamole.  I showed Riley how to wash the vegetables and measure the ingredients and then she carefully mixed everything together with her spatula.  She had an absolute ball being a "real chef" and I had a ball teaching her what little I know about how to cook.  The great thing is that when we were done, Riley actually ATE the guacamole dip!  We've offered it to her numerous times in restaurants before, but she just turned her nose up at it.  I guess it's true that kids will eat it if they make it!  :party:
| | |
| --- | --- |
| | |
The Handstand Kids Cookbook Company is proud to announce the release of the Handstand Kids Chef's Hat, Oven Mitt, and Apron. These well-designed cooking accessories make spending time in the kitchen an activity the whole family can enjoy. Made from 100% cotton, they are machine washable and easy to clean, giving little chefs the opportunity to try out recipes from all three Handstand Kids Cookbooks with ease. The chef's hat, mitt, and apron are colorfully printed with fruits, vegetables, and foods from around the world, educating children about healthy eating and the cuisines of other cultures.
Riley simply couldn't get enough of the three Handstand Kids cooking accessories she received.  She actually wore her Chef's Hat and Apron for two days straight while playing as well as while helping me in the kitchen.  Both the hat and the apron were completely adjustable so as to fit most any child perfectly.  The tiny oven mitt was also just right for my daughter's small hands.  She felt so grown up while wearing her Handstand Kids gear that she even made me put on my apron so that we "could be chefs together"!
With the holidays right around the corner, most moms spend much more time in the kitchen preparing family dinners, pot luck dishes and school bake sale treats.  Enlist the help of your little one with the entire line of Handstand Kids cookbooks and cooking accessories.  Not only will you cook up some delicious cuisine from around the world, you'll cook up some treasured memories with your child that will last a lifetime!
Disclosure: I received the Mexican Cookbook and Spatula, Eat Your Veggies Chef's Hat, Apron and Oven Mitt from Handstand Kids in order to facilitate my review. No other compensation was received. This product review is based on my own personal experiences with this item and is completely honest and objective.
I'm a former 7th grade Science teacher turned stay-at-home mom that lives in Houston, Texas. I am married to my college sweetheart and have a beautiful daughter named Riley, who definitely keeps me on my toes! I am also involved in starting a small business which would both manufacture and sell an invention that I've patented, called Toothpaste 2 Go. I love interacting with my readers and hope to learn as much about you as you learn about me!
Melissa @ Mommy Living the Life of Riley!